Claim offer
Minimum deposit:

NGN 1,000

Minimum bet:

NGN 50
Pros and Cons
Huge variety of sports and markets

Tons of virtual and eSports

No fee withdrawals for many payment types

Mobile friendly
Limited live streaming

Customer support could be more available

Disappointing promos and bonuses
Top Three Reason to Join
Robust and competitive sportsbook
Huge virtual market (its own series)
Company Information
Phisical address:

Suites C-107/108 Ikota Shopping Complex, VGC, Lekki-Ajah, Lagos

Website:

https://merrybet.com/

Date Established:

2013

Email:

[email protected]

Phone:

+2348059061372

Country Restrictions:

Currencies Accepted:

Accepted for customers from:

Nigeria,
United States of America,
Ghana,
Netherlands,
Latvia,
Malaysia,
Benin,
Switzerland,
Tanzania,
Denmark,
United Kingdom,
Georgia,
Taiwan,
Togo,
Kenya,
Kazakhstan,
Russia,
Uzbekistan,
Canada,
Mexico,
Brazil,
Australia,
Norway,
Sweden,
Finland,
Germany,
Poland,
Austria,
France,
Spain,
Italy,
Ukraine,
Greece,
Serbia,
Croatia,
Hong Kong,
Japan,
Hungary

more

Other products
Esports

Bitcoin

Bingo

Combined Betting

Entertainment

Football pool

In-Play Betting

Live Betting

Live Casino

Live Streaming

Online Games

Poker

Politics

Virtual Sports

Merrybet in short
Minimum Deposit

NGN 1,000

Customer support

Live Betting

Minimum Bet

NGN 50

In-Play Betting

Live Streaming

Mobile App

Combined Betting

Welcome Bonus

Football pool

Bitcoin Bet

Summary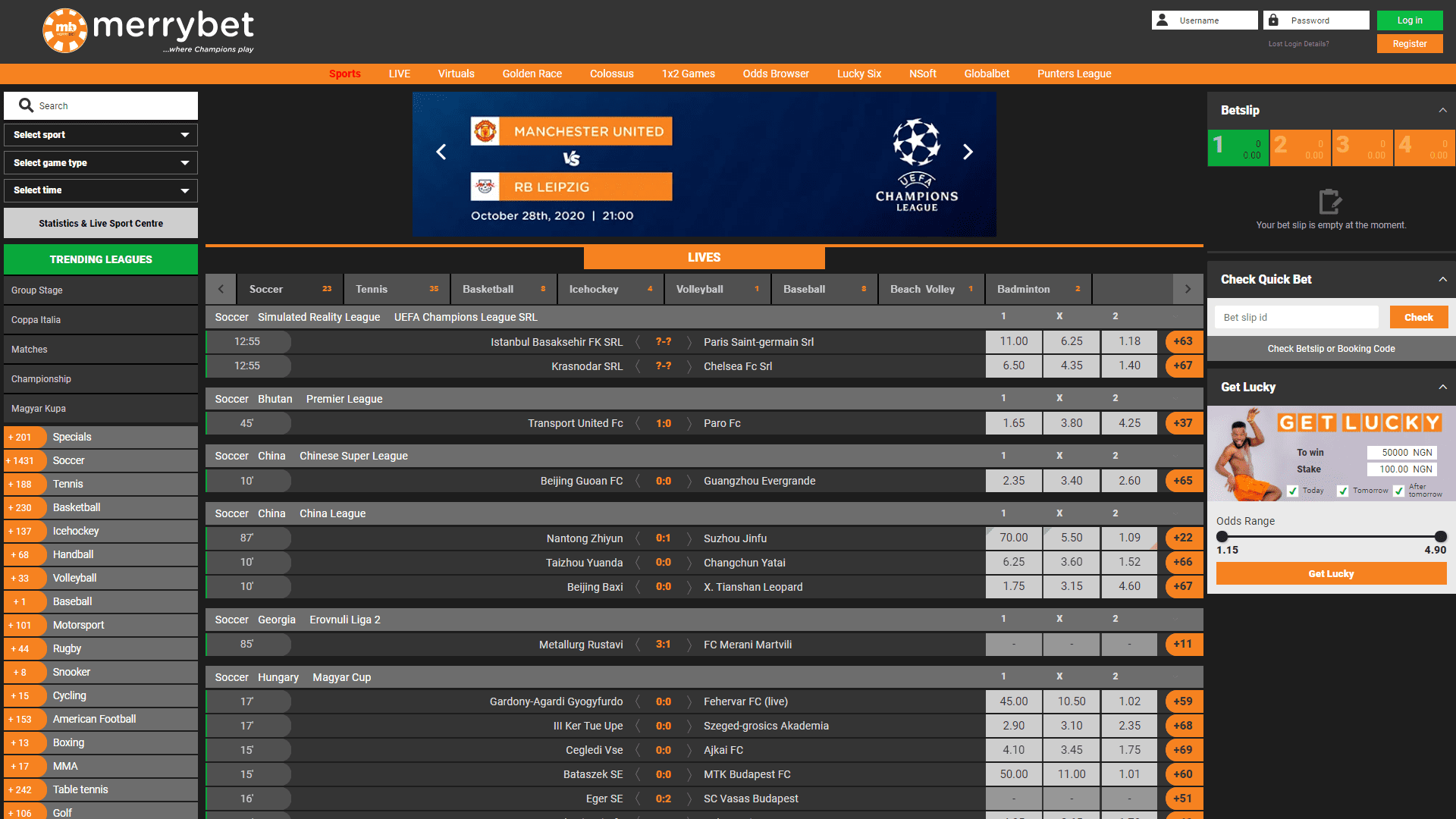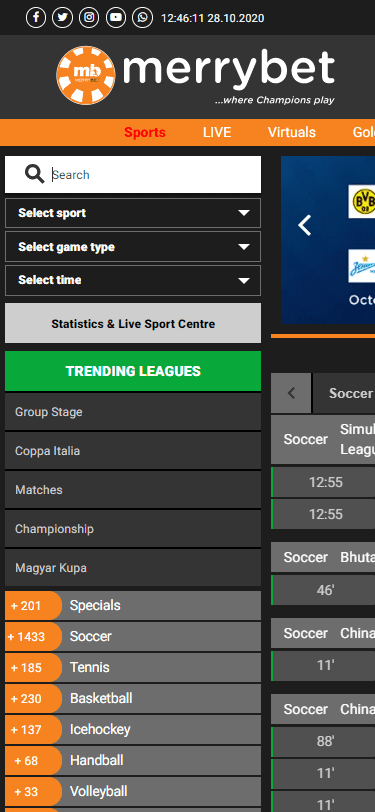 Introduction
With so many different sports betting and online casino sites on the web for you to choose from, paring down the list and finding the right one for you can seem like an overwhelming and downright stressful process. There are so many factors to take into account – including site design, withdrawal and payment methods, odds, sportsbook size, number of markets, and promos (just to name a few) – but, by far, the most important thing to consider is customer support and safety.
It is unfortunately true that there are many sites out there that have received a lot of criticism for the ways that they have conducted business. Even some of the biggest, longest running businesses in the sports betting and online casino industry have been known to be lacking when it comes to customer support. A surprising number of betting sites, for instance, do not offer 24/7 customer support, which is frankly shocking when you take into account how much money people tend to deposit and wager on these sites.
In my opinion, any site that offers a service that deals in depositing and withdrawing your hard-earned money needs to have a solid team of customer support that can be reached any hour of the day or night, every day of the week. You should never be in a position where you have to wait in order to hear about the status of your money.
Then there is the sad reality of betting sites sometimes reneging players' winnings or refunding earnings from a users' bank account without first asking permission or even issuing so much as a warning. This, historically speaking, has been far too common an occurrence. A great deal of the sites that have been accused of doing this, however, have since apologized and changed their policies. But, still, you never really know whether a certain site is going to be consistently dependable until you start using it.
There is one other option, though. And that is to read through my thoughtful and careful reviews of all the best betting sites on the web. If there is a sportsbook or online casino worth knowing about, you can rest assured it will be listed here on BettingDude.com. If you find a site here, at the very least, you need not worry about whether it is legitimate. I don't waste my time (or yours) reviewing scam sites or those in ill repute.
Safety and security, though, although arguably the most important element to the best betting sites is far from the only factor to evaluate before making a decision on which bookmaker to deposit your funds. There are so many components that go into figuring out which site is going to be right for you. And I do want to stress that last part … the best site is likely going to mostly depend on your needs, as opposed to identifying which site is objectively the best.
Each site has its strengths and weaknesses. Some sites, for instance, are much better when it comes to delivering a massive sportsbook with tons of open markets. Others emphasize virtual sports and eSports more prominently. Others still may have awesome online casinos with live poker and blackjack, but their sportsbooks may be relatively weak. Finding the best betting site is going to largely be a matter of identifying what it is that you value most and then figuring out which sites excel at that thing.
Of course, it is also very common for players to desire a site that is firing on all cylinders, so to speak. Perhaps you like all the action and, thus, the best site for you is going to be the one that offers the most diversely high-quality features. Whatever the case may be, what is the best betting site for one person may not necessarily be the best betting site for you.
That being said, as is the case with an increasing number of betting sites on the web, today's site does make an attempt at providing a wide variety of games and betting types. Merry Bet, a Nigerian sportsbook and online casino, has a bit of something for everyone. One would hope, though, that this focus on providing an impressive spread of features and gaming won't come at the detriment to the quality of each (or any). It is unfortunately all too common of a downfall: a betting site becomes overly ambitious, resulting in a wide variety of gaming, all of which could be better.
I must admit, even though I tend to be extremely critical of betting sites, it must be a very difficult thing to pull off (making an excellent betting and casino site, that is). There are so many moving parts to keep track of – each feature has to be intuitively designed and customized to provide the best experience for that style of gaming, you need to be able to offer competitive odds, you have to offer exciting promos and bonuses, and you are dealing with millions of other peoples' dollars on a daily basis. The stakes couldn't be higher.
Therefore, the stakes are very high for you, too, when it comes to ensuring that you find the right site on which to place your bets. Could Merry Bet be that site? Well, there is only one way to find out for sure … and that is to take an in-depth look at everything that Merry Bet has to offer, as well as whether the site is intuitive and easy to use, and whether it is mobile friendly or not. So, without further ado, let us take a closer look at Merry Bet.
Design
Upon visiting Merry Bet for the first time, I like the overall look and feel of the site. It has something of a gamer aesthetic (if that makes sense). The site's black background gives way to gray section headers and brightly bursting orange accents throughout. This color scheme, in concert with bold text and sharp dividers meant to partition different kinds of content, all add up to this sort of video game feel that I am referring to.
The site design, on the whole, is very experiential, which I enjoy, you'll find some carousal banners which keep your attention and plenty of responsive cursor highlights and things of that nature. I certainly can appreciate responsive and interactive web design. My only complain with the site stems from the fact that I think it is a little more cluttered than it could be.
This could be one of those moments where subjectivity comes into play, and I want to be transparent about that, but more minimalistic site design, I think, tends to make for a cleaner, neater, more easily accessible site (generally speaking). Merry Bet seems to have tried to cram as much content as possible, separated into many sections on one page. The result, in my opinion, is a little too cluttered.
The sportsbook alone, for example, presents huge dropdown menus for sport, game type, and time … you'll also find a comprehensive list of just about every element further down the left-hand side of the page. You'll find trending leagues (unnecessary), an A-Z list of available sports (redundant in light of the aforementioned dropdown menu), a list of the top 5 Merry Bettors of the week, month, and year (unnecessary), a link to the site's suggestion box (this could be elsewhere), an ad on becoming an agent (unnecessary), and a link to a how-to resource on using Merry Bet (again, I feel as if this could be elsewhere on the site).
I do want to give credit where credit is due, though. The middle of the page presents live sports highlights, stats, over/unders, best sellers, and upcoming games. This data is presented in a very clear and easily readable way – something that many of Merry Bet's competitors have failed to do. I love how natural it is to read these stats. Pair this with a permanently embedded bet slip immediately to the right and you have a very graceful sportsbook experience.
Content and Features
Merry Bet is not quite as comprehensive as other sites like it. What I mean by this is that, whereas many betting sites that have a large and competitive sportsbook also tend to have offerings such as live poker, blackjack, lottery, etc. Perhaps this is reassuring to you as a sign that Merry Bet is mostly focused on providing a great sportsbook (which is true) … but if you are a fan of betting sites that also offer expansive online casinos, Merry Bet may not be for you.
The in-play betting feature of Merry Bet should also be exciting for all of you sports bettors out there. There are many live markets to partake in. The site, too, offers live streaming of events. This should be exciting for those of you looking to bet on those major European and English markets.
The overall functionality of live streaming and in-play betting is decent and fairly intuitive. The only problem that I have with it is the fact that the live streams are rather limited. There are certainly other sportsbooks out there that live stream a greater number of events. In general, I would say that if in-play betting is primarily your bread and butter, if I'm being frank, there are other sportsbooks on the web that may better accommodate your needs.
Merry Bet also offers virtual sports, casino games, eSports, and a punters league. Many of these platforms, however, appear to be a little bit underdeveloped. If you are going to register for Merry Bet, chances are you will be doing so mainly for its robust sportsbook offering 30+ sports to choose from and plenty of markets therein.
Mobile and Desktop Experience
Surprisingly enough, I find myself preferring the mobile app of Merry Bet over the actual desktop page. The app is designed smartly, with quick and easy navigation between pages and betting types. If you are the kind of player who likes to place his bets on the fly, the Merry Bet app will not disappoint.
Available on both iOS and Android devices, Merry Bet is definitely one of the more mobile friendly betting sites on the market.
Suggestions that I have for Merry Bet
I would love to see Merry Bet reconsider their site design. I think that they could really benefit from embracing the art of consolidation. Instead of throwing every single feature on every single page, I would like to see Merry Bet consider layered pages more, embracing dropdown menus and allowing the site itself to become more expansive rather than giving everything away from the moment you land on the home page.
Another problem that Merry Bet suffers from is the fact that, when you consider how big this company is in the scope of Nigerian betting sites, they could do a better job at offering more promotions and bonuses. Not that Merry Bet doesn't have any, of course, it's just that their promos list is often scanter than that of their competitors.
Lastly, Merry Bet does not offer 24/7 customer support. Although I do appreciate the somewhat innovative ways in which they allow players to get in touch with them (such as a live chat feature via Whatsapp), I find it unacceptable that such a large player in the world of online betting would not make themselves available for help 24/7 (they are open 12 hours a day, 9 on weekends and holidays).

Related Sites