50% Up To $1000
Welcome bonus
Claim offer
Minimum deposit:

$20

Bettings limits:

$10,000
Pros and Cons
Easy and simple interface

Awesome variety of markets

Bitcoin accepted

In-play betting
Limited casino games

Off-brand casino games = lower quality

No poker room offered

No app, not many mobile games
Top Three Reason to Join
Lots of popular and obscure markets
No withdrawal fees, many banking options
Company Information
Website:

https://www.betnow.eu

Date Established:

2015

Email:

[email protected]

Phone:

1-844-823-8669

Payout option:

Country Restrictions:

Afghanistan,
Central African Republic,
Democratic Republic of the Congo,
Eritrea,
Guinea-Bissau,
Iraq,
Iran,
Lebanon,
Libya,
Mali,
Malta,
North Korea,
Panama,
Somalia,
South Sudan,
Sudan,
Yemen,
Australia,
France,
Turkey

more

Currencies Accepted:

Accepted for customers from:

United States of America,
Philippines,
United Kingdom,
Netherlands,
Portugal,
Georgia,
Luxembourg,
South Africa,
Bulgaria,
North Korea,
South Korea,
Malta,
Romania,
Slovakia,
Ireland,
Singapore,
India,
Argentina,
Denmark,
Iceland,
Estonia,
Cyprus,
Thailand,
Israel,
Bangladesh,
Nigeria,
Russia,
Kenya,
Canada,
Mexico,
Brazil,
Norway,
Sweden,
Finland,
Germany,
Poland,
Austria,
Spain,
Italy,
Ukraine,
Greece,
Serbia,
Croatia,
Hong Kong,
Japan,
Hungary

more

Other products
Esports

Bitcoin

Bingo

Combined Betting

Entertainment

Football pool

In-Play Betting

Live Betting

Live Casino

Live Streaming

Online Games

Poker

Politics

Virtual Sports

BetNow in short
Minimum Deposit

$20

Customer support

Live Betting

In-Play Betting

Live Streaming

Betting Limits

Mobile App

Combined Betting

Welcome Bonus

Football pool

Bitcoin Bet

Summary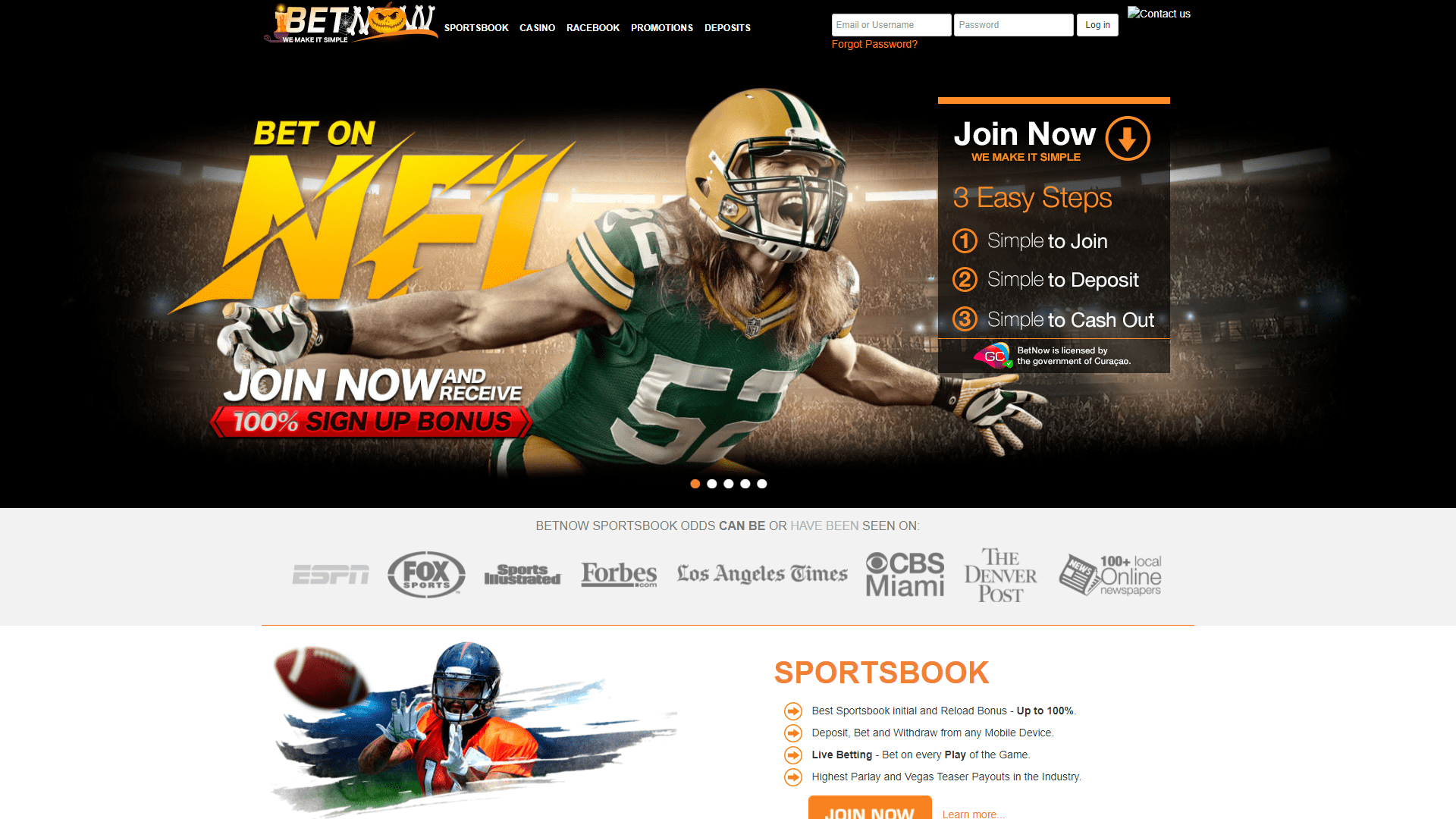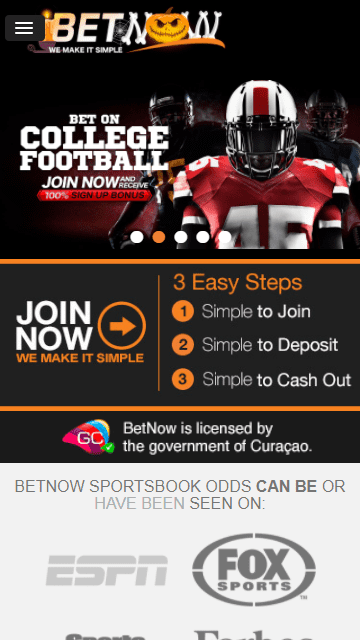 Introduction
With so many sports betting and online casino sites out there for us to choose from, it can be very difficult for one site to make itself stand out from the rest … especially if that site does not have a powerful and reputable name in the bookmaking industry. The thing that people sometimes lose sight of in the discussion of online sportsbooks and casinos is the fact that bookmaking is an age-old tradition that predates the internet by at least a hundred years. Thus, there are certain online sports betting sites that have reputations and brands that have been cultivated over the last 100 years.
Try being a brand-new betting site that offers an online sportsbook and trying to compete with that? It is hard to even fathom the kinds of connections, sponsorships, player endorsements, and favor that such an institution would have. Not to mention all of the century old money to rely on and to dip into when it comes time to update your site or roll out a new design. Talk about buying the best developers that money can buy. Doing so is pennies to these sites – less than pennies.
So, to try and be one of the new guys out there making a name for themselves in the world of sports betting and online casino gaming, it has to be brutal. That is not to say, however, that newer sports betting sites are incapable of keeping up with the top dogs. In fact, it happens all the time. In some cases, newer sites even manage to fight their way to the top and overtake some of these ancient giants of sports betting. Just look at sites like Draft Kings and Fan Duel. The ways in which they provided a new spin on the classic sports betting enterprise (one that, mind you, allowed them to open themselves up to the elusive betting demographic of the entire United States), in the form of their daily fantasy sports platforms are astounding.
However, it becomes much harder these days to provide a product that is able to compete. Basically, what it boils down to is this: you have to either be innovative enough to provide something entirely new or create a whole new market (the way that Fan Duel and Draft Kings managed to), or you have to provide a product that is so good it makes people want to abandon their trusty and reputable betting sites for your new, relatively untested one.
What does this actually look like? How would you even go about making a sportsbook that good? Well, for one thing, your site needs to allow users to bet on as many sports as possible. This is one area where a great deal of sites falter, variety. I have seen sites that have the gall to only offer 5 categories. Meanwhile, the more established and reputable sites on the web are out there allowing players to place bets on 50+ different sports sometimes, including novelty markets as well like entertainment and politics.
It is not just about quantity, though. Naturally, this must be paired with quality. It is one thing to offer an online sportsbook with 50 categories. It is another thing altogether if that sportsbook in question is cumbersome or awkward to use. Personally, I would happily take the sportsbook that is well-designed with 25 sports over the shoddily put together one with 50. It can be tricky, though, to pull off a solid sportsbook interface. It needs to walk a thin line of intuitive design, immersive and responsive user experience, and utility. Bets should be seamless to place. Oh, and it has to look amazing all the while.
More than that, though, your site needs to offer as many high-quality features as possible to compete these days. The name of the game at the moment in the world of betting sites is comprehensiveness. Your site should be every customer's one-stop shop for all of their online gambling needs, That means, in addition to an exquisite sportsbook with tons of variety, you also need to have an expansive online casino, too. Some sites have thousands of games, many of which are fan favorites, fully loaded with great graphics and smooth gameplay. So, add that to the list of requirements to consider before you think about launching a new site.
Then there are promos, bonuses, and other gaming features to throw in. The best betting and online casino sites have unbelievably welcome bonuses and promotional deals that give players the chance to win as big as possible. Furthermore, in addition to casino games like slots, video poker, table games, and card games, it has become industry standard to offer live casino games where players square off against live dealers, as well as an eSports betting platform, virtual sports, and more. The betting site has become a universe unto itself in 2020.
This is, of course, great news for us. It means that we now have hundreds of incredibly expansive and impressive betting and online casino sites to choose from. The only downside to this, of course, comes in the form of the fact that it can be difficult to parse through all of our options to ensure that we find what will end up being the best site for us. Which is what I am here to do … to do the research on each and every site worth knowing about, so you don't have to.
Which brings me to the site that I will be introducing you to today, Bet Now, an online sportsbook, casino, and race book that is sweeping the European Union and growing fast. Maybe you have heard of it, maybe this is your introduction. Either way, by the end of this review, you will know the ins and outs of this site enough to make a decision as to whether Bet Now is worth your deposit.
Well, what are we waiting for? Let us dive in and take a closer look at Bet Now, now!
Design
Bet Now has a very straightforward design. The developers were clearly focused on simplicity when they made it. This is, in my opinion, very refreshing to see. I cannot even begin to tell you just how many sportsbooks and online casinos that I see on a daily basis that go for more of a maximalist approach. It's as if they want to cram as much content as they can on a given page. It is overwhelming and off-putting.
Thankfully, every once in a while, I come across a site like Bet Now that goes in the opposite direction. It is sparse, pared down to the bare necessities. This lends the site a very clean, neat, professional, modern look. This is a site that I know, immediately, I want to return to again. It's easy on the eyes and extremely easy to read and navigate.
The sportsbook, for example, is one of the most easily legible ones that I have seen in recent memory. I think that this has been accomplished by both clever color combinations and a very, for lack of a better term, "blocky" layout. Every piece of information is very clearly separated from the one next to, under, and above it. This site is a godsend for my OCD.
The layout of the sportsbook is familiar. You'll find a list of playable sports spanning the left-hand side of the page, available bets in the middle, and your bet slip will appear to your right. It is traditional, sure, but it is immaculate. This layout is so popular for a good reason and Bet Now makes that reason more self-evident than ever.
Both the online casino and race book portion of the site stay in step with this basic design principal: simplicity, neatness, cleanliness, ease of use. No matter what it is for which you are turning to Bet Now, you definitely won't be disappointed from a design standpoint.
Content and Features
Although at first glance, Bet Now's sportsbook may appear to be smaller than average, once you delve into the numbers of markets and different leagues within each category, I believe that another tale will be told. Bet Now features all of the major sports, such as basketball, baseball, football, hockey, MMA, boxing, soccer, golf, tennis, etc., but it is in the variety of markets where Bet Now truly shines. Looking at basketball, for instance, there are around 15 individual leagues for players to bet on. In addition to several divisions of the NBA, you will also find the WNBA on Bet Now, as well as NCAA and China's CBA. Oh, and don't forget about their eSports division of basketball in which you can place bets on NBA2K20 matchups.
These more obscure markets, too, are peppered throughout every category at Bet Now. Under the baseball umbrella, for instance, you will find not only the MLB, but Japanese baseball, Taiwanese baseball, and South Korean leagues as well. In fact, I have come across few sportsbooks that do such a good job catering to these more obscure markets as Bet Now.
As far as Bet Now's online casino is concerned, well, here is where I might lodge my first big complaint. Compared to other sites, Bet Now's casino is miniscule. It has the same variety as comparable sites – you can play the slots, mobile games, video poker and keno, table games, and live card games against real dealers – but the selection is dwarfed by those sites I mentioned earlier that have thousands upon thousands of casino games.
Another big bummer with this site is the fact that it is missing a live poker room. Although Bet Now offers live baccarat, blackjack, and roulette, its lack of live poker is befuddling. Hopefully this is something they intend to add soon.
That being said, I do want to point out the fact that Bet Now does accept cryptocurrencies like bitcoin. It also has fast withdrawals and 24/7 customer service. Plus, many banks come with a $0 withdrawal fee. This, of course, is not a feature that every online casino, even the huge ones, can boast.
Mobile and Desktop Experience
Unfortunately, Bet Now does not have a mobile app. This makes Bet Now one of the least mobile-friendly betting and online casino sites. Considering the fact that many online casinos and betting sites do have dedicated apps available on iOS and Android, this is a big miss for Bet Now.
Not only is there no app, but the game selection is even further limited when playing on mobile devices. Take the already small casino game selection and take a fraction of that and you have 14 mobile games to play on Bet Now.
Suggestions that I have for Bet Now
This site has some serious work to do. For starters, Bet Now needs to expand their mobile capabilities. Frankly, they just won't survive the next decade if they don't. Mobile gaming is no longer the future of online gambling, it is the current reality. They must adapt or perish.
Secondly, I think that the site needs to work on its online casino in general. We need more games. But not only that, we need better games. Bet Now's casino games do not have nearly the industry standard quality when it comes to graphics or gameplay.

Related Sites