Pros and Cons
WPA is cool and immersive

Mobile friendly

Huge eSports selection

Amazing site design

Accepts cryptocurrency
Dedicated mobile app might be better

Deposit and withdrawal fees

Sportsbook could be bigger
Top Three Reason to Join
Plenty of eSports betting
Company Information
Phisical address:

9 Barrack Rd, Belize City, Belize

Current License:

365/JAZ

Website:

https://thunderpick.com/en/

Date Established:

Jan 1, 2016

Email:

[email protected]

Country Restrictions:

United States of America,
France,
Netherlands,
United Kingdom,
Belize,
Poland,
Sweden,
Ireland,
Malta,
Denmark

more

Currencies Accepted:

Accepted for customers from:

United Kingdom,
United States of America,
Canada,
Mexico,
Brazil,
Australia,
Norway,
Sweden,
Finland,
Germany,
Austria,
France,
Spain,
Italy,
Ukraine,
Turkey,
Greece,
Croatia,
Hong Kong,
Japan,
Hungary,
Serbia

more

Other products
Esports

Bitcoin

Bingo

Combined Betting

Entertainment

Football pool

In-Play Betting

Live Betting

Live Casino

Live Streaming

Online Games

Poker

Politics

Virtual Sports

Thunderpick in short
Customer support

Live Betting

Minimum Bet

€1

In-Play Betting

Live Streaming

Betting Limits

Mobile App

Combined Betting

Welcome Bonus

Football pool

Bitcoin Bet

Summary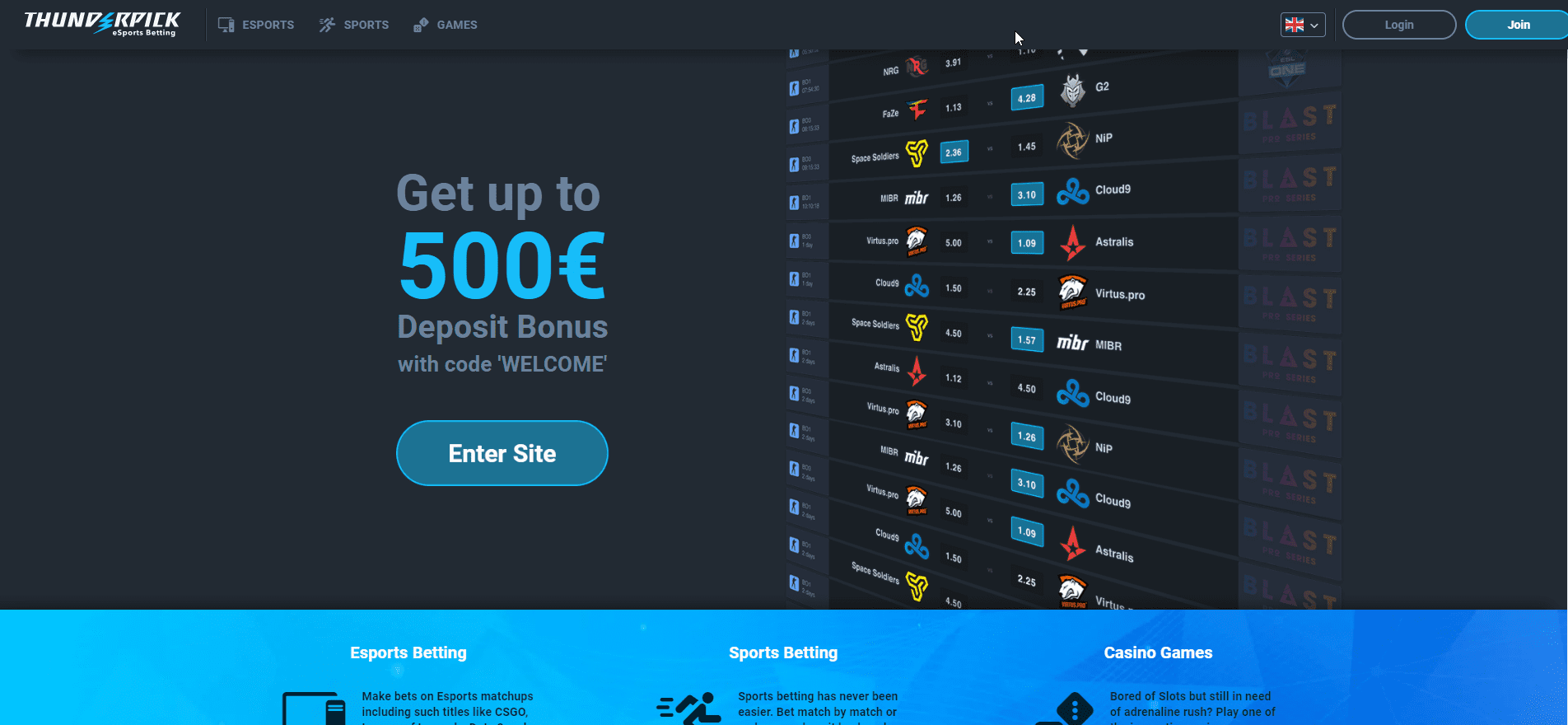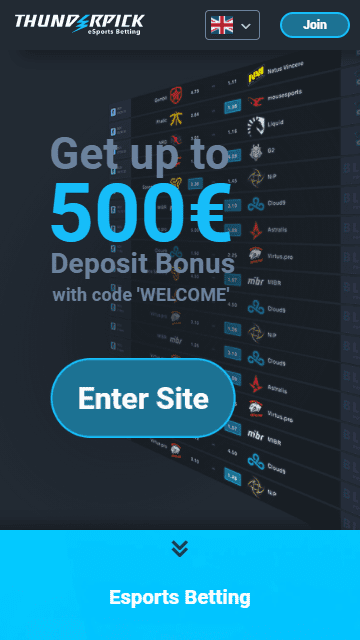 Introduction
So, you are looking for a site that specializes in eSports betting … somewhat surprisingly, this is a more difficult task than one would initially think. Sports betting is a huge industry already (and has been for over 100 years now). Video games are obviously one of the most popular forms of media and, increasingly, competition in the 21st century. So, why, then, should it be so difficult to find a site that treats competitive video gaming with the same respect as professional sports? Why is it so hard to find sites that let you place bets on eSports?
Okay, okay, maybe it is not entirely accurate to say that it is difficult to find sites that let you bet on eSports. In fact, more and more sports betting sites over the past few years have been adding rather flourishing eSports markets to their sportsbooks. A better question to ask would probably be, why is it so hard to find betting sites that make eSports betting their primary focus? It is one thing to use an online sportsbook that has an eSports category. It is another thing to use a betting site that is designed specifically for placing bets on eSports.
It would be fair to assume that if a betting site were to be specialized towards eSports specifically, it would make for a much better eSports betting experience. You wouldn't have to filter through hundreds of unnecessary physical sports matches if that is not what you are interested in. I don't know if you have ever tried to place an eSports bet on a regular sportsbook, but the clutter of extraneous information can be beyond annoying. I have no need for the latest snooker stats if I am only interested in placing bets on League of Legends.
Sure, some betting sites do separate their traditional sportsbook from that of their eSports betting platform. And this is always nice, but, still, I always get the impression that eSports is not the number one concern of these sites. This is understandable enough … eSports betting is not nearly as popular as, say, betting on FIFA football matches – not yet anyway.
Still, for someone who is primarily interested in betting on eSports, there should be a site that is as professional, extensive, and well-designed as some of the top sportsbooks. Even when there are eSports sections featured on traditional sports betting sites, they tend to be smaller and less competitive or populated as one would like. As eSports betting is an exponentially growing demand, why is it that these sites are so few and far between?
If you are looking for a site that specializes in eSports betting and is on par with some of the best regular sports betting sites, today might just be your lucky day. The site that I will be introducing you to in this review is known as Thunder Pick, and it is one of the best eSports betting sites that I have ever seen … hands down.
First off, Thunder Pick is clearly geared towards eSports bettors. Their eSports book is their main concern. This is evidenced by its size, its diverse range of eSports, and its competitive odds. Thunder Pick seems, at least at the outset, to be the answer to the question, 'where is the eSports site that is just as good as the best sportsbook?' Thunder Pick is a site that all eSports enthusiasts should become familiar with – I would go so far as to say, even, that it is a site that all eSports enthusiasts and bettors should at least try at one point or another.
Much like most traditional sports betting sites, Thunder Pick does not only offer a monolithic service. In addition to eSports betting, Thunder Pick does have a separate section dedicated to its sportsbook and a third section for those who are interested in playing online casino games. This, in my opinion, is what elevates Thunder Pick from the status of what could have been a niche site for eSports bettors to a top-tier betting and online casino site on par with the best of them.
The central difference between Thunder Pick and your typical high-quality betting site is one of emphasis. Instead of emphasizing its sportsbook above all else (as these sites are wont to do), Thunder Pick places its emphasis on eSports – a move that is as rare as it is valuable for an online betting site.
What, then, specifically separates Thunder Pick from the rest of the eSports and sportsbook betting sites on the web? Well, there are quite a few things, actually, which we will get to the bottom of in just a moment. Suffice it to say for now: Thunder Pick is one of those very uncommon sites that is sure to please everyone, especially fans of eSports. Let's dive in and take a closer look, shall we?
Design
Thunder Pick has a very sleek and user-friendly design. Actually, allow me to rephrase that: I love everything about the way that this site is designed! From the layout of the sportsbook (and, thusly, the eSports book), to how smooth the user experience is, to how responsive, immersive, and user-friendly the online casino is. This is one of those rare betting sites that is not only well designed, but cohesive as well.
The site as a whole takes on a tripartite layout. What I mean by this is that, for the most part, whether you are on the eSports, sports betting, or casino section of Thunder Pick, every single page is broken into 3 sections. Let's take a look at the eSports and sportsbook sections first to elaborate on how this actually works and why this is desirable.
So, while you are on the eSports platform of the site, you'll find all of your options for browsing bets spanning the left-hand side of the page. Here, you can filter out bets and scheduled matches by game. This is also where you will be able to quickly access the site's leaderboard, rewards, blog, FAQ, and more. The left portion of the page, no matter where on the site you happen to be, is something of your command center. If you are on the sportsbook, the same is true. Just swap out video games for sports.
The center of the page is the largest section, as you would expect, and this is where you are going to browse bets, highlights, live matches, and upcoming. I have never seen a more intuitive execution than that of Thunder Pick. There are very clearly labeled tabs that only require you to click on them in order to toggle between, for instance, Live and Upcoming matches. Instantaneously, the content will materialize according to what you want to see. The user experience is smooth and fast paced.
Then, finally, on the right-hand side of the page, you'll find your bet slip and chat function. This bar is, again, easily toggled between, depending on whether you want to place a bet (clicking on a bet will automatically transfer it to your bet slip), track the bets that you have already placed (click on My Bets), or partake in live chat with fellow users. The latter, in my opinion, is a very underrated feature on a site like this. It is not every day that you find a betting site that focuses on community, but it is truly a nice touch … one that adds to the competitive nature of the site, as well as provides the ability to discuss your favorite sports and games.
At the very top of the site, you'll find a very simple and app-like site menu bar which separates the site into its 3 main categories with simple icons. Immediately transform the site by clicking on either eSports, Sports, or Games. Clicking into the latter will lead you to one of the most meticulously organized and user-friendly casino lobbies that I have seen in a minute.
You can browse games in a very Netflix-esque design by what's popular, what's new, and category. Or you can search by game type thanks to a very handy list featured at the top of the page. Here, filter out games based on what you are looking for; choose between spin, crash, live casino, slots, cards, poker, etc. I cannot stress enough how incredible the site design of Thunder Pick is.
Content and Features
I feel as if I have inadvertently already outlined all of the features of Thunder Pick. It is a very concise website … which is something that I actually appreciate. Not every site has to be huge. Sometimes, simpler is better. Thunder Pick is very basic with what it offers (and it does a great job in doing so): eSports, sports betting, and an online casino.
As far as its eSports betting platform is concerned, though, there are specific qualities to it that really set it apart from its competitors. For one thing, it is one of the largest eSports betting sites, in terms of range of eSports covered. Thunder Pick offers, of course, all of the usual suspects, such as DOTA 2, CS:GO, League of Legends, and Overwatch, but it expands its list to include some of the less frequently featured games. You can also place bets on Call of Duty, Valorant, Fortnight, Hearthstone, and Heroes of the Storm on Thunder Pick.
Another feature that makes Thunder Pick ideal for eSports betting its awesome and extensive live eSports betting service. When I visited the site (3:00 PM on a Wednesday), there were 9 live competitions going on. This number, of course, only increases at primer times for gaming. Nevertheless, Thunder Pick also has an excellent live streaming feature, allowing you to watch the games being played so that you can make the most strategic live bet possible. You don't even have to be logged in (let alone have made a bet) to enjoy the live stream.
The sportsbook, too, is just as capable. It also has live streaming, making Thunder Pick a great choice for in-play sports betting. That being said, the sportsbook is slightly smaller than that of the average betting site. At just under 20 sports, Thunder Pick is not the most diverse sportsbook on the web, nor is it the most active, but it does have one of the best in-play betting features and interfaces that I have ever seen – so, here's to hoping more people jump on Thunder Pick's sportsbook in the near future.
Mobile and Desktop Experience
Although Thunder Pick does not have a dedicated mobile app, it does offer what is known as a Progressive Web Application (PWA). By making use of Thunder Pick's WPA, instead of downloading an app and using that every time you want to access Thunder Pick, the site turns your web browser into an app-like experience. In other words, it allows Thunder Pick to overtake your browser, superseding tabs, search bars, etc. for a full-screen experience.
Personally, this works fine for me. It behaves like an app, it is as smooth as an app, and it doesn't take up any space on your phone or tablet. The Thunder Pick WPA is compatible with most browsers, including Firefox, Chrome, and Safrari.
Suggestions that I have for Thunder Pick
My only suggestion would be to pivot ever so slightly from building up the eSports betting platform and begin working on beefing up the sportsbook. I would love to see a flourishing sportsbook that is active and offers 30+ sports taking full advantage of this awesome interface.

Related Sites