Claim offer
Minimum deposit:

£10

Minimum bet:

£10

Bettings limits:

£5,000
Pros and Cons
Mobile friendly (great app)

Decent site design

24/7 live chat customer support
Lots of negative customer reviews

Potentially no live poker??

Not available in many countries
Top Three Reason to Join
Awesome for Asian handicaps
Company Information
Phisical address:

12Bet, James House, 1st Floor, 11-13 Hill Street, Douglas, Isle of Man IM1 1EF

Website:

https://www.12bet.com/

Date Established:

2007

Email:

[email protected]

Phone:

+44 207 347 5883

Payout option:

Country Restrictions:

Afghanistan,
Albania,
Algeria,
Angola,
Armenia,
Azerbaijan,
Belarus,
Belgium,
Bosnia and Herzegovina,
Bulgaria,
Burundi,
Chad,
China,
Colombia,
Congo,
Croatia,
Cuba,
Cyprus,
Czech Republic,
Denmark,
Egypt,
Eritrea,
Estonia,
Ethiopia,
Georgia,
Greece,
Guinea,
Guyana,
Haiti,
Hungary,
Indonesia,
Iran,
Iraq,
Israel,
Italy,
Kenya,
Kyrgyzstan,
Laos,
Latvia,
Lebanon,
Lesotho,
Liberia,
Libya,
Lithuania,
Mali,
Mexico,
Montenegro,
Mozambique,
Myanmar,
Nepal,
Nicaragua,
Niger,
Nigeria,
Panama,
Papua New Guinea,
Philippines,
Portugal,
Romania,
Russia,
San Marino,
Saudi Arabia,
Serbia,
Sierra Leone,
Singapore,
Slovakia,
Slovenia,
Somalia,
South Africa,
South Sudan,
Sudan,
Swaziland,
Switzerland,
Syria,
Tajikistan,
Netherlands,
Togo,
Tunisia,
Uganda,
Ukraine,
Uruguay,
United States of America,
Vanuatu,
Venezuela,
Vietnam,
Yemen,
Zambia,
Zimbabwe,
Canada,
Brazil,
Australia,
Turkey,
Japan

more

Currencies Accepted:

USD,
AUD,
GBP,
MYR,
KRW,
THB,
VND

Accepted for customers from:

Thailand,
Vietnam,
India,
China,
Malaysia,
Nigeria,
North Korea,
South Korea,
Malta,
Argentina,
Colombia,
Netherlands,
Singapore,
South Africa,
Philippines,
United Arab Emirates,
Tunisia,
Cambodia,
Indonesia,
Kazakhstan,
United Kingdom,
Pakistan,
Israel,
Mozambique,
Kenya,
Russia,
Uzbekistan,
Mexico,
Norway,
Sweden,
Finland,
Germany,
Poland,
Austria,
France,
Spain,
Italy,
Ukraine,
Greece,
Serbia,
Croatia,
Hungary

more

Other products
Esports

Bitcoin

Bingo

Combined Betting

Entertainment

Football pool

In-Play Betting

Live Betting

Live Casino

Live Streaming

Online Games

Poker

Politics

Virtual Sports

12bet in short
Minimum Deposit

£10

Customer support

Live Betting

Minimum Bet

£10

In-Play Betting

Live Streaming

Betting Limits

Mobile App

Combined Betting

Welcome Bonus

Football pool

Bitcoin Bet

Summary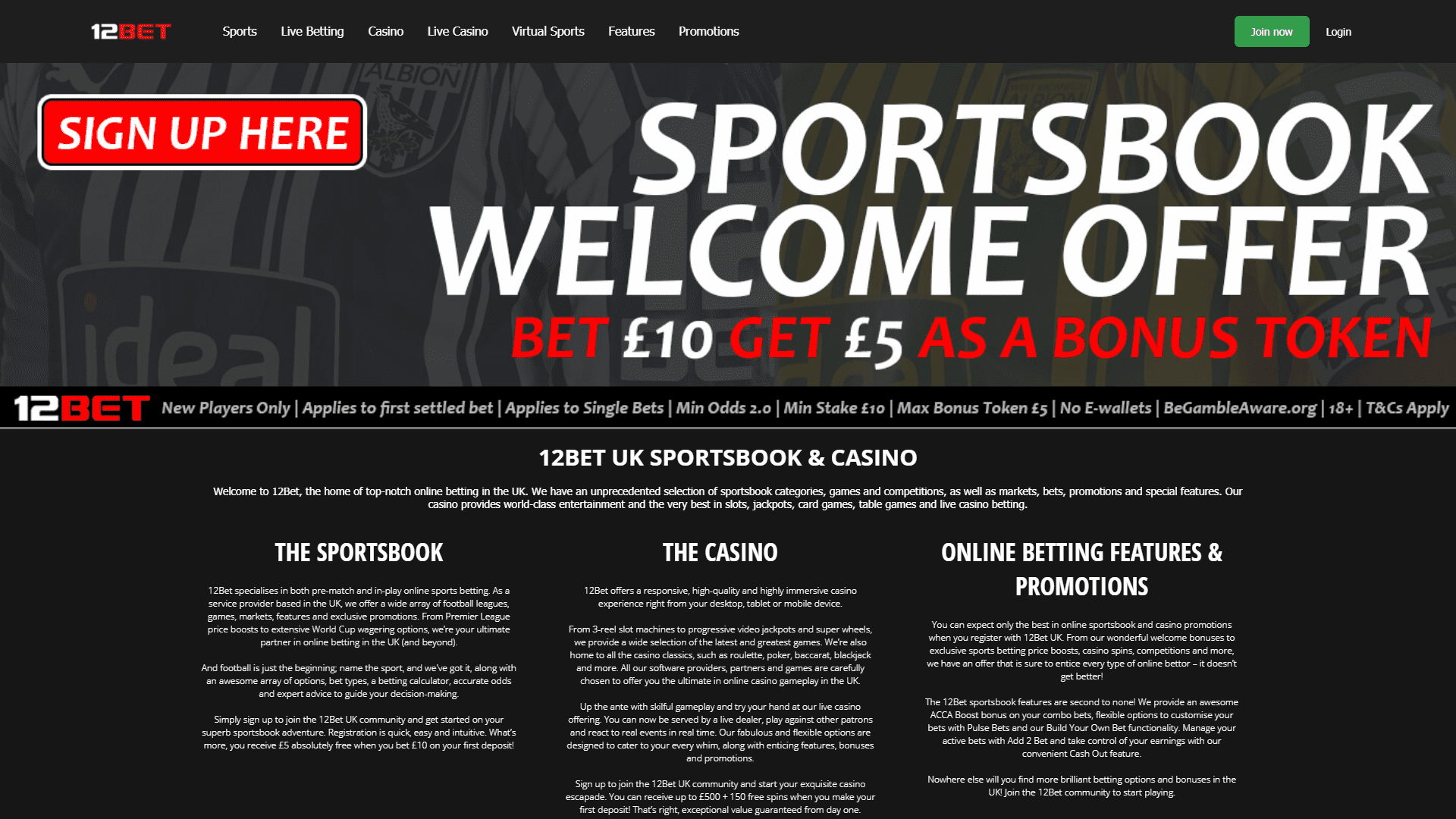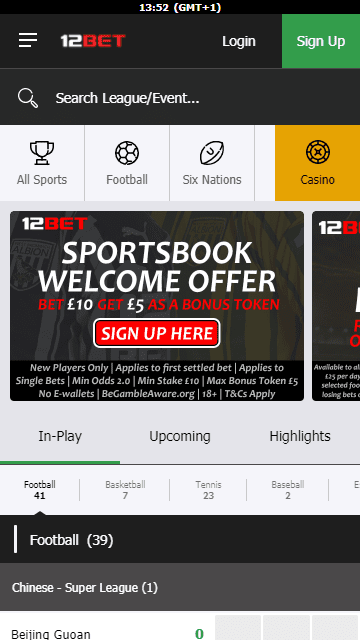 Introduction
Most sports betting and online casino sites these days are a dime a dozen. There are just so many to choose from. Some might say, even, that there are too many. When it comes time to figure out which site is going to be best for you, then, it can be a rather daunting and overwhelming task. Not only are there hundreds of individual betting sites to parse through, but there are also a ton of different components to take into account in order to know for sure whether a particular site is going to be the best bet for you.
One component that often gets overlooked when it comes to sites like this is customer service. I cannot stress enough how important it is to be a customer of a betting site that has a customer support hotline which can be reached, in some fashion, 24 hours a day, 7 days a week. You may be surprised, too, by how rare of a commodity this is in the world of online gambling. Nevertheless, this is one of the first things that I tend to look into when it is time to choose a new go-to betting site or online casino.
You never know when or why you may need to reach out to a customer support representative. Maybe you like to place your bets or play casino games late at night when you are having trouble getting to sleep. for instance … if you encounter an issue, wouldn't you want to feel secure in the fact that your site of choice has some form of customer support that will be there to help you out, even if it is like 3:00 in the morning on a Sunday? Plus, when you take into account the potentially serious amounts of money being dealt with on these sites … you should never have to wait around wondering after the state of your money.
There is so much fine print that can be lurking in the background of a given betting site. There are so many factors at play behind the scenes that most betting sites do not make public or easily identifiable on their sites because, well, they might make you continue your search if you knew about it. For instance, some sites have ludicrously high withdrawal fees. I have seen betting sites that are straight scavengers, skimming upwards of 20 or 15% off of your winnings when you try to deposit the money into your bank. This, as far as I am concerned, is unacceptable.
That is why it is crucial that you do a deep dive on any potential betting site before you even bother making your first deposit. This is perhaps more important with gambling sites than it is with almost any other kind of site, that you do your homework before signing up. A gambling site is sort of like a financial institution, if you think about it, if you take into account how much of your hard-earned money you are entrusting on it. You wouldn't just put hundreds of dollars into a new online bank that you knew nothing about, would you? So, why would you with a betting site?
That is precisely why I do everything in my power to try and make the vetting process of these sites a little bit easier. I have heard my fair share of horror stories, of people getting ripped off by various betting sites around the web. In some cases, these sites have been credible, legitimate sites with longstanding reputations as institutions of the online gaming industry, too. I want to ensure that nobody should have to gamble with the site that they choose, only on the site once they find the right one for them.
Which brings us to the betting site that we will be taking a look at today, 12 Bet. Depending on where you look online, you may get a vastly different impression of 12 Bet. As it is always my goal to inform my readers of potential problems up front, so as to save you time and energy. No need to read through the rest of the review and learn of a potential dealbreaker later on, right?
Some of the more recent 12 Bet customer reviews are not all too flattering. In fact, 85% of the reviews taken from Trust Pilot give 12 Bet a score of "bad." Some people complain about poor or inadequate customer support, sudden account termination with no warning or reason, and technical issues. I cannot speak to the accuracy of these claims because, well, who has the time to follow up on individual customer complaints one by one?
What I can say, though, to 12 Bet's credit is that every betting site and online casino tends to receive negative marks and, at least in this industry, the customer certainly is not always right. There is a tendency with betting sites and online casinos for customers to post negative reviews when they lose or place crappy bets. So, take that into account as well before making up your mind.
12 Bet, however, is generally reviewed as a credible and legitimate site by experts … which means one of 2 things: either A.) 12 Bet has just recently (after receiving its legitimate reviews) started taking a nosedive, or B.) the Trust Pilot reviews are not to be, well, trusted. Let's take a closer look at 12 Bet for ourselves, though, shall we, and see what there is to see.
History
12 Bet is a betting site and online casino that is owned and operated by a company called Pacific Sea Invests. It began operating in full in 2007 and, today, is regulated and licensed by Cagayan Economic Zone Authority in the Philippines. Although 12 Bet is most widely known throughout Asia, the site also has a sizeable UK presence. This is due to the fact that Pacific Sea Marketing International Ltd. (a subsidiary of Pacific Sea Invests) also owns a remote UK gambling license, as it is registered as a Virgin Islands company.
12 Bet is one of the most popular online gaming companies in the world. In fact, it has received the honor of being ranked number 17 in eGaming Review Magazine's annual list of the most popular online betting and casino enterprises, its Power 50 list. All of this is beginning to make it look as if the aforementioned Trust Pilot reviews might just be a case of a few oversights and blunders and not the norm for 12 Bet.
Design
12 Bet offers a pretty decent sportsbook layout, if I do say so myself. Although it is not the most groundbreaking or impressive example of web design that I have ever seen, it is certainly adequate. You'll find the typical tripartite layout – find a list of sports on which you can place bets spanning the left-hand side of the page, a permanently embedded bet slip to the right, and a menu of in-play bets, upcoming, and sports highlights in the center.
I like that you can easily filter this section by bet type and sport, making it as convenient as it should be to place the exact kind of bet you are looking to place. Track these bets with ease, too, as everything intuitively gets loaded up to your bet slip for you to lock in your decision.
Overall, I do think that every feature of this site (sports betting, casino, etc.) could be more streamlined and integrated with one another. That being said, if you don't mind having more of a separation to each platform (some people prefer this), the site design of 12 Bet should not be a hurdle whatsoever.
Content and Features
12 Bet's sportsbook is as sizeable as many competitors; however, it is far from the largest sportsbook on the web. Nonetheless, you will be able to bet on 25+ different sports, each of which with plenty of leagues and regions. Being based in the Philippines, you can expect some excellent odds when it comes to Asian handicaps. In general, actually, 12 Bet has some very competitive odds, although the site does seem to specialize in Asian markets (Asian football appears to be especially popular).
Users can bet not only on upcoming games and outcomes, but 12 Bet also offers a decent in-play live betting feature. With a helpful button at the top of the page that shows the number of live events in progress, 12 Bet makes it easy to see what's going on at a glance. No matter what number is displayed, though, you can be guaranteed a great deal of action on 12 Bet, as there are always lots of fixtures to play.
This site is not just for those who like to bet on sports, though. 12 Bet also offers an enormous online casino, featuring slots, jackpots, blackjack, poker, and other table games. Play from a huge list of popular and unique casino games at your leisure or visit the site's live casino which allows you to embrace the thrill of playing against real, live dealers.
12 Bet's live casino is also expansive, offering plenty of variations on roulette, blackjack, baccarat, Deal or No Deal, Monopoly, and many more. My only concern here is the fact that I do not see live poker being listed – though it would be truly shocking if 12 Bet simply neglected the huge demand for live poker.
Also, I would be remiss if I did not mention the fact that 12 Bet does have a very easy to reach customer support system in place. Available 24 hours a day, 7 days a week, any and every query can be answered promptly. It should be noted that certain customer reviews refute this claim, but it is reassuring nonetheless to see that 12 Bet does have a 24/7 customer support (with live chat) arm in place.
Mobile and Desktop Experience
There are a lot of online gambling entities that, for whatever reason, have neglected the push towards mobile gaming. Luckily, though, 12 Bet is not one of them. With a seamless and well-designed mobile app available for both Android and iOS devices, you can place your bets and play casino games no matter where you happen to be – perfect for the rambling gambler.
The app asserts itself in a very sparse and simplified icon-driven layout, which makes placing bets convenient and easy. The app allows you to place in-play bets as well. The casino version of the app, too, is rather nice, offering a huge selection of casino games, all of which are very touchscreen friendly. If you are looking for a betting site that caters to mobile gaming, 12 Bet is definitely one to make your shortlist.
Suggestions that I have for 12 Bet
One thing that is a real weakness for 12 Bet is how many countries the site restricts. I would love to see 12 Bet expand its international reach in the future. Obviously, I don't expect 12 Bet to make it over to US players (most gambling sites don't even bother trying to work around America's strict anti-gambling laws), but it would be nice to see the site become available to more players around the world.
Secondly, I would like to see 12 Bet step things up a bit when it comes to promos and bonuses. They are few and far between here at the moment.

Related Sites