Bet £ 5 To Get £ 30
Welcome bonus
Claim offer
Minimum deposit:

£5.00

Minimum bet:

£0.05
Pros and Cons
Awesome site design

Mobile friendly

900+ casino games

Great sportsbook
US players not allowed

No eSports betting

No live streamed sporting events
Top Three Reason to Join
One of the most trustworthy, reputable names in the industry
Company Information
Phisical address:

Suite 2:01, World Trade Center, Bayside Road, Gibraltar

Current License:

000-039576-R-319370-016

Website:

http://betvictor.com/

Date Established:

1946

Email:

[email protected]

Phone:

+44 7537416837

Payout option:

Country Restrictions:

Afghanistan,
Albania,
Algeria,
Antigua and Barbuda,
Armenia,
Bangladesh,
Barbados,
Belarus,
Belgium,
Bosnia and Herzegovina,
Brazil,
Bulgaria,
Cameroon,
Chile,
Côte d'Ivoire,
Cuba,
Colombia,
Cyprus,
Czech Republic,
Denmark,
Ecuador,
Estonia,
Fiji,
Grenada,
Hungary,
Iceland,
Iran,
Iraq,
Israel,
Latvia,
Lithuania,
Malaysia,
Mexico,
Moldova,
Monaco,
Myanmar,
North Korea,
Palestine State,
Panama,
Peru,
Philippines,
Portugal,
Romania,
Singapore,
Sudan,
Syria,
Tonga,
Turkmenistan,
Uganda,
Uruguay,
United States of America,
Uzbekistan,
Zambia,
Australia,
Sweden,
Poland,
France,
Spain,
Italy,
Turkey,
Greece,
Serbia,
Croatia

more

Currencies Accepted:

USD,
EUR,
GBP,
AUD,
CAD,
NZD,
ZAR,
SEK,
CHF

Accepted for customers from:

United Kingdom,
Netherlands,
Ireland,
China,
Nigeria,
India,
Malta,
Israel,
Romania,
Belarus,
Russia,
Colombia,
New Zealand,
Bulgaria,
Denmark,
Kenya,
Philippines,
Czech Republic,
Bahrain,
Thailand,
Georgia,
Pakistan,
Argentina,
Morocco,
Slovakia,
Belgium,
Moldova,
United Arab Emirates,
Vietnam,
Singapore,
Ghana,
Ecuador,
Albania,
Tunisia,
Indonesia,
South Africa,
Paraguay,
Latvia,
Venezuela,
North Korea,
South Korea,
Dominican Republic,
Chile,
North Macedonia,
Malaysia,
Estonia,
Peru,
Armenia,
Algeria,
Cambodia,
Bosnia and Herzegovina,
Ethiopia,
Trinidad and Tobago,
Uzbekistan,
Cameroon,
Kyrgyzstan,
Jordan,
Nepal,
Egypt,
Azerbaijan,
Sri Lanka,
Kazakhstan,
Canada,
Mexico,
Brazil,
Norway,
Finland,
Germany,
Austria,
Japan,
Hungary

more

Other products
Esports

Bitcoin

Bingo

Combined Betting

Entertainment

Football pool

In-Play Betting

Live Betting

Live Casino

Live Streaming

Online Games

Poker

Politics

Virtual Sports

Betvictor in short
Minimum Deposit

£5.00

Customer support

Live Betting

Minimum Bet

£0.05

In-Play Betting

Live Streaming

Mobile App

Combined Betting

Welcome Bonus

Football pool

Bitcoin Bet

Summary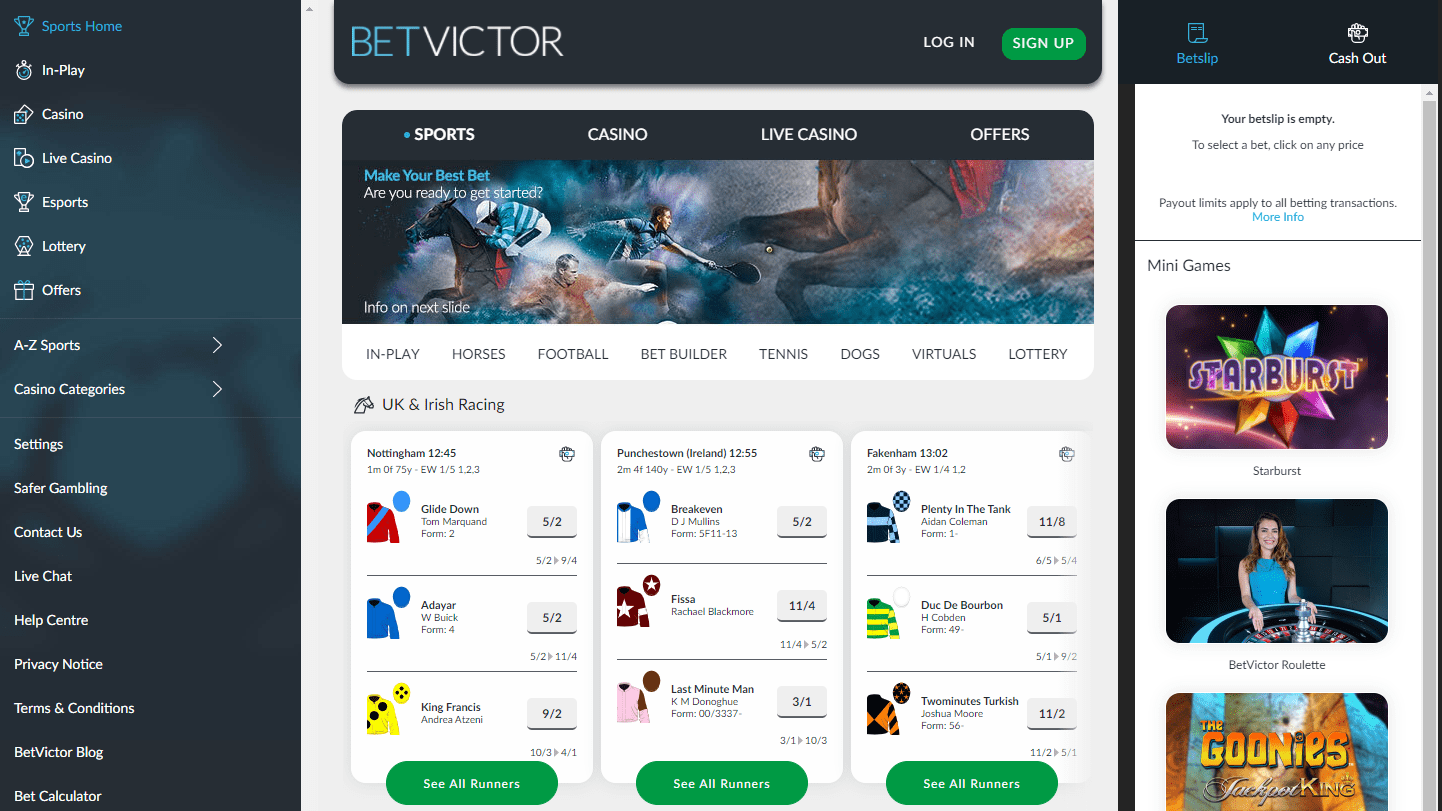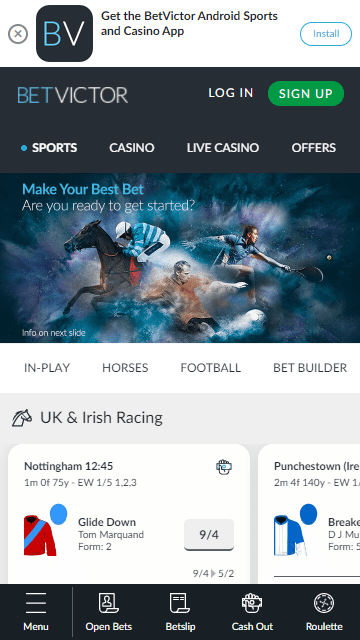 Introduction
It is not every day that I get the privilege of reviewing one of the most respected, reputable, and trustworthy betting sites known to man. Today, however, thanks to Bet Victor, that is precisely what I get to do. Bet Victor is in a league all of its own. As one of the longest running bookmakers that is still around today, Bet Victor's established brand and history of providing excellent bookmaking services make it an easy contender for one of the best sports betting providers in the world.
You would be seriously hard pressed to find another betting site that has reached the same heights as Bet Victor. Perfect for the bookmaking purist and fans of more cutting edge betting enterprises alike, Bet Victor has one of the best sportsbooks on the internet today … not to mention easily one of the largest online casinos that I have ever seen. If what you seek is a betting site that is established, dependable, and trustworthy, Bet Victor is an excellent choice.
Anyone who has any experience with betting sites already knows well the importance of being able to trust your site of choice. There are far too many sites on the web that have gotten into plenty of hot water over the years, especially those that have been around for a long time. However, Bet Victor has managed to keep their record relatively squeaky clean for the better half of a century.
How did they do this? Well, by doing nothing but try, year after year, to provide customers with the best possible gambling experience. They are a no-nonsense betting outfit – one that every player should at least know about (even if you end up deciding this one is not for you). When it comes to downsides to this site, honestly, there are very few.
I will get some of them out of the way up front, though, to save you some time should the restrictions apply to you. First thing's first, Bet Victor does not cater to US players. This may come as no surprise, as it can be exceedingly difficult to find big-name betting sites that do allow US players. This is, of course, more due to the Puritanical laws against gambling in the US than it is any fault of Bet Victor's. Nonetheless, it felt prudent to frontload this info in case you are a US player … I wouldn't want to waste your time.
However, for non-US players, there is much to love about Bet Victor's excellent betting and casino platforms. But let's not keep beating around the bush when we can dive right in and see everything that this iconic betting site has to offer. So, without further ado, allow me to introduce you to Bet Victor.
History
Bet Victor, the company, was founded by none other than William Chandler, the world-famous bookmaker and owner of the famed London Greyhound racetrack, Walthamstow Stadium, which Chandler opened in 1931. When Chandler died, however, in 1946, the business was passed down to his 5 sons. Charles and Percy Chandler took over the management of the stadium, while the bookmaking side of the business went to Victor Sr. and Jack. Meanwhile, the 5th son, Ronnie Chandler handled training the Greyhounds.
When Victor Sr. died suddenly in 1974, he passed his portion of the business onto his son, Victor Chandler Jr., who, prior to his father's death was involved in the hotel industry in Spain. In 1998, though, Victor Sr. made an incredibly bold move for the company by moving the entirety of its operations off UK soil, to Gibraltar.
This historic move allowed Bet Victor to dodge the UK gambling tax. Some have made the claim that Victor Sr.'s doing this played a major role in Gordon Brown's abolishing the gambling tax in 2001. If that is indeed the case, then the entire UK gambling industry is forever indebted to Bet Victor and, more accurately, Victor Chandler Jr.
When 2004 rolled around, the company experimented with a name change. They rebranded themselves VC Bet. This only lasted 4 years, though, and in 2008, Victor unilaterally decided to rebrand the company after himself, changing the name to be simply "Victor Chandler. In 2012, it would appear as if a compromise had been reached, and the company officially became Bet Victor once more, with a renewed second meaning behind the "Victor" half of it.
Today, Bet Victor is a member of the Gibraltar Gaming Association. And in May of 2014, a major shareholder of Victor Chandler International, Michael Tabor took control of the company. Nowadays, the company reports that it turns over more than £1 billion and boasts over half a million customers from 160+ different countries around the world.
Bet Victor is no stranger to sports sponsorships either. In fact, the company has sponsored several major sporting events over the years. Perhaps its most remarkable sponsorship was the Grade 1 ranked Victor Chandler Chase at the Ascot Racecourse. In 2013, Bet Victor scored another impressive sponsorship, becoming the official sponsor of the Welsh Open snooker and World Matchplay Darts tourneys along with the Queen Mother Championship Chase at Cheltenham Festival.
Bet Victor has also been an institution in the world of professional poker over the years. In 2004 and 2005, for instance, Bet Victor held a televised poker tournament entitled the Victor Chandler Poker Cup. This tournament would go down in history as one of the richest poker competitions in the history of the game. £250,000 went to the contest's first winner, Harry Demetriou and £200,000 went to Tony Bloom in the competition's second year.
More recently, Bet Victor became the sponsor of the Liverpool Football Club (2016). The company has also gone on to sponsor the Northern Ireland Snooker Tournament in 2018 and the World Championship of Ping Pong in 2019. As you can see, Bet Victor has been a dominant force in the world of sports and bookmaking for almost 100 years now, and they are showing no signs of slowing down any time soon.
Design
One of the first things to catch my eye about the Bet Victor website was its unique and fresh approach to sports betting site design. All too often when I review betting sites, I just see the same boring layouts time and time again. Very few companies have the moxie to try something new. Very few companies can afford to be daring and bold (at least not in the ways that Bet Victor can, given its stellar reputation and cemented brand identity).
Fortunately, Bet Victor has chosen to mix things up a bit. Now, of course, this can be a risky move. Any time a site diverges from the tried and true path of online sportsbook design, it can always potentially come at the cost of intuitive, user-friendliness. That's probably why you don't see a lot of betting sites going out of their ways to try and reinvent the wheel. If it ain't broke, as my grandpa used to say, don't fix it, right?
Bet Victor took a big swing … and I am happy to say that I think it really paid off. The high risk, high reward principal is demonstrated perfectly here. I think that the best way to describe Bet Victor's sportsbook would be to use the word, "concise." Although that is not 100% accurate, because concise implies that it is not expansive, which it is … but it is done so in a way that does not overwhelm the player. Anyone who has used a sportsbook of any sort before, even beginners, will be immediately fluent in reading the Bet Victor site, as if by second nature. Now that is what great site design looks like.
Everything on the site, too, is fully integrated. This is another way in which Bet Victor's site design breaks with the status quo. Many sites will segregate their sportsbook, casino, and live casino platforms for some reason. Bet Victor, however, makes every corner of the site easily accessible no matter where you happen to be.
The center of the home page, for instance, doubles as the usual center of the sportsbook (providing bets, stats, highlights, etc.) as well as the portal to every other feature Bet Victor has to offer. Simply click one of the tabs to transform this middle matter from sportsbook to casino, to live casino, to offers. Honestly, I don't know if a more intuitive betting site exists.
Content and Features
Bet Victor surpasses most other betting sites for its exhaustive and comprehensive sportsbook alone. With more than 30 sports for you to choose from, you would be hard pressed to run out of action. You'll also find a huge variety of bet types on this site, more than many players are likely used to, such as multiples, 1×2, over/under, each way, combos, accumulators, minute to win it bets, money lines, correct score, first goal, match spread, and many, many more.
If you are an avid fan of live betting, you will be happy to learn that Bet Victor does offer lots of live markets, including football, basketball, baseball, ice hockey, badminton, volleyball, and tennis. The only qualm that I have with Bet Victor's in-play betting is the fact that they do not offer any live streamed major sporting events. This is a surprising letdown when you consider how big a company Bet Victor is and how respected they are within many prominent sports leagues.
That being said, Bet Victor does offer live streams of their Greyhound and horse races. Although some reviewers claim that you need to make a £1 bet to watch the races, that does not appear to be the case – I was able to watch races without making a bet at all.
As far as the sportsbook is concerned, it's pretty solid. I would, however, like to see a few things added, such as a more expansive eSports market, as well as some more novelty and entertainment bets. Other than that, though, I think Bet Victor's sportsbook should satisfy just about any more traditional player.
As far as the casino is concerned, get ready to enjoy approximately 900 casino games. Your options include slots, table games, video poker, and plenty of live dealer games as well. Bet Victor has one of the greatest live casino selections I have seen to date – especially when you look at how low the play minimums are, usually set at £0.20 and up. The streams, too, which are provided by Evolution Gaming, are excellent. Enjoy a lag-free, crystal clear live gaming experience on Bet Victor.
Mobile and Desktop Experience
With both an extremely mobile friendly browser website and a selection of native apps, you cannot go wrong with Bet Victor for mobile gaming. They offer 2 separate apps: a sportsbook app and a casino app, as is often the case, and they are both available on Android and iOS devices.
Both of Bet Victor's apps are critically acclaimed and have received impressive ratings on both the Apple App Store and Google Play. If mobile gaming is important to you, you do not want to miss out on Bet Victor, as it is clearly one of the industry leaders on just about every front, mobile gaming included.
Suggestions that I have for Bet Victor
Naturally, I would love to see Bet Victor embrace live streaming technology more. For a company of this stature and quality, live streaming seems like an obvious feature. I don't think that it is enough to make me completely write Bet Victor off (definitely not), but it is something for the in-play bettor to seriously consider before deciding to create an account.

Related Sites