Claim offer
Minimum deposit:

£5

Minimum bet:

£1

Bettings limits:

£50
Pros and Cons
Great sportsbook

Amazing app

Sports betting, casino, live casino, virtuals, and more
Limited live streaming

Not available in US

Subpar site design
Top Three Reason to Join
Huge sportsbook with competitive odds
Fast and convenient payment options
Tons of features and ways to play
Company Information
Phisical address:

Suite 2B, 143 Main Street, GX11 1AA Gibraltar

Current License:

000-039469-R-319383-001

Website:

https://www.boylesports.com

Date Established:

1989

Email:

[email protected]

Phone:

+353 42 939 3168

Country Restrictions:

Afghanistan,
Albania,
Algeria,
Angola,
Belgium,
Brazil,
Bulgaria,
Cambodia,
Canada,
China,
Croatia,
Cyprus,
Czech Republic,
Denmark,
Ecuador,
France,
Gabon,
Germany,
Greece,
Guyana,
Hungary,
Indonesia,
Iran,
Iraq,
Israel,
Italy,
North Korea,
South Korea,
Kuwait,
Laos,
Myanmar,
Namibia,
Netherlands,
Nicaragua,
Pakistan,
Panama,
Papua New Guinea,
Philippines,
Poland,
Romania,
Serbia,
Singapore,
Spain,
Sudan,
Sweden,
Switzerland,
Syria,
Uganda,
United States of America,
Yemen,
Zimbabwe,
Turkey

more

Currencies Accepted:

Accepted for customers from:

United Kingdom,
Ireland,
United States of America,
Netherlands,
Argentina,
South Africa,
Bulgaria,
Belgium,
Portugal,
China,
Nigeria,
Romania,
Switzerland,
Slovakia,
Tunisia,
Venezuela,
Philippines,
Kenya,
Israel,
Russia,
Malta,
Peru,
Cameroon,
North Korea,
South Korea,
Albania,
Chile,
India,
Singapore,
Zambia,
Cyprus,
Lithuania,
Uganda,
Czech Republic,
Ecuador,
Colombia,
Pakistan,
Ghana,
Georgia,
Paraguay,
Moldova,
Armenia,
Montenegro,
Belarus,
Bangladesh,
Latvia,
Rwanda,
New Zealand,
Estonia,
Denmark,
United Arab Emirates,
Angola,
Syria,
Tanzania,
Morocco,
Zimbabwe,
Malaysia,
Côte d'Ivoire,
Ethiopia,
Kazakhstan,
Iraq,
Indonesia,
Azerbaijan,
Namibia,
Sri Lanka,
Uzbekistan,
Canada,
Brazil,
Australia,
Norway,
Sweden,
Finland,
Germany,
Poland,
Austria,
France,
Spain,
Italy,
Ukraine,
Mexico,
Greece,
Serbia,
Croatia,
Hong Kong,
Japan,
Hungary

more

Other products
Esports

Bitcoin

Bingo

Combined Betting

Entertainment

Football pool

In-Play Betting

Live Betting

Live Casino

Live Streaming

Online Games

Poker

Politics

Virtual Sports

BoyleSports in short
Minimum Deposit

£5

Customer support

Live Betting

Minimum Bet

£1

In-Play Betting

Live Streaming

Betting Limits

Mobile App

Combined Betting

Welcome Bonus

Football pool

Bitcoin Bet

Summary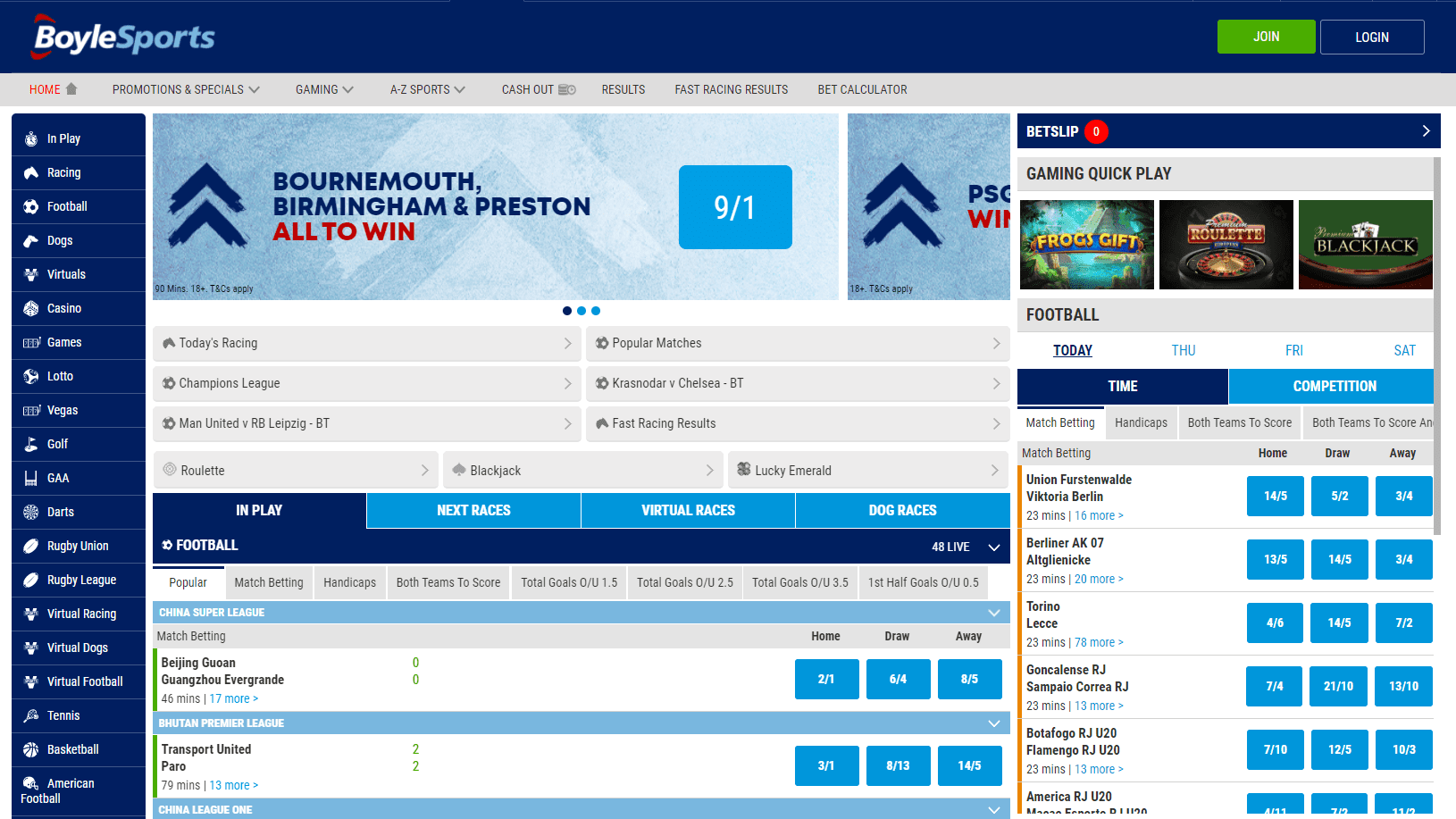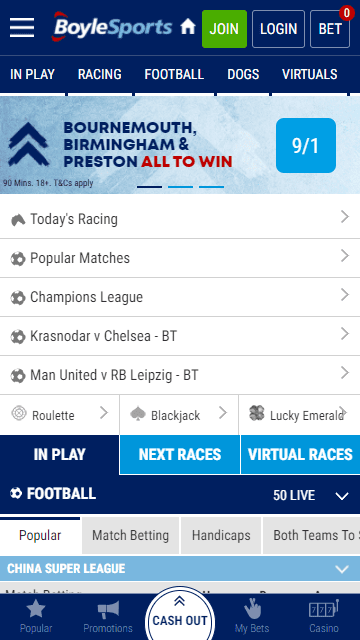 Introduction
Every once in a while, I get the honor of reviewing a company as reputable, trustworthy, and respected as Boyle Sports. I must say, it is a breath of fresh air to know going into a review that I am not going to have to look for any indications of a site being a scam or a cheat. Few sports betting and online casino sites on the web come anywhere close to having the same stellar reputation of Boyle Sports.
Year after year, for the last 38 of them, Boyle Sports has been one of the top sportsbooks in the world … and easily the top sports bookmaker in Ireland. There are not many sites that can compete with Boyle Sports, at least not when it comes to providing a quality product before the internet, as well as being able to provide that same quality after making the leap into the digital age.
It is not easy, I would imagine, for a brick and mortar bookmaker to make that leap successfully. The world of online gambling is a rather different one from that of bookmaking prior to the internet. There is a whole host of new concerns for a bookie to worry about with online betting. Are you going to be able to stay on the cutting edge, for instance, of features and site design?
Will you be able to adapt to the new sports and markets that there is an increasing demand for, such as eSports and virtuals? What will you do when it comes to making sure you have a top-notch live betting service, especially when that is not something that you ever really had to worry about before? The list goes on and on.
Some sites do not make this transition gracefully. Certain companies are just much more old-school than others. There is, in some circles (or at least there was at the turn of the century), a sort of reluctance to adapt to the online platform. Some companies even went so far as saying that it would be a faze, that this whole 'internet crazy' would pass. These are the companies that, of course, eventually died out like the dinosaurs that they were.
Those bookmakers, however, that embraced the digital age were able to see a great deal of success. In many cases, the switch to online gambling has been way more lucrative than one could ever have wished for. If done right, one little bookie somewhere who took bets via the phone could rise up to prominence and become one of the top online sportsbook providers of all time. It's all about playing your cards right.
I think that it is fair to say that Boyle Sports has definitely played its cards right over the years. Not only did they make the jump to online gaming right when it was the most strategic to do so, but they also allowed their online platforms to expand with the demand. When they realized that most betting site customers also want to be able to play casino games online, Boyle Sports added an online casino. When it became clear that their customers would like to bet on eSports, Boyle Sports adapted. When the push for mobile gaming became all the rage, Boyle Sports developed one of the most critically acclaimed apps on the market.
However, it is one thing to make all the right decisions from a business standpoint and another to actually provide a truly competitive betting site in this oversaturated market. So, without further ado, let us take a look at how Boyle Sports stacks up against its competition and see if this is the right site for you.
History
Boyle Sports was founded by none other than John Boyle. He opened his first bookmaking shop in 1982 in Northern Ireland. And by 1989, he had a small chain of bookmakers on his hands, with 5 additional outlets in Drogheda. By the time 2002 had rolled around, Boyle Sports owned 20 total betting shops in Ireland, making Boyle Sports the premiere sports betting outfit across Ireland.
Growth did not stop or slow there either. In August of 2004, Boyle Sports owned and operated a grand total of 77 shops. The company celebrated the opening of its 100th shop in 2006. The mid-2000s appears to have been a period of exponential growth for Boyle Sports.
One thing that I have always respected about Boyle Sports is the fact that the company is one that cares about more than mere profits. A prime example of this lies in the story of how Boyle Sports chose to take on the burden of 17 shops in February of 2011. Celtic Bookmakers was going under. Instead of simply allowing this to happen, Boyle Sports bought these shops from Celtic, which resulted in 100 jobs being saved. That same year, Boyle Sports saved another 65 jobs thanks to their similarly strategic takeover of 15 shops under the brand of William Hill.
In July of 2017, it was time for John Boyle to step down from his position of Boyle Sports' founder and leader. He was succeeded by Conor Gray, who stepped in as Boyle Sports' new CEO. Growth of the company continued under this new leadership, too. In September of 2018, Boyle Sports opened its 250th brick and mortar shop. The company also announced its intent to expand its online presence, as well as further develop its retail arm.
Boyle Sports is the rare company that is not losing site of the brick and mortar market while also appropriately always developing its online brand. In June of 2019, the company finally entered the UK market for retail, having acquired independent bookmaker Wilf Gilbert – this landed Boyle Sports 13 shops in the midlands. Furthermore, in January of 2020, Boyle Sports also bought 33 William Hill shops in Northern Ireland, which officially made Boyle the largest retail bookmaker in all of Ireland.
Design
I don't say this often, but I really despise the Boyle Sports site design. Unfortunately, the site does not provide a great first impression. It is sloppy, cluttered, dated, and more manual than I would like. Boyle Sports suffers, I think, from an unwillingness to consolidate. The site designers appear to have wanted to throw as much content and information onto every page as possible, which ends up looking, in my opinion, way too cluttered to be useful.
For instance, take a look at the site's sportsbook … you will find, as is customary, a long list of sports on the left-hand side of the page, bets and highlights in the center, and a bet slip permanently embedded to the right. This is fine, this is a tried and true layout that has been proven to work and is convenient. The only problem, though, is that Boyle Sports adds to this a sprawling "Live Now" section and a host of casino games jumbled in between the normal sportsbook layout.
I get why Boyle Sports would be tempted to do this. On paper, it seems quite convenient … to quickly be able to jump between futures, live betting options, and casino games on a whim? Why not. Theoretically, this is the kind of streamlined and seamless site design that I like to see from a betting site. The only problem (and it is a big one) here comes in the form of execution. I have seen this idea done well before. Unfortunately, Boyle Sports does not offer an integrated and immersive enough web design to really pull it off.
The site certainly does not look great, that much we have established. However, functionality wise, there are some saving graces of Boyle Sports' site design. For instance, I do appreciate the fact that every section of the site, for all of its clutter, is collapsible. If I want to, in other words, hide (or at least compress) the live events section, I can do so by collapsing every category. The same goes for the upcoming bets section, the casino games, and the bet slip. This helps a little bit with the messiness of the site. It does nothing, however, to make the site look sleeker, more modern, or more experiential than it does, though.
Content and Features
One thing that Boyle Sports does right, however, is in providing one of the largest and most competitive sportsbooks on the web. With around 30 sports to bet on, you will never be short on action. In addition to a large variety of sports and some novelty markets (such as politics and entertainment), Boyle Sports offers a wide variety of betting types and fixtures, whether you are looking to place bets on upcoming matches or you prefer the thrill of placing in-play bets.
Speaking of Boyle's live betting experience, the site does have a bit more to offer than many other sports betting sites (even if it does not have quite as much to offer in the way of live betting as some of its other competitors). For one thing, Boyle Sports does have live streaming capabilities. So, that's a win, right? Well, in a way … the site's live streaming is extremely limited, offering only streams of select horseraces. Another downer comes in the form of the fact that you need to have made a minimum £5 bet in order to watch the live stream.
One way that Boyle Sports makes up for its streaming limitations, though, is in the form of a wide variety of other features, such as a huge online casino, a live casino, virtual sports, video games, and specialty games, such as bingo and lotto. Plus, Boyle Sports has one of the best mobile apps on the market today.
Mobile and Desktop Experience
Available for both Android and iOS devices, there is no going wrong with the Boyle Sports app. In fact, I prefer their app to their desktop site design. It is much simpler, more intuitive, user-friendly, and easier to navigate (in my opinion). Boyle Sports, in many ways, seems to be at the forefront of online gaming, which makes it surprising that their desktop site would look so dated. They make up for it, though, by offering one of the most celebrated mobile gaming experiences available right now.
Place your bets, track your bets, get in on the in-play action, or enjoy a huge range of casino games no matter where you happen to be. Boyle Sports is perfect for the player on the go.
Suggestions that I have for Boyle Sports
First and foremost, I would love to see Boyle Sports conduct a full-on overhaul of their site design. It is in desperate need of a makeover. From top to bottom, I want to see Boyle Sports try something entirely different. I would like to see a more experiential, immersive, and responsive website sometime soon.
As far as the site's features and content is concerned, though, I have zero complaints … which makes it all the more frustrating that the site design is subpar, because Boyle Sports has the potential to offer the perfect sports betting and online casino site!

Related Sites