Pros and Cons
Great apps

Incredibly competitive sportsbook

Huge casino

Live streaming

95%+ payout on top leagues
Many countries restricted

No quick bet

Minimum withdrawal of €30

No bitcoin
Top Three Reason to Join
Extremely mobile friendly
Company Information
Phisical address:

Interwetten Gaming Ltd. 2nd Floor, Global Capital Building Testaferrata Street Ta'Xbiex XBX 1403 Malta

Current License:

MGA/B2C/110/2004

Website:

https://www.interwetten.com/

Date Established:

2001

Email:

[email protected]

Phone:

+356-23-276-000

Payout option:

Country Restrictions:

Australia,
Turkey,
France,
Poland,
Greece,
Belgium,
Italy,
Malta,
Romania,
Portugal,
Bulgaria,
Denmark,
Slovenia,
Netherlands,
Estonia,
Lithuania,
Latvia,
Croatia,
Czech Republic,
Finland,
Slovakia,
Iran,
United States of America,
Ukraine,
United Kingdom,
Hungary

more

Currencies Accepted:

Accepted for customers from:

Afghanistan,
Canada,
Mexico,
Brazil,
Australia,
Norway,
Sweden,
Finland,
Germany,
Poland,
France,
Spain,
Italy,
Ukraine,
Turkey,
Greece,
Austria,
Serbia,
Croatia,
Japan

more

Other products
Esports

Bitcoin

Bingo

Combined Betting

Entertainment

Football pool

In-Play Betting

Live Betting

Live Casino

Live Streaming

Online Games

Poker

Politics

Virtual Sports

Interwetten in short
Minimum Deposit

€20

Customer support

Live Betting

Minimum Bet

€.50

In-Play Betting

Live Streaming

Mobile App

Combined Betting

Welcome Bonus

Football pool

Bitcoin Bet

Summary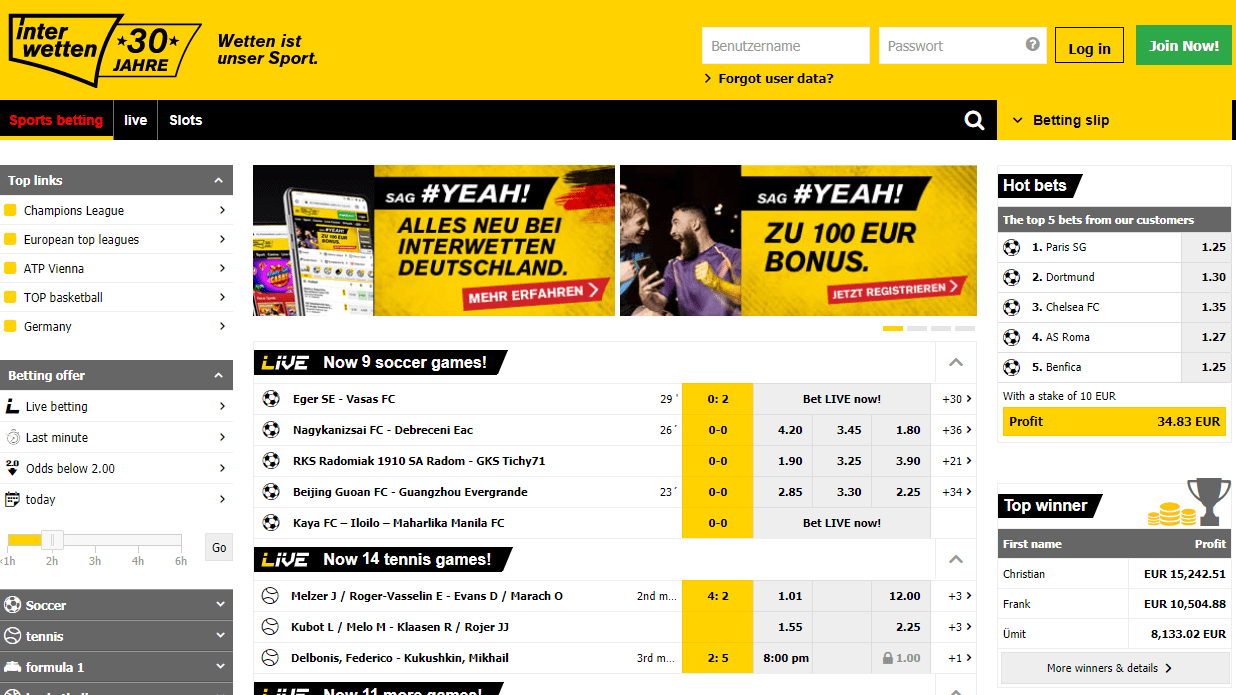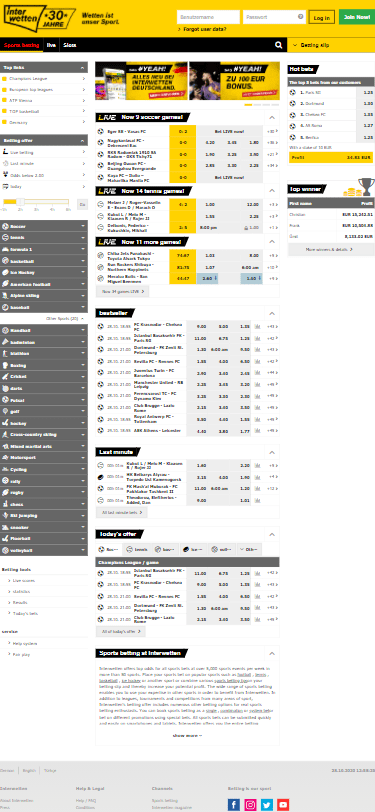 Introduction
When it comes time to choose a new go-to sports betting and online casino site, there are many factors to take into account. You will likely want to know how big and diverse the site's sportsbook is, whether it offers in-play and live betting options, what kinds of betting types the site caters to, whether it offers competitive odds, how well the interface is designed, whether it is mobile friendly, how many games it offers, etc. See, just listing all of the concerns that come up when picking a new betting site is exhausting.
Above all else, though, the most important thing to take into account is going to be the site's legitimacy. Whether you like it or not, it is a fact that some sports betting and online casino sites are more credible than others. That is one of the reasons it can be so stressful to figure out which one is going to be the best for you. There are so many scammers around the world, all trying to make a quick buck. That buck that they make, of course, should never be your own.
Even the bigger name sites with tons of brand recognition and great reputations in the world of online gambling have, from time to time, been accused of unethical behavior and poor treatment of customers. You'd be surprised … some of the biggest names in the industry have, at one point or another, been featured on many industry blacklists. Of course, the majority of them correct their errors and, over time, earn their way back into their good name. Still, though, you don't want to become a customer of a betting site at the wrong time and end up getting screwed over by a company before it decides it is going to make good on its name.
Which is why you are wise to look into betting and online casino sites before just handing over your money in the form of your first deposit. Likewise, that is precisely why I review these sites. If an online casino or sportsbook needs to be exposed for foul play, I want to be the one to ensure that it is. Conversely, if a sportsbook or online casino offers excellent services, great odds, and stellar customer service, I want to be able to guide you towards it.
The site that we are going to be taking a look at today is definitely one of those sites with a great reputation. What's more, it has maintained this reputation over the years, having never (to my knowledge) been featured on a blacklist or accused of anything shady. The site that I am talking about, of course, is Interwetten – a trailblazer of the industry, to say the least.
History
Interwetten was founded in 1990, giving it an impressive 30 year run of providing quality online entertainment without scandal or sully. As you would likely assume, having been founded in 1990, Interwetten did not always provide online betting and gaming services. Instead, when the company first began, Interwetten offered sports betting services via the telephone – old school. They wasted no time whatsoever, though, making the switch to the world of online gambling. In fact, they were pioneers in that regard.
Interwetten became only the second company in the world to offer online betting services in 1997. The only site that beat them to the punch was Intertops. Although today the company is located in Malta, it was founded in Vienna, Austria and has expanded exponentially since its early days.
Between the years of 1990 and 1997, Interwetten offered nothing more than a telephone bookmaking service that enabled players to place bets on sports. Once Interwetten took their business model into the digital age, though, the opportunities abounded. In 2004, the site added its online casino, and in 2006 it tacked on a Skills Games division as well. Today, when people talk about an eSports betting site, it is nearly impossible for them not to bring up Interwetten.
Few betting companies have been as successful at adapting to the changing times as this one has. With the vigor of a hungry tech startup, Interwetten has been eager to be at the forefront of every seismic shift in the world of online gambling. In my opinion, Interwetten leads the pack into the future of gaming. They have managed to stay relevant (or perhaps you could say 'increase their relevance) by allowing themselves to think progressively and act flexibly. I, along with the site's millions of users, am particularly excited to see where Interwetten goes from here.
Design
Interwetten is bright, loud, and colorful. Presenting itself in a boldly contrasted white background with sudden bursts of bright yellow, this site is sure to get you pumped up from the moment you land on its home page. In fact, I might even go as far as to say that the design is a bit too much for me.
I understand that this is just a matter of personal preference, but there is just so much going on here. It is chaotic if you ask me. My eye cannot figure out where it wants to be led by the site design. The layout itself is typical enough, so, that helps. But there is so much clutter it takes me longer than I would prefer to get my bearing, especially on the sportsbook.
Here, you'll find a list of sports on the left-hand side of the page, which is fairly typical. Each sport comes with a lengthy dropdown menu which allows you to browse by league and region. The sports are separated by the site's most popular picks and a full alphabetized list of everything that is available.
Above that, in a move that is actually rather unique and helpful, Interwetten offers a betting offer browsing feature. Here, you can easily and quickly filter bets by type – choose between live bets, last minute, odds under 2.00, and Today. Interwetten does not stop there, though, when it comes to bet browsing abilities. There is also a timeline set between less than 1 hour and 6 hours that allows you to view bets by how recent they are. This is something that I have never seen before on a sportsbook, and something that will prove truly convenient when it comes time to browse the multitude of bets and bet types available on Interwetten's sportsbook.
Content and Features
In addition to a sizeable sportsbook, Interwetten also has live betting, a casino, a live casino, video games, virtual sports, and eSports available. In fact, the site has become highly critically acclaimed for its eSports betting capabilities in recent years.
Interwetten has a very large casino for players to enjoy. With over 1,000 different games, you'll never grow bored here. Test your luck with slots, blackjack, poker, roulette, strategy games, scratch cards, and video games. Or, of course, you can always play head to head against real live dealers if you take a trip over to Interwetten's live casino, doubling the excitement and adding even more action for you to take part in.
The eSports sportsbook, too, is massive. With one of the largest selections of markets for eSports that I have seen to date, Interwetten surely will not disappoint even the most experienced eSports enthusiast. Here, you can bet on games like DOTA II, League of Legends, Star Craft II, Overwatch, Rainbow Six, and King of Glory. Each game also has plenty of ongoing tournaments, leagues, and regional matchups for you to enjoy.
Last but not least, of course, is Interwetten's sportsbook. If you were to assume that, since Interwetten has been in the sports betting game for so long that they have one of the best sportsbooks around today, you would be absolutely correct. Offering 40+ different sports for you to bet on, Interwetten is one of the largest sportsbooks on the web. It is also one of the most active, with an average of 30,000 events featured each month. For many of the events, by the way, the average payout is 92% and up. For more popular events, payout can start at 93%.
Interwetten is also ideal for live betting. With tons of in-play betting options, you can be sure to never miss an exciting moment to place a wager. Plus, Interwetten offers a live streaming feature, which is nothing short of ideal if you are going to bet live. Also useful for live bettors are Interwetten's partial cash out and late-stage cash out.
That being said, you might be missing out a little on quick bets (average time to place a bet is 3 seconds) and auto cash out is unavailable. Still, though, these are relatively minor issues among so much that Interwetten is doing right, don't you think?
Mobile and Desktop Experience
Once again, Interwetten is on the forefront of modern online gambling. Interwetten has apps available for Android, iOS, and Windows Mobile devices – making it one of the most mobile friendly betting services on the market (at least in terms of its range of devices). Plus, as you might expect, Interwetten's apps are every bit as good as the site, making it the perfect choice for bettors who like to play on the go.
One thing that I appreciate about the selection if Interwetten mobile apps is the fact that sports betting and casino gaming are available on the same app. This is not usually the case with other providers – it seems to me like the general philosophy within the industry is, the more apps the better. I have always found this to be annoying, though, which makes it refreshing to see that Interwetten has streamlined their services into a grand total of 2 apps.
The first handles all sports betting, live sports betting, and casino gaming in one convenient, intuitive, smooth, and streamlined app. Easy to navigate and features-rich, you would be hard pressed to find a better mobile interface for sports betting and casino gaming.
The second app is called Interwetten Live. Don't let the name mislead you, all live sports betting will still take place on the primary Interwetten app. The Interwetten Live app, however, is going to be an invaluable tool for sports bettors, as it offers real time, live updates of results, stats, tables, and statistics pertaining to football, tennis, hockey, basketball, and more. I highly recommend, when possible, using the Interwetten Live app alongside the desktop sportsbook for the most up to date and strategically informed sports betting experience imaginable.
Suggestions that I have for Interwetten
Unfortunately, Interwetten is not currently available in the United States or the United Kingdom. I do not know the specifics behind why (it is much more surprising to see that UK citizens cannot use Interwetten, as it tends to be a gambling friendly country these days), but I would like to see Interwetten make an effort to increase its international reach nonetheless. Some other countries that are restricted include France, Poland, Netherlands, Slovenia, Guam, Denmark, and Belgium (just to name a few).

Related Sites