$200 Sing-Up Bonus
Welcome bonus
Claim offer
Minimum deposit:

$10

Minimum bet:

$1

Bettings limits:

$9,000
Pros and Cons
Mobile friendly site

Awesome sportsbook with competitive odds

Plenty of banking options

24/7 customer support
Top Three Reason to Join
Beautiful sportsbook design
Reputable and trustworthy brand
Company Information
Phisical address:

3997 Armory Building, Basseterre, St. Kitts

Website:

https://intertops.eu/

Date Established:

1996

Email:

[email protected]

Phone:

1-866-549-2437

Country Restrictions:

Australia,
Austria,
France,
United Kingdom,
Turkey

more

Currencies Accepted:

Accepted for customers from:

United States of America,
Netherlands,
United Kingdom,
Czech Republic,
Kenya,
Ireland,
Russia,
New Zealand,
Denmark,
Lithuania,
South Africa,
China,
Nigeria,
Philippines,
Romania,
Cyprus,
Israel,
Belgium,
Georgia,
Singapore,
India,
Portugal,
Colombia,
Malta,
Morocco,
Venezuela,
Vietnam,
Malaysia,
Moldova,
Costa Rica,
Armenia,
Montenegro,
Bosnia and Herzegovina,
North Korea,
South Korea,
Peru,
Ghana,
Zimbabwe,
Pakistan,
Jamaica,
Sri Lanka,
Kyrgyzstan,
Ethiopia,
Bangladesh,
Kazakhstan,
Canada,
Mexico,
Brazil,
Australia,
Sweden,
Norway,
Finland,
Germany,
Poland,
Austria,
France,
Spain,
Italy,
Ukraine,
Greece,
Serbia,
Croatia,
Hong Kong,
Hungary,
Slovenia

more

Other products
Esports

Bitcoin

Bingo

Combined Betting

Entertainment

Football pool

In-Play Betting

Live Betting

Live Casino

Live Streaming

Online Games

Poker

Politics

Virtual Sports

Intertops in short
Minimum Deposit

$10

Customer support

Live Betting

Minimum Bet

$1

In-Play Betting

Live Streaming

Betting Limits

Mobile App

Combined Betting

Welcome Bonus

Football pool

Bitcoin Bet

Summary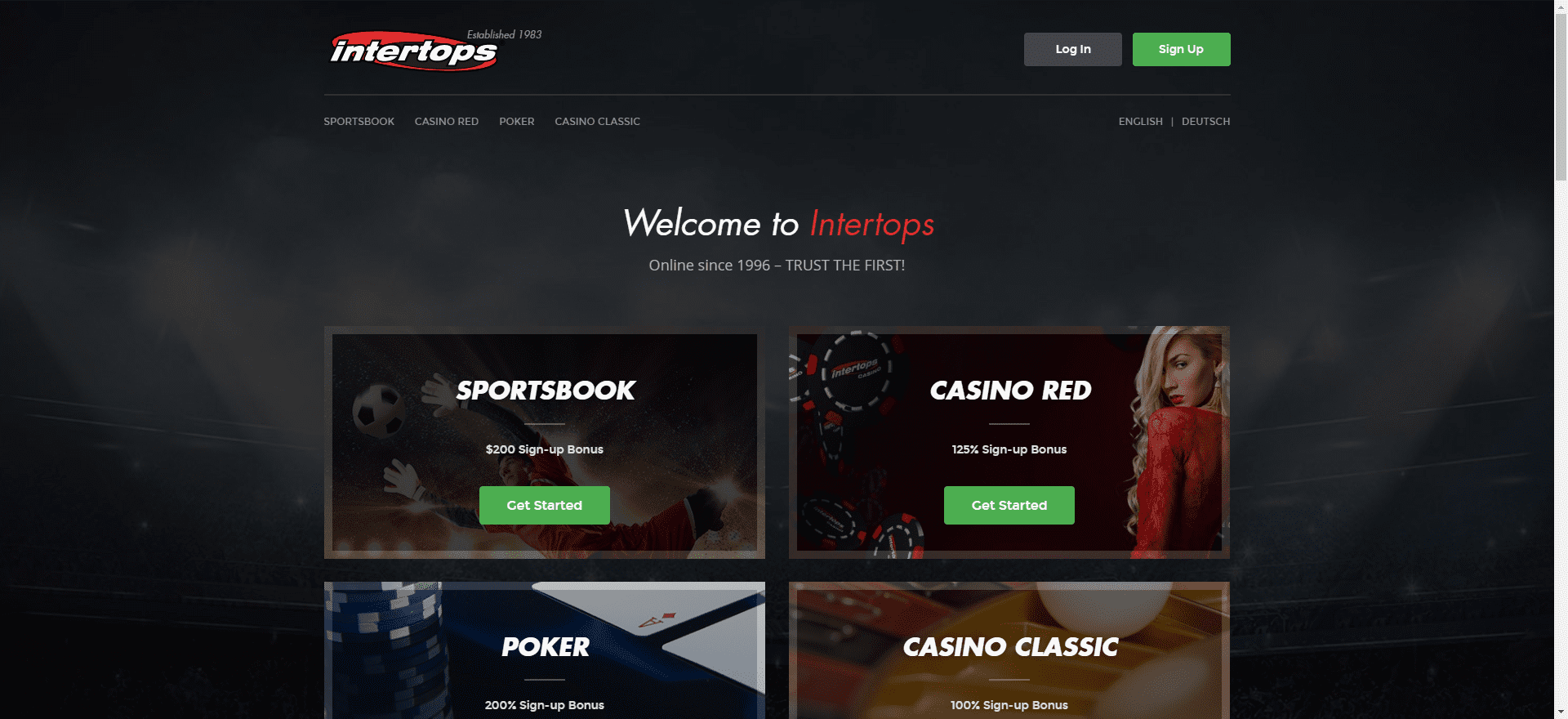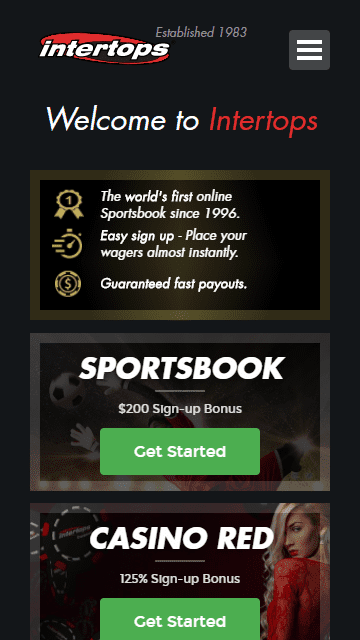 Introduction
Being the first to do something is certainly quite an honor. It shows that you are a pioneer, a trailblazer, a maverick. Everybody wants to be the first to reach a new achievement. The first person to walk on the moon. The first basketball player to beat Michael Jordon's 6-time championship record. The first company to provide sports betting services online…
Although I can't speak to when (or if) anybody will ever beat MJ's historical run of the Chicago Bulls, I can say with certainty that Intertops will go down in history as being the first company to move their sportsbook into the digital age. And nobody will ever beat that. It is for that reason that Intertops will go down in the history books of online gambling as the risktakers and groundbreakers that they are.
But does being the first to do something mean that you are the best? Well, not always … In fact, history would seem to suggest the inverse to be true. Look at the first car, for instance. Obviously, a Tesla is infinitely better than the Ford Model T in many ways. But that does not mean that Ford's Model T does not deserve a special seat at the table of history. Without it, the innovation that led to the Tesla would not have been possible.
Is Intertops, then, merely a relic of history like the Model T? Is it a betting site to be respected for the doors that it opened but not the services that it provides today? Well, there are a lot of people who swear by Intertops, who claim that it is still the number one betting site in 2020, giving this moniker of "number one" a duel meaning – they are the first to do it and the best to do it in the eyes of some.
Ultimately, though, as is the case with any kind of site, there is really no such thing as a site that is objectively the best. So much of what we describe as "the best" is predicated on subjective preferences. One site's interface, for instance, could be perfect in your eyes, but counterintuitive to me. That shouldn't discourage us, though, from figuring out which sites are better than others … even though "the best" may be merely a matter of opinion, there are objective means, nonetheless, by which we can evaluate how effective certain betting sites, in fact, are.
That being said, I believe that it is time to see, once and for all, whether Intertops is, indeed, the top betting site on the internet. There is no better way to do that, of course, than to dive in and take an in-depth look at Intertops and everything that the site has to offer.
History
Intertops was founded way back in 1982. The German company, founded by Detlef Train, wasted no time before finding conflict with the law. Instead of packing up and quitting the bookmaking business, Train persisted. In 1983, he simply moved his business to England, which was much more amenable to gambling. After obtaining his British bookmaking license, Train opened up shop as a phone operated bookmaker that primarily marketed to Germany. Detlef Train, it turns out, has always been a pioneer, because this is the first time in history that somebody successfully pulled such a move off – obtaining a license from a safe haven in one country in order to provide sports betting services to members of another country.
Leaf laid down the foundation that many companies in the years to come would copy. Following in Intertops' footsteps, plenty of American companies began obtaining licenses overseas in order to provide sports betting services to US players back home in order to bypass restrictive anti-gambling laws. With the UK unsure how to handle the legal loophole that Leaf had created, the government eventually responded by enacting legislature that limited cross-border license trading. Wasting no time whatsoever, Leaf relocated his headquarters to Austria in 1992.
Simon Noble became a part-time employee of Intertops in 1989. He was 18 years old and studying banking and internal finance at Manchester University at the time. He did not know it back then, but eventually, thanks to Intertops, he would soon become one of the most recognizable names in all of online gambling.
In 1994, the former part-time ticket writer became key in Intertops' online expansion team. Their goal was to become the first ever online sportsbook. Detlef Train had a reputation for preferring to stay behind the scenes and declining all media interviews. Thus, in 1995, he promoted Noble to the role of CEO, allowing him to have full control over the company's daily operations. Where Detlef Train was a bit of a shut-in, Noble was his polar opposite. He loved the media attention and handled it with poise.
Intertops.com officially launched on January 17 of 1996, marking one of the most historical dates in sports betting history. The first online sports bet was placed on this day by a Finnish player named Jukka Honkavaara. He placed a $50 wager on a UK football game between Hereford United and Tottenham. Leaf, Noble, and Intertops had officially become the first sportsbook to ever conduct a bet on the internet.
Their status as the first online sportsbook, however, was short lived. Interwetten followed closely behind. As did VIP Sports, also in 1996. The following year, there were dozens more, such as Players Only (now sportsbook.com), Rio International (which became Sky Book), and Big Book (which would eventually become acquired by the infamous sports betting site, Bodog). Nonetheless, Intertops marched onward and began expanding into the US market.
Today, Intertops is still one of the top online gambling outfits in the world. With a rich history and an equally features-rich website that is stronger than it's ever been, Intertops is truly in a league of their own when it comes to sports betting. Today, though, they are so much more than that – offering a casino, live casino, and some truly exceptional poker games as well.
Design
From the moment that you land on intertops.com, it becomes abundantly clear that this site has been around the block a few times. This is clearly an extremely professional bookmaker with years and years of experience providing online betting products. I guess it does pay off to be the first at something. In many ways, Intertops has perfected over the years the site design that they also were the first to create … I suppose this makes a lot of sense.
If you have used an online sportsbook before, then you know the layout well. You usually will find a list of sports spanning down the left-hand side of the page, a bet slip prominently featured to the right, and sports highlights, bets, and stats for you to browse and act on featured in the middle of the page. This is the format that Intertops invented and I am tempted to say that they have the best sportsbook layout of any site on the web to this day.
The site's sportsbook is incredibly easy to read. It is clean, neat, smooth, and responsive. A lot of sportsbooks out there suffer from an issue of clutter or the design being too clunky, too bogged down with data. This is far from the case with Intertops. The design is all about clean lines, minimalism, and sleekly presented, easily legible information. You will be fluent in this site's sportsbook from the second you log in.
Another thing that I love about the site's design is how much content Intertops has managed to provide on a single page without it looking sloppy. In addition to the sports list, bets and highlights, and bet slip I mentioned earlier, the sportsbook also prominently features a Hot Bets window, where you can see some of the most active bets on the site as they are rising in popularity, as well as a flawless live betting window just below your bet slip. Never before has it been easier to place bets, track your bets, and keep an eye on in-play action all at the same time.
Content and Features
Although Intertops' main attraction is its sportsbook, that is not all that you will find on this site. The site offers 2 separate casinos: Classic and Casino Red. The classic interface offers over 200 unforgettable slot machines and table games that are meant to turn up the nostalgia. Casino Red, on the other hand, offers free daily tournaments, another 200 casino games, and a more modern feel to the game selection. You can expect stellar graphics and a truly smooth and enjoyable gameplay here.
Intertops, too, should be a favorite for poker players everywhere. With a whole platform dedicated just to poker, this site has put in a great deal of effort to everyone's favorite card game. The poker games are also smooth and bring you right to the table with live games and tournaments daily. Whether you like video poker or live Texas Hold 'Em, Intertops has a little bit of something for every player.
Last but not least, there is the legendary Intertops sportsbook. With a sizeable sportsbook to rival any of its competitors in terms of options, you can't go wrong here. The site offers a wide variety of markets and betting types, too, with some truly remarkable odds. The most popular sports featured on the site include football, tennis, basketball, hockey, and golf.
Intertops has no reduced juice. Its futures and moneyline bets may not be the best, but they are certainly better than average. When you pair the wide variety of sports available with the odds presented and the wealth of withdraw options available, you cannot go wrong with Intertops' sportsbook. It is easily one of the best on the web.
Mobile and Desktop Experience
Although Intertops does offer an exquisite browser and downloadable online casino for desktop computers, your mobile playing options are, unfortunately, going to be limited to the mobile browser version of the site. There is, in other words, no Intertops app at the moment. If only the company had decided to be the first online sportsbook and the first mobile sportsbook as well … but alas, we cannot always get what we want, can we?
That being said, the mobile version of the site is, true to form, exquisite. It goes above and beyond most mobile site designs and, in staying in step with the desktop site, offers a beautifully intuitive and slick mobile site design. The experience, actually, of the mobile site comes close to rivaling some other bookmakers' actual dedicated apps – it is really, really good.
Suggestions that I have for Intertops
Naturally, I would have preferred an app, but I think that I can make do with the Intertops mobile site being as well optimized as it is. It would just be nice to have a standalone application – no matter how good your mobile design, it can still be awkward placing bets and playing games through your phone's browser.
Secondly, Intertops does not, at the moment, have a live betting platform. For a site that was so ahead of the curve back in the day to be so behind when it comes to certain aspects (like mobile betting and live betting) seems strange. I hope that Intertops will step their game up and become the king of betting tech once again – finalizing a decent live betting platform (with live streaming, ideally) is the first step.

Related Sites