Pros and Cons
Great site design

Fun casino experience

Best mobile casino

Awesome sportsbook
Ethically questionable business practices

Deposit options could be expanded

Sportsbook could be more accessible on site
Top Three Reason to Join
Tons of casino games and live dealers
Award-winning mobile experience
Company Information
Phisical address:

Level 7 Plaza Business Centre, Triq Bisazza, Sliema SLM1640

Current License:

000-039198-R-319450-020

Website:

https://www.leovegas.com/

Date Established:

2011

Email:

[email protected]

Phone:

+356 2778 1166

Country Restrictions:

Afghanistan,
Cyprus,
Ethiopia,
Iran,
Iraq,
Kuwait,
Somalia,
Syria,
United States of America,
Yemen,
France

more

Currencies Accepted:

EUR,
GBP,
SEK,
NZD,
CAD,
CHF,
CZK,
NOK,
DKK,
AUD

Accepted for customers from:

New Zealand,
India,
Netherlands,
United Kingdom,
Denmark,
United States of America,
Chile,
Malta,
Ireland,
Peru,
Israel,
Switzerland,
Czech Republic,
Portugal,
Romania,
Lithuania,
Thailand,
South Africa,
Argentina,
Bulgaria,
Latvia,
Georgia,
Estonia,
Slovakia,
Russia,
Madagascar,
Belgium,
Colombia,
Malaysia,
Mauritius,
Puerto Rico,
Philippines,
Bangladesh,
North Korea,
South Korea,
Mongolia,
Singapore,
Namibia,
Nepal,
United Arab Emirates,
Slovenia,
Pakistan,
Indonesia,
China,
Morocco,
Barbados,
Yemen,
Cyprus,
Moldova,
Albania,
Taiwan,
Armenia,
Cambodia,
Bolivia,
Gabon,
Egypt,
Kenya,
Uzbekistan,
Iceland,
Luxembourg,
Bahamas,
Belarus,
Vietnam,
Myanmar,
Palestine State,
Venezuela,
Kuwait,
Algeria,
North Macedonia,
El Salvador,
Nigeria,
Bosnia and Herzegovina,
Kazakhstan,
Tunisia,
Burkina Faso,
Trinidad and Tobago,
Zambia,
Azerbaijan,
Jordan,
Kyrgyzstan,
Canada,
Mexico,
Brazil,
Australia,
Norway,
Sweden,
Finland,
Germany,
Poland,
Austria,
Spain,
Italy,
Ukraine,
Turkey,
Greece,
Serbia,
Croatia,
Hong Kong,
Japan,
Hungary

more

Other products
Esports

Bitcoin

Bingo

Combined Betting

Entertainment

Football pool

In-Play Betting

Live Betting

Live Casino

Live Streaming

Online Games

Poker

Politics

Virtual Sports

LeoVegas in short
Minimum Deposit

€10

Customer support

Live Betting

In-Play Betting

Live Streaming

Mobile App

Combined Betting

Welcome Bonus

Football pool

Bitcoin Bet

Summary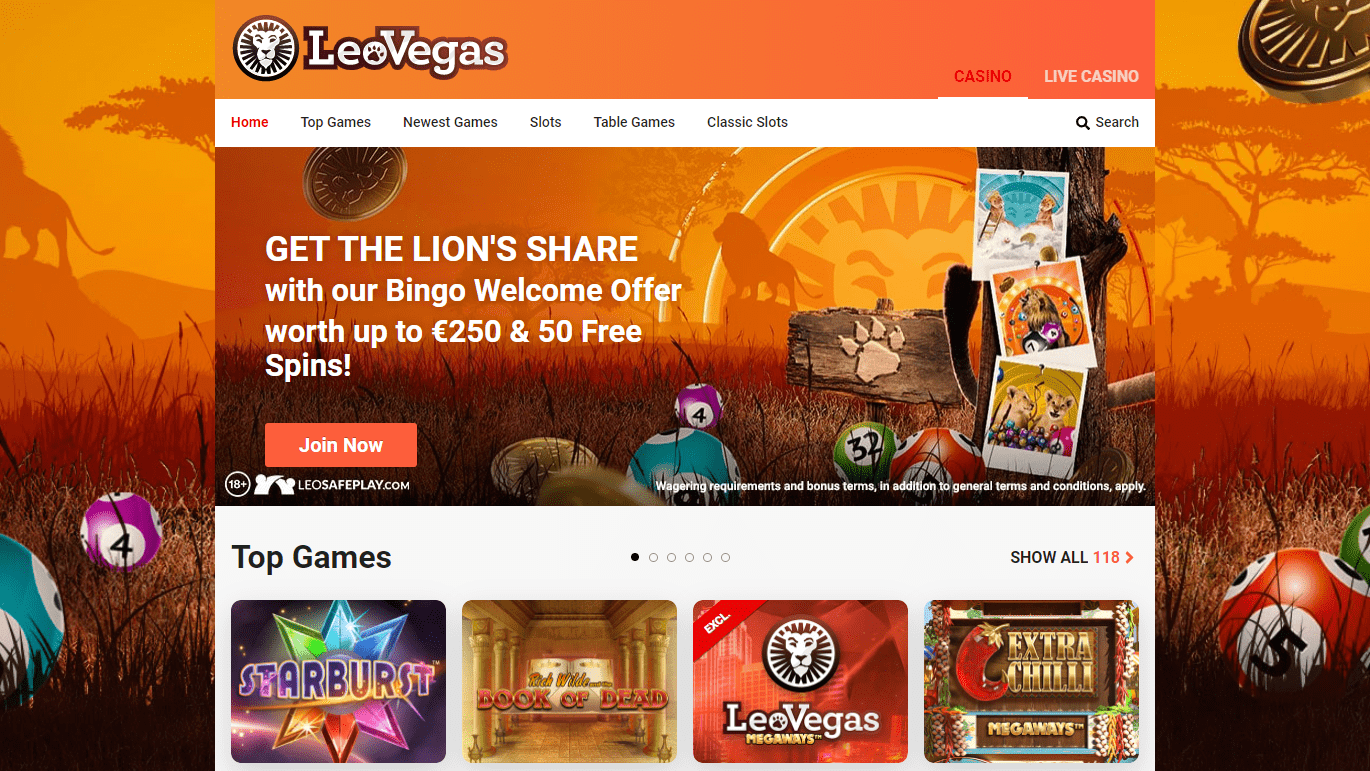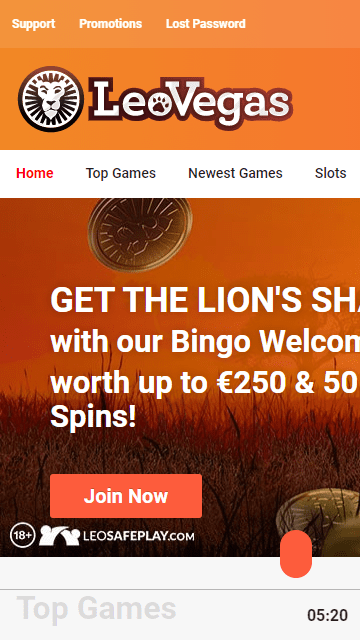 Introduction
A majority of the sites that I review place most of their emphasis on sports betting. Although many of these websites put a lot of their time, money, and energy into trying to provide players with the best possible online sportsbook – by creating a diverse range of markets with competitive odds and sometimes providing live streaming so that players can make the most well-informed in-play bets possible – most of them also do have expansive and impressive online casinos.
However, since so many of these sites do put their sportsbook first, I don't often get to spend as much time as I would like on reviewing these enormous digital casinos … which is why I was thrilled to have the opportunity to review Leo Vegas – one of the world's largest and most riveting online casinos on the web.
Leo Vegas has just about everything that you would expect from a real-life Vegas casino, without any of the hassle of having to travel to Las Vegas, Nevada in order to experience it. If you like playing casino games, live table games and card games, slots, or jackpots, I have a feeling that you will love Leo Vegas.
Oh, and they do have a sports betting service, too … one that is mostly mobile facing. It is not the main thing that they tend to advertise, sure, but it is formidable, nonetheless. In many ways, Leo Vegas is the inverse of the sites that I usually review: a huge and easily accessible online casino that also offers sports betting, as opposed to the other way around.
For many, Leo Vegas is the only online casino worth their time and money. The company has faced its fair share of controversy and hot water over the years – but, then again, what online gambling enterprise has not? It seems to come with the territory. If you run a successful online betting site, at one point or another, you are going to make some enemies. It's something of an occupational hazard. We will delve into the particulars of Leo Vegas' criticism a bit later on.
Leo Vegas, though, has contrasted its criticizers with accolades and awards aplenty. They were given the "Mobile Operator of the Year" award by EGR Nordic in 2016. In 2018, EGR Nordic awarded Leo Vegas with the esteemed "Operator of the Year" award. And they won "Online Casino Operator of the Year" in 2017 from the International Gaming Awards. And that's just naming a few of the honors that this website has received over the years.
So, you will have to decide for yourself whether this online casino lives up to the hype. Nevertheless, there is perhaps no better way to do that then to dive right into the company's history, its highs and its lows, and everything that the site has to offer on an experiential level. Because any frequent player knows: the only thing more important to an online casino's user experience is its earnings potential! So, without further ado, let's take a closer look at the online casino behemoth that is Leo Vegas.
History
Leo Vegas was founded in 2011 by the company's CEO (Gustaf Hagman) and Chairman of the Board (Robin Ramm-Ericson). The company found itself rapidly rising to success, largely because of the company's mobile-first philosophy and the fact that they launched at the perfect time when the demand for mobile gaming began its meteoric rise. Hagman himself has been quoted saying that Leo Vegas "…was born out of the smartphone, which today is the fastest growing channel for entertainment."
Today, not even 10 years post-launch, the company boasts 700 international employees. Many of the other most successful online casinos and betting sites have had to work for decades to see that kind of growth. It just goes to show what can be done when you have a great product in the hands of forward-thinking people at just the right time. Incredible.
The company became publicly traded as of March 17th, 2016. Just 2 months later, on May 13th of 2016 (one month, mind you, prior to UEFA Euro Football Tournament … smart), Leo Vegas launched its mobile sports betting platform, Leo Vegas Sport. Leo Vegas' CEO stated, in accordance with the launch, that "fast loading speeds and a mobile-first approach would be integral to the live betting market." And I think he was right. More and more, people are demanding intuitive and blazing fast apps for their sports betting. Once again, Leo Vegas was right where they needed to be.
It has not all been smooth sailing for the company, though. Leo Vegas has also been accused multiple times of using false advertising. Most notably, the Dutch TV show, Scammed infamously mentions Leo Vegas in 2018, calling the company out for large scale deceptions of consumers via Facebook and other platforms.
Scammed claims that the company utilized 'fake news' by having people say that they won millions when, in fact, they had not won more than they were paid to appear on camera. The company has also been accused of using other paid actors (some of which actually have had movie credits) in order to dupe would-be players into thinking that they had won inordinate sums of money on the site.
In the United Kingdom, Leo Vegas was fined a whopping £600,000 by the national Gambling Commission regarding "failings" as they pertain to advertising and dealing with customer concerns. The GC laid out in its report 41 misleading advertisements. The GC also claims to have evidenced mistreatment of customers when a self-exclusion period came to an end.
The GC review found that Leo Vegas had refused to return account funds to 11,205 customers after they had chosen to self-exclude or suspend their accounts. This is obviously reprehensible behavior from an ethical standpoint. An online casino is supposed to support responsible gambling. And it is beginning to look like, instead, Leo Vegas is vehemently opposed to it.
I am not saying that this is grounds to simply blacklist Leo Vegas. I just think that my readers should be well aware of the companies that they are dealing with before deciding to sign up. If you are unable to square this company's behaviors, morally, better you know now than later. However, if you are less concerned with this (and do not anticipating having the need to self-exclude), the Leo Vegas platform itself can be quite enjoyable.
Design
The Leo Vegas site is much less Vegas-y than I figured it would be, given the name. Instead, the aesthetic of the site looks like a place where you might play online video games – and once you take a look at some of Leo Vegas' most popular games, this actually makes more sense.
The site is extremely experience based. Which is great. That is precisely what you want in an online casino. You want it to be colorful, constantly evolving, loud, exciting. You want a site that is going to get you pumped up to play, don't you? That is precisely what Leo Vegas offers. Even though they do not necessarily capture the look, glitz, or glam of Vegas, they most certainly capture its essence.
This is achieved, in part, by employing a constantly changing background on the home page. There is, first of all, an extra-large banner at the top of the page, centered, and on it, you'll find promotions for various games and bonuses you could score. The banner features a carousal of items. Every time a new item appears on this banner, the rest of the site adapts to it.
So, for instance, if the site is advertising its popular Atlantean Treasures Mega Moola game (with a constantly increasing jackpot that ups the ante in real time), the entire background of the site changes to an Atlantis theme, with coral reeves and gold scattered amongst the ocean floor and floating in the water. When the promo for Razor Sharks takes its turn, again, the entire site's background changes. I love this highly responsive and immersive take on site design, and it makes for a thrilling online casino.
Content and Features
Leo Vegas offers a huge range of games. And it does so by splitting the site up into 2 main categories: Casino and Live Casino. In the casino section of the site, enjoy playing tons of slots, video poker, craps, scratchcards, jackpots, keno, and roulette (to name a few). The live casino portion of the site offers live dealer poker and blackjack. Play at your leisure or go head to head with other users. Play your way with Leo Vegas.
The gameplay, too, on Leo Vegas is fantastic. Enjoy intuitive, fast-paced games with zero lag. I think it could be fair to say that this is the most modern casino on the web.
Sports bettors, don't worry, you aren't going to be left out here. Even though Leo Vegas' sportsbook is one of the newer ones, that doesn't mean that it is any less competitive or versatile. In fact, it is one of the larger sportsbooks available, offering over 30 sports with plenty of popular markets to choose from. Bet on football, baseball, basketball, cricket, tennis, boxing, and more. Whether you want to play futures or in-play, Leo Vegas has you covered.
As far as live betting is concerned, Leo Vegas actually may have one of the better platforms I have seen. This is, in part, due to the fact that the experience is practically made for smartphones, which helps to make everything more instantaneous. But this is also due to the fact that Leo Vegas has partnered with Kambi Group, a longtime facilitator of quality sports betting experiences. Say what you want about Leo Vegas, the one thing that can't be debated are the strategic and lucrative choices they make for their business.
This partnership with the Kambi Group on behalf of Leo Vegas could also be lucrative for you if you bet strategically. They are known worldwide for their highly competitive markets.
Mobile and Desktop Experience
Well, as we have already established, Leo Vegas is concerned with, more than anything else, its mobile experience. So, you would be correct in assuming that it is top tier. In fact, I have not seen a betting or casino app that is anywhere near as user-friendly, intuitive, fast-paced, sleek, and high-functioning as the Leo Vegas app. Whether you are playing the casino games, going up against a live dealer, or taking advantage of Leo Vegas' awesome sportsbook, one app or the other will provide an excellent experience.
First off, the mobile casino is not limited to a but a few games the way that other online casino apps are built. No matter where you happen to be, the mobile casino enables you to play 400+ slot machines by doing nothing more than touching the screen of your phone. Available on both Android and iOS devices, I do not think that you will be even remotely disappointed with Leo Vegas' mobile experience.
Suggestions that I have for Leo Vegas
My main (and, really, only) suggestion for Leo Vegas is to cut it out with deceitful or misleading ads and unethical practices. There is no room for that kind of behavior from a company in 2020. Get with the times, people are done being duped and taken advantage of. This is not going to help your company, but it may be the one thing that could have the potential to hinder it to irrelevance. Proceed with caution, Leo Vegas.

Related Sites