100 Free Spins First Transfer
Welcome bonus
Claim offer
Minimum deposit:

$10

Minimum bet:

$1
Pros and Cons
Amazing site design

Reduced juice betting

Mobile friendly

Great sportsbook, tons of casino games
Top Three Reason to Join
Most competitive odds on the web
Unique leagues and markets
Company Information
Phisical address:

Pletterijweg 43, Willemstad, Curaçao

Current License:

8048/JAZ2013-013

Website:

https://www.pinnacle.com

Date Established:

1998

Email:

[email protected]

Country Restrictions:

United States of America,
United Kingdom,
Australia,
Denmark,
France,
Germany,
Ireland,
Netherlands,
Spain,
Singapore,
North Korea,
South Korea,
Philippines,
Czech Republic,
Sudan,
Italy,
Iran,
Slovenia,
Sweden,
Turkey

more

Currencies Accepted:

USD,
CAD,
EUR,
GBP,
AUD,
NZD,
JPY,
MXN,
SEK

Accepted for customers from:

Russia,
United States of America,
United Kingdom,
Philippines,
Taiwan,
Bulgaria,
Czech Republic,
Portugal,
Lithuania,
Belarus,
Switzerland,
Netherlands,
Denmark,
Kazakhstan,
China,
Kenya,
North Korea,
South Korea,
Romania,
India,
Slovenia,
Colombia,
Armenia,
Nigeria,
Moldova,
Estonia,
Peru,
Ghana,
Chile,
Jamaica,
Kyrgyzstan,
Belgium,
Malta,
South Africa,
Cyprus,
Vietnam,
Lebanon,
Israel,
Bosnia and Herzegovina,
Malaysia,
Argentina,
Latvia,
Slovakia,
Georgia,
Thailand,
Singapore,
Ireland,
Albania,
Morocco,
Costa Rica,
New Zealand,
Trinidad and Tobago,
North Macedonia,
Tanzania,
Luxembourg,
Iceland,
Mauritius,
Egypt,
Ethiopia,
Saudi Arabia,
Qatar,
United Arab Emirates,
Pakistan,
Uganda,
Democratic Republic of the Congo,
Cambodia,
Barbados,
Ecuador,
Indonesia,
Algeria,
Montenegro,
Venezuela,
Azerbaijan,
Namibia,
Angola,
Uzbekistan,
Guatemala,
Tunisia,
Bolivia,
Benin,
Canada,
Mexico,
Brazil,
Australia,
Norway,
Sweden,
Finland,
Germany,
Poland,
Austria,
France,
Spain,
Italy,
Ukraine,
Greece,
Serbia,
Croatia,
Hong Kong,
Japan,
Hungary

more

Other products
Esports

Bitcoin

Bingo

Combined Betting

Entertainment

Football pool

In-Play Betting

Live Betting

Live Casino

Live Streaming

Online Games

Poker

Politics

Virtual Sports

Pinnacle in short
Minimum Deposit

$10

Customer support

Live Betting

Minimum Bet

$1

In-Play Betting

Live Streaming

Mobile App

Combined Betting

Welcome Bonus

100 Free Spins First Transfer

Football pool

Summary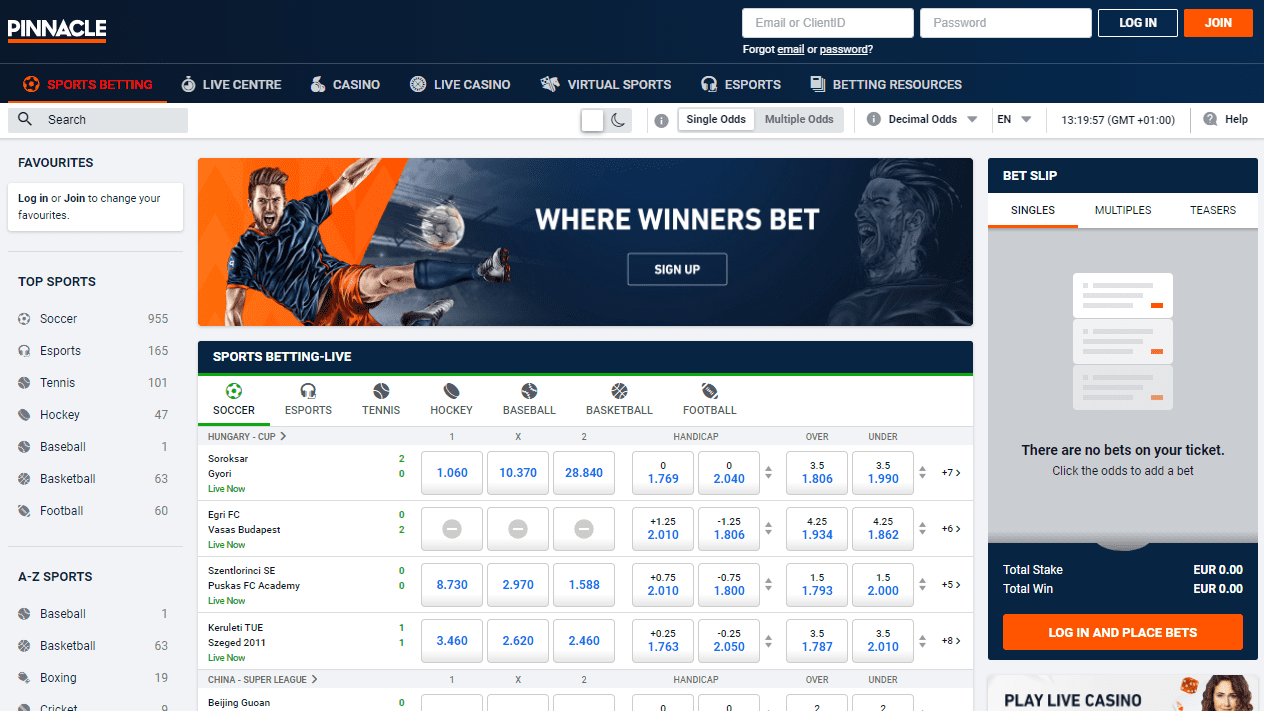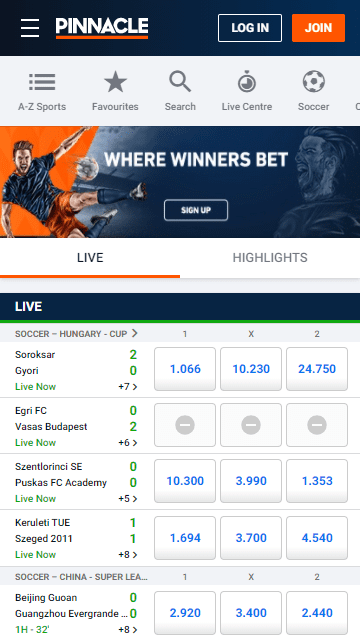 Introduction
Serious sports bettors need a seriously awesome sportsbook in order to play to their full potential. If you are playing at or near a professional level, the usual run of the mill sportsbook just is not going to cut it for you. Chances are, there will not be enough betting types, in-depth sports statistics and highlights, and the markets will not be nearly as competitive or obscure as a player of your magnitude requires.
That is why, for those of us who play beyond the level of a mere hobbyist, a majority of the sports betting sites out there simply will not get the job done. An advanced player requires an online sportsbook that reflects our advanced skills. We need a sportsbook that is virtually flawless, one that anticipates any issues or concerns that could come up ahead of time and has functions and features already built into it that assuage those issues before they can ever even crop up to begin with.
If the kind of player that I am describing sounds even remotely like yourself, well, you've lucked out and come to the right place. Pinnacle Sports is, as their name suggests, the pinnacle of sports betting sites. Designed by and for serious sports bettors, this sportsbook is not average by any stretch of the imagination. Having already anticipated pretty much every concern that a true connoisseur of sports betting could have regarding their sportsbook, Pinnacle Sports does not even have a single customer support representative on staff.
This may sound like bad business to some, it may sound cocky or foolhardy to others. However, this is exactly the sort of maneuver that is at the very heart of Pinnacle Sports' philosophy (as well as how they make themselves appeal to pro players and the like). Pinnacle Sports, when you boil it down, really does not have any need for customer support. As I have said already, they have come as close to perfecting their sportsbook as possible. Plus, they have a stellar track record of nearly 0 customer complaints – a phenomenally impressive feat for any online gambling service, let alone a sportsbook.
Pinnacle Sports has, essentially, made irrelevant the need for customer support by, first, crafting an amazing sportsbook with versatile markets, betting types, and user features. The other way that they have accomplished this is by never stiffing or shorting their players. They figure that if they do everything right and take a no-nonsense approach to providing their customers with the best possible online betting experience, well, customer support is a moot point.
As far as I can tell (and as far as their reputation would tell you), this somewhat unorthodox approach has been working. It is basically unheard of for a sports betting site to have been around as long as Pinnacle Sports (20+ years) without having faced some form of controversy, be it due to withdrawal issues, rescinded winnings, or reneged bonus deals … but Pinnacle takes that honor.
Speaking of sign-up bonuses and promo deals, the other major way that Pinnacle Sports differentiates itself from the other sports betting sites on the web lies in the fact that they simply do not offer any. This may initially seem bizarre to you, until, that is, you begin to further grasp the appeal of the Pinnacle sportsbook. Much like its approach to customer support, Pinnacle does not offer first deposit bonuses because, well, again, they simply do not have to.
Whereas a great deal of other sports betting sites may need to offer promos and bonuses to give customers a reason to choose them over competitors' sites, Pinnacle Sports makes themselves more desirable over other sites by providing competitive odds that are unrivaled. In fact, one would not be off the mark by saying that Pinnacle offers the most competitive odds in the business. Pinnacle also has the highest betting limits.
By angling their services to only the highest rolling bettors in the game and then offering them a no-limits, extremely competitive sportsbook that is top-tier, Pinnacle Sports honestly does not need to worry about employing any customer acquisition tactics.
So, then, now that we have covered the nature of this advanced-level sportsbook, does it sound like Pinnacle Sports is the right sports betting site for you? If not, worry not, I have hundreds of other excellent sportsbooks in my list for you to check out. If Pinnacle does sound like it is for you, however, let us take a closer look at the site, its backstory, and what it has to offer you.
History
Pinnacle has been offering its sportsbook services online since 1998. Its headquarters are located on the island of Curacao, off the coast of The Kingdom of the Netherlands. The group is fully licensed, of course, and regulated by The Government of the Netherlands Antilles. Not a whole lot is known, unfortunately, about the company's structure or how much money they make. However, the author of the book Smart Money, Michael Konik, has said that "…it would not be out of line to guess that their [Pinnacle's] annual handle is in the billions of dollars."
What is known, however, is that Pinnacle made the risky decision to back out of the US market in 2007. In response to the Unlawful Internet Gambling Enforcement Act of 2006, Pinnacle decided to get ahead of the curb. Upon making this decision, Pinnacle released the following statement to their US customers: After careful consideration, Pinnacle Sports has chosen to voluntarily exit the U.S. market. Accordingly, wagers will no longer be accepted from clients within the U.S. as of Thursday, January 11, 2007."
Business analysts thought this was a crazy move. Especially when you take into account the fact that, at the time, US customers accounted for 60-65% of Pinnacle's entire customer base. However, an executive at Pinnacle remarked, "When the U.S. focuses on something and says 'Enough,' and when they go to war, no individual company can possibly win in a fight of this nature." The same executive was later quotes saying, "since the Internet Gambling Bill went into effect, we have lost the ability to do business with many quality banks," making the decision look less like bad business and more like strategic foresight.
Being forced to shrug over nearly three-quarters of their customers, though, has not knocked Pinnacle off their rightful place as one of the top sportsbooks on the web. In fact, they have only continued to grow, expand, and offer constantly improving services in the wake of exiting the US market. So, if you are not in the US, keep reading to discover everything that the Pinnacle site itself has to offer you.
Design
Pinnacle did not stop at merely providing players with the best odds of any sportsbook on the market, they also put in their due diligence to fit it into one of the best site designs that I have ever seen from a site of this nature. Strategy appears to be the name of the game with Pinnacle, and this shows in the layout of the site as well. Although the sportsbook, for instance, presents a ton of content, it does not appear overwhelming or cluttered in any way as it often does on similar sites.
Instead, Pinnacle has put a great deal of forethought and energy into placing every piece of their sportsbook in the perfect place and with the ideal sizing. The list of sports, for example, sprawls down the left-hand side of the page (as is customary with sportsbook sites), but the font size and spacing decisions made give it a clearly legible and even sleek appearance.
The same is true of the organization of the game highlights, which take up the bulk of the middle matter. By clearly delineating information and packaging the data up in an effective and neat way, players do not have to parse through what feels like data vomit in order to find just what they are looking for. A box at the top is clearly labeled Sports Betting – Live, and a box below it contains highlights. Plus, by separating each number, score, handicap, over, under, and sport in meticulously organized (and clickable) boxes, you will be intuitively fluent in Pinnacle's sportsbook with no more than a single glance.
Then, of course, you can access your betting slip conveniently on the right side of the page. Everything is exactly where it should be here. Plus, you can easily customize the site by switching the site to night mode, filtering by single odds or multiple odds, quickly switching between decimal and American odds, and instantly translating the page to your preferred language.
Content and Features
Offering 19 individual sports leagues, each of which has anywhere between a handful to hundreds of markets, Pinnacle's sportsbook is sizeable (naturally). One area in which Pinnacle excels, too, is its unique markets and "sports," like politics and entertainment for example. Another standout feature of Pinnacle is how many eSports markets there are on the site. Far and away the most popular league on the site, the eSports section of the sportsbook had 227 active markets at the time of this review. I should note, though, that when I reviewed Pinnacle, the COVID-19 pandemic was still very much in effect and, thus, many leagues were still paused.
Pinnacle, although primarily known for their incredibly competitive sportsbook, has a little bit of something for players of all types. Players can also blow off a little bit of steam by playing casino games, slots, going head to head with a live dealer in the site's live casino, or checking out some of the many virtual sports offerings.
Another feature that I greatly appreciate about Pinnacle is the fact that the site also publishes a blog of sorts that offers users some invaluable betting tips. The Betting Resources section of the site is one that, surprisingly, you don't see all too often on sports betting and online casino sites but makes so much sense. It is clear that Pinnacle is invested in their players performing well – they are not just out to vulture your money as so many other sites seem to be.
Mobile and Desktop Experience
Although there does not appear to be an app version of Pinnacle available yet, I am not losing any sleep over it. The mobile version of this site is so well optimized that, honestly, it looks and functions just like an app would anyway – once again reiterating the company's philosophy of eschewing industry standard practices in lieu of creating a superior product. Given how well designed and features-rich the mobile version of the site is, I think an app might be a bit redundant.
The mobile version of Pinnacle lets users build bet tickets without being logged on, quickly fund your account on the fly, and access one-click live odds. The mobile version of Pinnacle casino offers roughly 25 mobile-specific games, including video poker, slots, and table games.
Suggestions that I have for Pinnacle
That being said, I would like to see Pinnacle invest in a fully immersive, truly sizeable app. Even though their mobile site is incredible, it is still a little more limiting, I think, than a dedicated app for iOS and Android devices would be. I understand that this might be counter to Pinnacle's core values when it comes to consolidating their business model, but I have a feeling it would be well worth it in this case.

Related Sites