Claim offer
Minimum deposit:

£10

Minimum bet:

£0.50

Bettings limits:

No limit
Pros and Cons
Robust betting site with tons of features, sports, and markets

Mobile friendly

Great for live streaming and in-play betting

Lots of alternative betting options
Unavailable in many countries (including US)

Customer support is not 24/7

Cluttered site design
Top Three Reason to Join
Amazing live betting features/streaming
High betting limits/withdrawals/no fees
Company Information
Phisical address:

4th Floor 45 Moorfields London, EC2Y 9AE United Kingdom

Current License:

000-039011-R-319371-004

Website:

https://sports.sportingbet.com/

Date Established:

March 25, 1998

Email:

[email protected]

Phone:

0800-028-0348

Country Restrictions:

United States of America,
Algeria,
Angola,
Australia,
Belgium,
France,
Iran,
Iraq,
Italy,
Netherlands,
North Korea,
Norway,
Pakistan,
Philippines,
Saudi Arabia,
Singapore,
Spain,
Sweden,
Poland,
Turkey,
Greece

more

Currencies Accepted:

USD,
GBP,
BGN,
CAD,
CZK,
DKK,
EUR,
NOK,
PLN,
RON,
CHF

more

Accepted for customers from:

United Kingdom,
Chile,
Argentina,
China,
Ireland,
United States of America,
Bulgaria,
Peru,
Portugal,
Russia,
Benin,
Mozambique,
Netherlands,
India,
Malta,
Colombia,
Ecuador,
Taiwan,
Switzerland,
North Korea,
South Korea,
Thailand,
Venezuela,
Israel,
Bolivia,
Nigeria,
Slovakia,
Uruguay,
Morocco,
South Africa,
Singapore,
Kenya,
Belarus,
Azerbaijan,
Pakistan,
Georgia,
Philippines,
Angola,
Puerto Rico,
Uzbekistan,
Tunisia,
Armenia,
Malaysia,
Egypt,
Cambodia,
Latvia,
Kazakhstan,
Nepal,
Jordan,
Ghana,
Moldova,
Jersey,
Canada,
Mexico,
Brazil,
Australia,
Norway,
Sweden,
Finland,
Germany,
Austria,
France,
Spain,
Italy,
Ukraine,
Serbia,
Croatia,
Hong Kong,
Japan,
Hungary

more

Other products
Esports

Bitcoin

Bingo

Combined Betting

Entertainment

Football pool

In-Play Betting

Live Betting

Live Casino

Live Streaming

Online Games

Poker

Politics

Virtual Sports

SportingBet in short
Minimum Deposit

£10

Customer support

Live Betting

Minimum Bet

£0.50

In-Play Betting

Live Streaming

Betting Limits

Mobile App

Combined Betting

Welcome Bonus

Football pool

Bitcoin Bet

Summary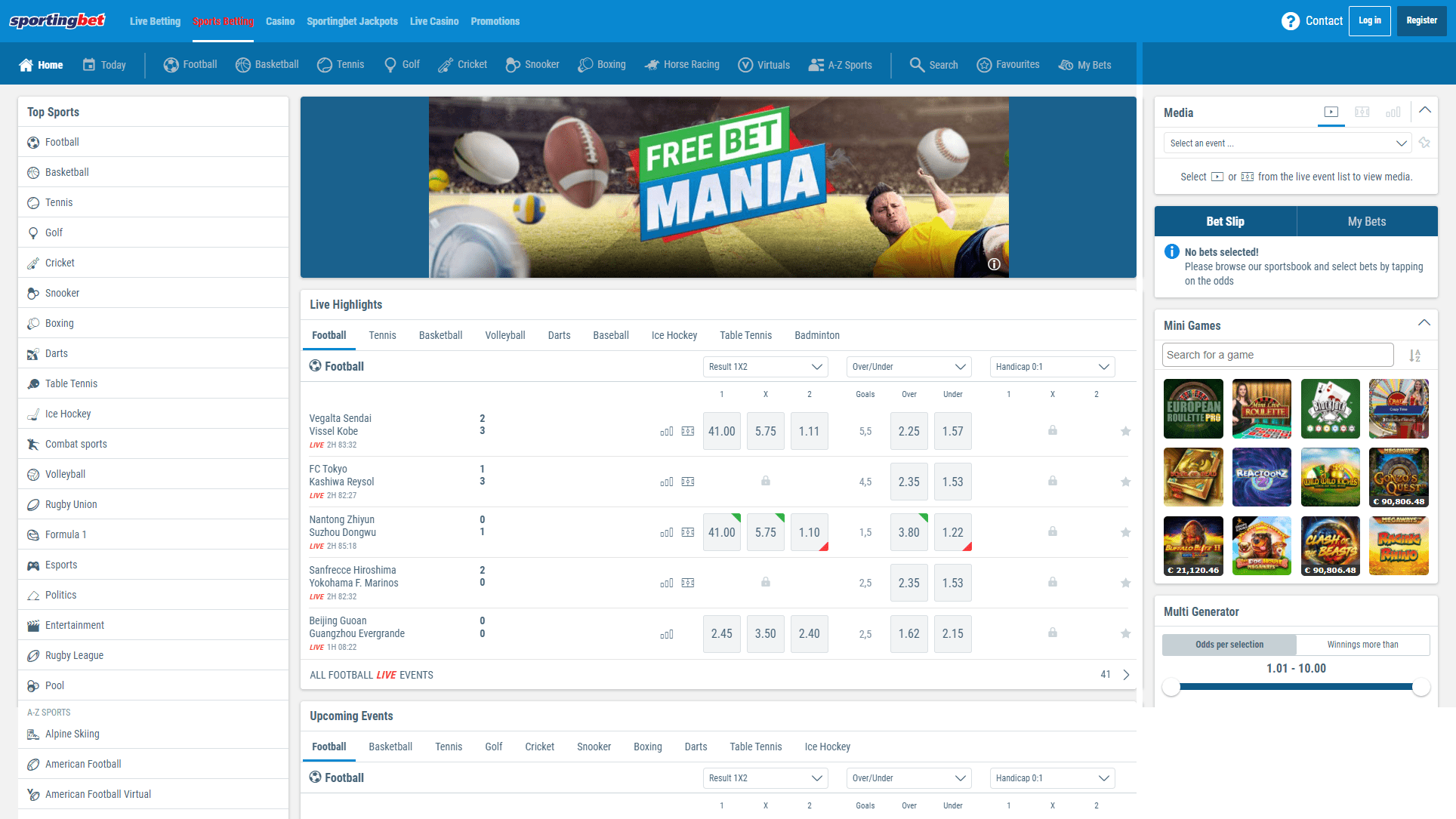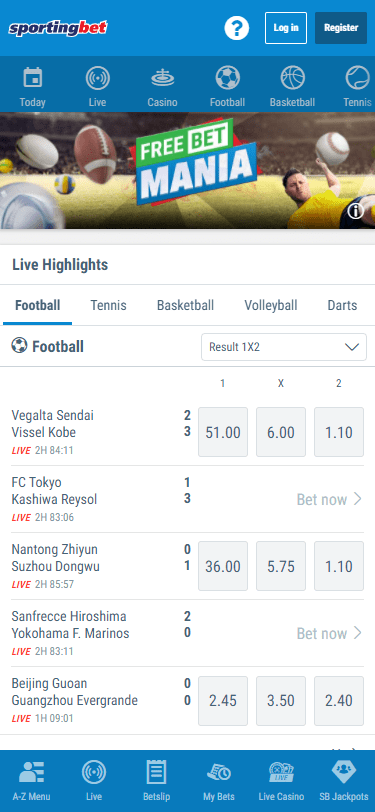 Introduction
There is certainly no shortage of available sports betting and online casino sites out there for you to choose from. In fact, there are so many options that when it comes time to decide on one to deposit your initial funds into, looking at the list alone can be a bit staggering, potentially even intimidating. Not only are there so many viable sites to pick from but making sure that you pick the right one for you is extremely important.
First of all, not all online betting sites are created equal. There can be a great deal of disparity in quality, legitimacy, dependability, site design, and features. Some sites have huge markets for sports betting, enable you to bet on almost every sport in existence, and make it easier than ever to keep up to date and place in-play bets via live events streaming. Other sites, however, may be severely lacking when it comes to options. What's the best way to figure out which site is going to be the right fit for you? Well, ultimately, it comes down to identifying your own intentions.
Are you primarily interested in betting on live sports and placing in-play wagers? If so, don't worry so much about whether a site offers virtual sports betting or live casino games. The sportsbook, then, is going to be your number one concern. And there are certainly some sites that focus most of their energies on keeping an incredible sportsbook, even if it means letting their poker or bingo features fall to the wayside.
Or perhaps you absolutely need a betting site that has an intuitive and competitive virtual sports platform. If so, your best bet is going to be to let that become the focus of your evaluation. Certain betting sites cater more towards virtual sports than others. Some, if you can believe it, don't even have a virtual sports feature yet.
Then again, maybe none of that interests you in the slightest. Maybe you fancy yourself a bit of a more classic style gambler and, so, what excites you the most is finding a site with an enormous virtual casino. Believe you me, there are some sites on my list that have nearly infinite casinos with hundreds of slot machines, virtual poker, and even live dealer table games like poker, roulette, and blackjack. If that is how you roll, you should have no problem finding an online casino that allows you to be the high roller that you are.
Hopefully that helps at least a little bit to make this process feel a little more accessible and less stressful. At any rate, if you are looking for the best betting site, rest assured, you have come to the right place. I have made it my life's work to provide the most comprehensive and user-friendly list of thorough and thoughtful betting site reviews on the web. You are in good hands, trust me.
The site that we will be taking a look at today has a little bit of everything. Sporting Bet offers, of course, sports betting … but that is not all. This robust site also has live betting, a casino, jackpots, virtual sports, a live casino, and plenty of promos meant to help you hedge your bets. You would be hard pressed to become bored on this site – it has plenty of action around the clock.
History
Sporting Bet was founded by Mark Blandford in 1997. After a somewhat slow, not quite meteoric rise to fame, Sporting Bet reached a tipping point in the early aughts, which led the company to begin acquiring competitors. In October of 2004, for instance, Sporting Bet bought out Paradise Poker. With this newfound fame, though, came trouble for the company.
In September of 2005, Sporting Bet's chairman at the time, Peter Dicks found himself detained in New York City for a warrant issued in Louisiana. Dicks was travelling around the United States on business that was not related to online gambling.
However, when Louisiana authorities caught wind of his, they issued a warrant for his arrest. Louisiana is one of the few states that explicitly has laws prohibiting gambling online. This brief stint of controversy, however, was eradicated quickly (as far as judicial time is concerned), and in March of 2007, all warrants against the company that were issued by Louisiana were cancelled. This did create quite a rift between Sporting Bet and the United States, though.
In October of 2006, for example, Sporting Bet officially announced that Paradise Poker would no longer be taking deposits from US players, allowing a grace period of one month before enacting the cease. Sporting Bet also subsequently sold all of its US facing assets, such as Sportsbook.com and sports.com for one whole dollar. Oh, and a whopping assumed $13.2 million in debts.
Then came February of 2007, when Sporting Bet announced that it would be eliminating its Paradise Poker platform entirely. The plan was to migrate all Paradise Poker players to the official Sporting Bet poker platform. Before the merger of sorts, the two separate platforms had roughly the same number of players on them. However, Sporting Bet had a higher liquidity because it was a part of a much larger network. The rights to the name Paradise Poker were retained, though, so perhaps Sporting Bet will choose to revive it one day.
By far the companies most ambitious move to date, in October of 2012, Sporting Bet announced that its board had agreed to submit a £530 million bid to take control of both the legendary UK bookmaker, William Hill and GVC Holdings (based in the Isle of Man). In agreement with the terms, William Hill bought all of Sporting Bet's Australian and Spanish assets.
Design
Sporting Bet offers what I would say is a fairly standard betting site layout and design. Although, one major difference is that Sporting Bet has opted for a more lighthearted color scheme, presenting itself in cool blues over a largely white background. This is a somewhat refreshing change of pace from the usual dark toned themes of many similar sites out there.
Everything that you would expect from a site of this nature can be found on Sporting Bet. The top of the page has an in-depth and convenient site menu bar that allows users to browse the site by platform: Live Betting, Sports Betting, Casino, Sporting Bet Jackpots, Virtual Sports, Live Casino, and Promotions. Just below the main site menu, you'll find a quick-access list of sports to place bets on, as well as a horizontal list of live events that you can tune into and place in-play bets.
The center of the page is dedicated to live sports highlights, making it possible to keep up with the latest in-game action so as to make the most strategic bets on the fly. To the left, you'll find yet another menu allowing you to browse sports. Whereas the right-hand side of the page offers you a conveniently embedded bet slip, as well as an awesome live sports media player for live sports streaming.
These features, by far, are the highlights and the standouts of Sporting Bet for me. This is the level of convenience that I look for in every single site that I evaluate. I love how streamlined and easy it is to place in-play bets while watching the game in real time. Furthermore, the bet slip is right where you want it: easily accessible and visible at all times while you play.
I am a little torn, though, when it comes to this site's overall aesthetic. Although many of the features are conveniently placed and intuitive, it appears as if the site developers may have gone a little overboard when it comes to cramming as much information and as many features onto every page. I am normally more a fan of minimalist web design that relies on content consolidation, but, hey, to each his own, right?
Content and Features
Sporting Bet offers every feature that you would expect from a sports betting site, and then some. In addition to a massive sportsbook with plenty of markets to choose from, Sporting Bet also has a robust selection of virtual sports, a live casino, slots, table games, and daily jackpots. Sporting Bet allows players to place bets on 30+ sports with plenty of alternative betting options.
Another thing to love about Sporting Bet is the fact that they offer exceptionally high betting and withdrawal limits. And many payment types come without pesky additional fees. For me, this is amazing news because so many betting sites out there rob you blind in fees before you even have the chance to access your winnings. So, for Sporting Bet to allow you A.) the most freedom in terms of betting limits and withdrawal amounts and B.) zero fees for many major payment types … this is enough to convert me to a Sporting Bet man alone!
But Sporting Bet's awesome features do not stop there. The site also offers plenty of personalized promos and bonuses based on your playing style. Sporting Bet also has, as I have mentioned already but wish to reiterate, one of the best in-play live betting platforms on the web. The embedded media player allowing quick and easy toggling of live streams, constantly updating stats and highlights, and tons of markets make Sporting Bet a haven for anyone who loves the thrill of a live bet.
Mobile and Desktop Experience
Honestly, I am not crazy about the Sporting Bet app. However, it is great news that they offer an app at all (not every betting site does). Furthermore, I should note, Sporting Bet has an app available for both Android and iOS devices. So, it is a good choice in that regard, for anyone who likes to place their bets on the fly. I'm just not particularly taken with the design.
It looks a little cartoonish and sophomoric to me. Too much like a cheap game and not enough like a legitimate online casino and sportsbook on which I will be spending (and hopefully winning) hundreds of dollars. Again, though, this is really just a matter of personal preference. Don't just take my word for it. Download the app and see for yourself. Maybe the Sporting Bet is right up your alley even if it doesn't necessarily do it for me.
That being said, the app seems to function flawlessly, with no major bugs or security breaches to note. So, it certainly can be an effective and safe way to place bets and game no matter where you happen to be. And if you don't love the app, worry not, Sporting Bet has a perfectly optimized mobile browser site as well!
Suggestions that I have for Sporting Bet
Well, as tempted as I am to say that I would like to see Sporting Bet give their website and app a bit of a makeover (emphasis on consolidating content!), I acknowledge that others might feel differently. My real gripe with Sporting Bet is how rocky their relationship is with the US. It's a bummer that I am not able to use Sporting Bet unless I am travelling abroad – because I do think it is a site that I would come back to frequently if I could! So, I would suggest that Sporting Bet figure out how to broaden their reach internationally.

Related Sites