Get a 100% up to 100$
Welcome bonus
Claim offer
Minimum deposit:

$20

Minimum bet:

$1

Bettings limits:

$1.100
Pros and Cons
Amazing site design

Great app design (very mobile friendly)

Tons of sports and markets

Live streaming poker and blackjack dealers
Only available in Canada

Slow payout times

Limited banking options
Top Three Reason to Join
Vast, diverse, and competitive sportsbook
Plenty of casino games (and great live casino games)
One of the most reputable sites on the web
Company Information
Phisical address:

Old Malone Road, Box 1539, Kahnawake, QC, J0L 1B0 CANADA

Website:

https://www.sportsinteraction.com/

Date Established:

1997

Email:

[email protected]

Phone:

+1 888 922 5575

Country Restrictions:

Australia,
China,
France,
United States of America,
United Kingdom,
Romania,
Russia,
Belize,
Italy,
Portugal,
Costa Rica,
Nicaragua,
Spain,
New Zealand,
Vietnam,
Greece,
Ireland,
Switzerland,
Mexico,
Brazil,
Norway,
Finland,
Poland,
Ukraine,
Turkey,
Serbia,
Japan,
Hungary

more

Currencies Accepted:

CAD,
EUR,
GBP,
AUD,
USD,
JPY,
CHF,
DKK

Accepted for customers from:

United States of America,
United Kingdom,
Netherlands,
Belgium,
Tunisia,
India,
Bulgaria,
Portugal,
Philippines,
Israel,
New Zealand,
Ireland,
Barbados,
Peru,
Colombia,
Iceland,
Thailand,
Malaysia,
Democratic Republic of the Congo,
Iran,
Jamaica,
Russia,
Cyprus,
Romania,
Czech Republic,
Malta,
Tanzania,
Kenya,
Estonia,
Zambia,
Mongolia,
Paraguay,
Ethiopia,
North Korea,
South Korea,
Denmark,
Albania,
Nigeria,
Saudi Arabia,
Costa Rica,
Uruguay,
Lithuania,
Slovenia,
Belarus,
South Africa,
Pakistan,
Benin,
Taiwan,
Trinidad and Tobago,
Myanmar,
Ghana,
Algeria,
Cameroon,
Singapore,
Morocco,
Côte d'Ivoire,
Namibia,
Indonesia,
Kazakhstan,
Canada,
Australia,
Sweden,
Germany,
Austria,
France,
Spain,
Italy,
Greece,
Croatia

more

Other products
Esports

Bitcoin

Bingo

Combined Betting

Entertainment

Football pool

In-Play Betting

Live Betting

Live Casino

Live Streaming

Online Games

Poker

Politics

Virtual Sports

Sportsinteraction in short
Minimum Deposit

$20

Customer support

Live Betting

Minimum Bet

$1

In-Play Betting

Live Streaming

Betting Limits

Mobile App

Combined Betting

Welcome Bonus

Football pool

Bitcoin Bet

Summary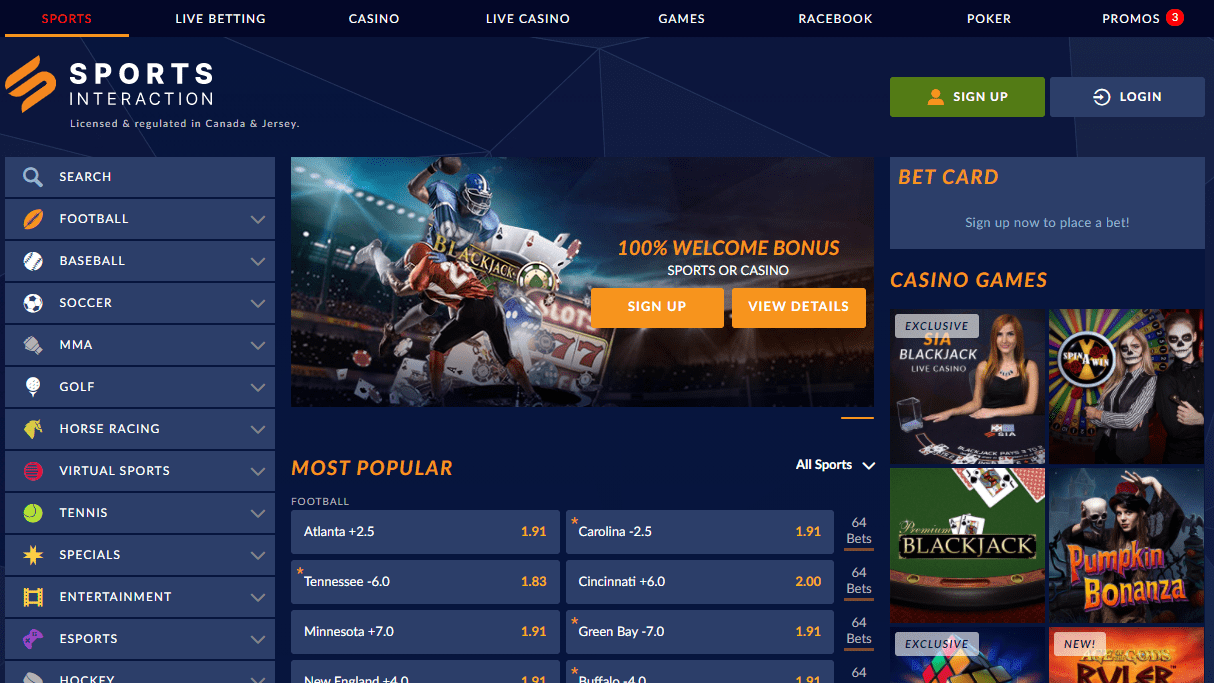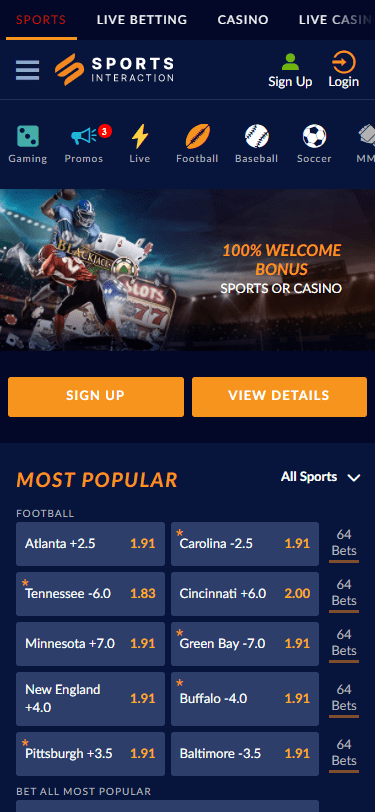 Introduction
Have you ever looked into just how many different sports betting and online casino sites there are on the web to choose from? If you have not, quick spoiler alert: there are hundreds. There are so many, in fact, that trying to figure out which is the best site to meet your particular online gambling needs can seem like a daunting and stressful task. Short of signing up for every site that catches your eye, going on word of mouth recommendations alone, or spending countless hours vetting each and every option, what is one to do?
Well, that is precisely why I have made BettingDude.com … to try and make the process a little easier for you. On my site, you'll find every single sportsbook and casino site worth knowing about, along with a thorough, thoughtful, and accurate review of each one. No longer do you have to parse through hundreds of Google pages to try and figure out if a given site is going to work for you. Just come on over to BettingDude.com and search for the site in question. If it is one of the best sites, you'll find everything you need to know about it here.
That's the kicker, though. I only bother reviewing sites that are legitimate, reliable, well-designed, and reputable. So, if you search for a site on my list and cannot find it, chances are it isn't even worth looking any further into. And, believe you me, there are tons of sports betting sites out there that you are better off leaving be.
Unfortunately, the world of online betting sites is not always the most reputable. The sad fact of the matter is that, yes, there are scam sites out there. I have heard far too many stories of people either never receiving their winnings, sites just disappearing into thin air after they received credit card info, or even straight up stealing from users. This is obviously not okay, and testament to why it is so important to read up on sports betting and online casino sites before signing up for them.
Even some of the most reputable sites, though, have been known to dabble in shady or ethically questionable activity. Sites have been known to renege on certain high stakes bonuses after they realized that they would be losing too much money. Sites have gone into players' bank accounts and rescinded earnings without permission or even so much as a warning.
Some sites have been criticized for offering dangerous alternative bets. Not only do you need to make sure that a site is not going to steal from you, but you also will want to make sure that your site of choice has a history of being ethically aligned with your own values and expectations. If ever there is a moral gray area or if a site has a history of controversy (even if they have since corrected this), I will be sure to try and frontload that information. Just so you know from the outset whether a site's behavior makes it one that you don't even want to look further into.
It is surprisingly rare for a site to be around for a long time and receive nearly zero flagrant customer complaints. The site that we'll be looking at today, though, has one of the most glimmering reputations of any. In 20+ years of being in business, Sports Interaction has a nearly spotless record. This is not the only component, of course, to take into account when evaluating a sports betting site – far from it – but it is, arguably, the most important.
History
Unfortunately, there is not a whole lot that is known about this company. What is known, though, is that they have been in operation since 1997 and that they were founded and are based in Canada. Another thing that we know about Sports Interaction is that it was the very first gaming site to be licensed by the Kahnawakee Gaming Commission.
In 1997, the Kahnawakee tribe entered the online gaming industry by establishing a server facility and official board of regulations within the territory of their own sovereign land. This enabled the site to act independent of federal Canadian laws. Once the Kahnawakee established this jurisdiction, of course, tons of other gambling sites ran to it as a haven from stifling Canadian gambling laws. But Sports Interaction is and always will be the first.
Design
Another aspect of Sports Interaction that the site has received a stellar reputation for is its design. Sports Interaction is often applauded for its intuitive, neat, clean, interactive, and extremely user-friendly site design. And I would like to add to that roar of applause. I love the way that this site looks, feels, and functions. Everything about it is streamlined, easy to use, and looks great.
The sportsbook alone on Sports Interaction should be the envy of just about every other sportsbook on the web. A lot of online sportsbooks end up looking cluttered, resulting in their being somewhat hard to read and a little overwhelming. Sports Interaction, however, has managed to provide its users with a super clean and meticulously organized sportsbook that you are fluent in from the second it loads.
Perhaps this has something to do with the site's color theme. The starkly contrasted orange text against a mix of mellow blues that comprise the background make the data of the site's live sports highlights and stats incredibly easy to read. Your eyes won't have to do much of the work at all, the site does the heavy lifting for you. That is exactly what you want from a sports betting site's design.
The organizational structure of the site, too, is flawless. Again, the site will look familiar immediately, probably due to the fact that it is designed so logically. Everything is right where you'd expect it to be. Nothing feels out of place or like too much information is being crammed onto one page.
On the left-hand side of the page, for instance, you'll find a sprawling list of sports to bet on, each one is fit into its own box with a collapsible dropdown menu. Clicking on Baseball, for example, drops down 2 more options: MLB or International. Click on MLB to browse bets by league, props, or futures. This is truly how every online sportsbook should be designed.
The right side of the page prominently features a permanently embedded bet slip, too, which makes it as easy and convenient as it should be to track your bets. Some sportsbook sites make you go digging around the site to find your bet slip. Sports Interaction, thankfully, puts it right in plain sight, where it will be most useful.
If you are more of a casino gamer, worry not … this intuitive and attractive site design continues on every platform that Sports Interaction has to offer. You'll find, for instance, a list of featured casino games just under the bet slip on the site's home page. Each high-resolution tile bears a game's respective cover art, which lends the casino a very lifelike Vegas style air.
The live poker and blackjack games, too, offer impressive design. Sit face to face with a real dealer (often a beautiful woman) and feel like you just sat down at a poker table at a ritzy casino without ever leaving the comfort of your own home. All of the little details of this site add up to make one of the most visually appealing casino and online sportsbook experiences that I have ever had.
Content and Features
In addition to live and regular casino games, a staggeringly diverse sportsbook, and virtual poker and blackjack tables, Sports Interaction has so much more to offer. As you would expect, the sportsbook does allow for in-play live sports betting. However, I will say this: there are probably better options out there for in-play betting that have a better handle on live streaming events.
You'll also be able to bet on virtual sports, play arcade games, and take advantage of the site's horse race book. Just about everything you could hope for in a site like this, Sports Interaction delivers on.
It isn't all about the gaming selection, though, when it comes to the notable features of this site. Sports Interaction also offers some pretty impressive sign-on promos and bonuses, such as up to a $100 sports bonus and 100% casino bonus (up to $200) upon placing your first deposit. As alluring as this bonus is for new members, one downfall of the site is the fact that there is a relative lack of ongoing promotions and bonuses when compared to other sites.
Last but not least, Sports Interaction provides exceptional customer support. With customer support representatives available 24-hours a day, 7 days a week, either by live messaging or phone, you can rest assured that you are in good hands when you start betting on Sports Interaction. Pair that with fast and secure deposit options and this is really beginning to look like one of the most secure and promising betting sites on the web.
Mobile and Desktop Experience
Sports Interaction just keeps getting better, it seems, the further into it I look. The site also offers a mobile app that is basically a condensed version of the desktop site, meaning that it is equally well-designed. Users of either Android or iOS devices can take advantage of one of the best apps in the online sports betting market – perfect for the player who likes to game on the go.
The icons are large enough for easy tapping, the bet slip is (once again) very prominently featured and easy to access, and the sportsbook is surprisingly intuitive to browse on a small mobile device. Sports Interaction is just as excellent on mobile devices as it is on your desktop computer.
Suggestions that I have for Sports Interaction
The only thing that really bums me out about Sports Interaction is the fact that it is only available to Canadian customers. I am happy for all you Canadians out there who are lucky enough to have such an awesome sportsbook and online casino at your disposal (even if I am a little bit envious). Therefore, my number one suggestion to Sports Interaction would be to broaden their horizons internationally. I know that the US can be tricky, betting wise, but Sports Interaction would likely not run into too much trouble in offering their service to many places throughout Europe and the UK.
My other major suggestion to Sports Interaction is to work on speeding up payout times. Standard payout on this site likes between 7 and 8 days, which is far too long to wait to receive your earnings. Part of what makes gambling so much fun is how instantly gratifying it can be. I would have assumed, too, seeing as they only service the Canadian market that they would be able to pull off quicker payout times.

Related Sites