100% up to €100
Welcome bonus
Claim offer
Minimum deposit:

€ 10.00

Minimum bet:

€ 1.00
Pros and Cons
Excellent and intuitive site and app design

Tons of casino games/live casino

Great apps

No-fee payouts
No live streams

In-play betting could be better
Top Three Reason to Join
Cutting edge mobile gaming
One of the best online casinos out there
Competitive sportsbook (especially for football)
Company Information
Phisical address:

Tipico Co. Ltd. Tipico Tower Vjal Portomaso STJ 4011 St. Julian's, Malta

Current License:

(MGA/B2C/101/2004)

Website:

https://www.tipico.com/

Date Established:

July 13, 2004

Email:

[email protected]

Phone:

+356 25 707 099

Country Restrictions:

United States of America,
United Kingdom,
Canada,
Brazil,
Australia,
Norway,
Sweden,
Poland,
Austria,
France,
Italy,
Ukraine,
Turkey,
Greece,
Serbia,
Hungary

more

Currencies Accepted:

Accepted for customers from:

Netherlands,
Malta,
Bulgaria,
Switzerland,
Bosnia and Herzegovina,
Portugal,
India,
Denmark,
Israel,
Colombia,
Tunisia,
Russia,
United Arab Emirates,
North Korea,
South Korea,
Georgia,
Montenegro,
Rwanda,
North Macedonia,
Kenya,
Malaysia,
Moldova,
Armenia,
Bangladesh,
Mexico,
Finland,
Germany,
Spain,
Croatia,
Hong Kong,
Japan

more

Other products
Esports

Bitcoin

Bingo

Combined Betting

Entertainment

Football pool

In-Play Betting

Live Betting

Live Casino

Live Streaming

Online Games

Poker

Politics

Virtual Sports

Tipico in short
Minimum Deposit

€ 10.00

Customer support

Live Betting

Minimum Bet

€ 1.00

In-Play Betting

Live Streaming

Mobile App

Combined Betting

Welcome Bonus

Football pool

Bitcoin Bet

Summary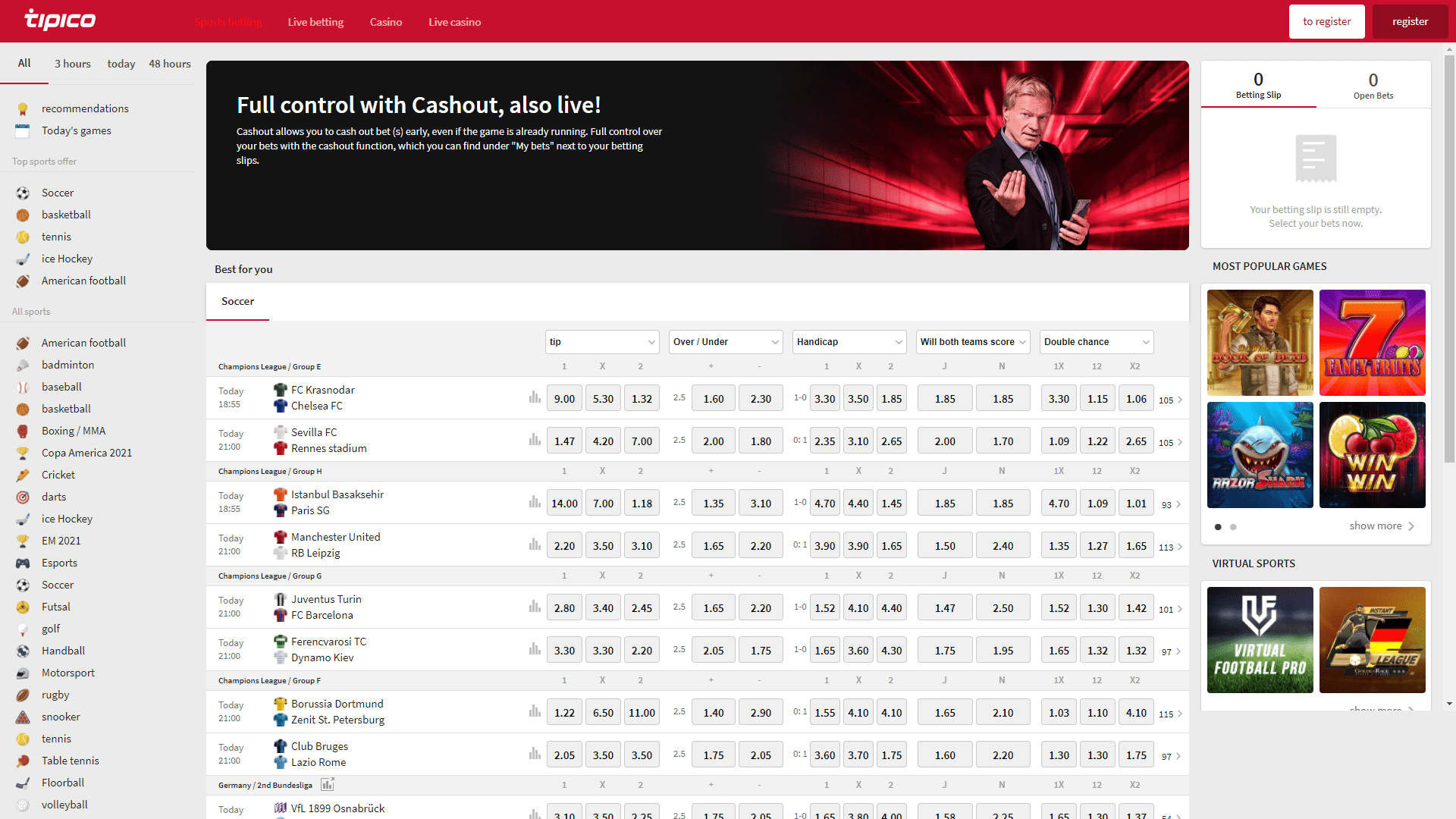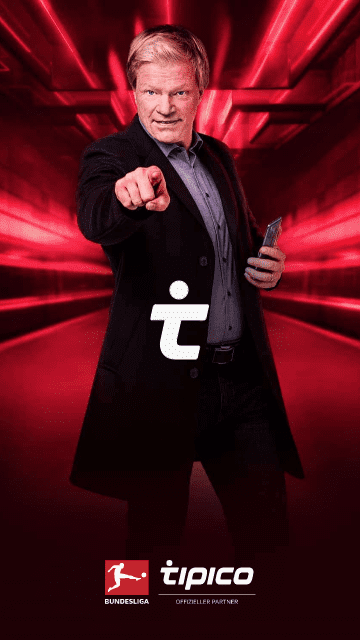 Introduction
It is not every day that I get to review a site that has such a stellar record of dependability, trustworthiness, and legitimacy as Tipico. Unfortunately, oftentimes even the most reputable sports betting and online casino sites out there have a history of shady behavior. Whether it comes in the form of a site simply taking funds out of players' bank accounts without warning or explanation, reneging on bonus deals when it turns out the company lost more money than they had hoped to, or being involved in match fixing accusations, the number of betting sites that go out of their way to make their players' feel as comfortable and secure as possible is surprisingly low.
It is honestly refreshing to come across a site like Tipico, one that has a spotless record (as far as I can tell) and one that seems to truly care about its players. Tipico, it turns out, is far from typical in that regard. They are a no-nonsense sports betting and online casino site. From the moment you land on this site's home page, that becomes clear – they do not try to impress you with an overly flashy exterior or colorful gimmicks. Instead, Tipico just presents its solid sportsbook, creating a professional and businesslike first impression.
Of course, it is not just the company's reputation that makes one betting site better than another (although I could make the argument that reputation is one of the most important factors, as safety is always the most crucial concern with sites like these). We also have to evaluate a site based on the products that it actually offers. With a sports betting and online casino site, my go-to choice has to have a wide variety of offerings and features, provide excellent site design and user-friendliness, ideally have decent promos and bonuses in circulation, and be an industry leader as far as mobile gaming is concerned.
Some might call me picky or a perfectionist … I prefer the term "thorough." With so many different betting sites to choose from, many of which are decent to good, I expect a lot from a site in order for it to really stand out in my eyes. Am I asking too much? I don't think so. When you enter a space as competitive as the online gambling industry, you really have to provide the best of the best in order for me to even consider making my first deposit on your site.
I prefer not to have too many different sites that I have to cycle between in order to meet all of my betting needs … Ideally, I can just find between 1 and 3 that do everything that I need them to. If I can find a single site that exceeds my expectations in every category, well, then all the better (however, I have yet to meet such a site).
In order to be considered one of the best betting and online casino sites, you need to excel in every area of online gaming. You need to, first, offer a versatile, diverse, sizeable, competitive, and well-designed sportsbook that puts the player in full control over his bets. That sportsbookj should also be optimized for in-play betting … which means that your site must also have some form of live streaming for events.
You need to provide an expansive online casino with tons of games, slots, video poker, table games, scratch offs, lotteries, etc. You need to also have a separate live casino that allows me to play head to head against real dealers and other players. You need to cater to the virtual and eSports markets in order to be competitive in this day and age. You need to have excellent customer support (24/7 or bust, in my opinion).
Lastly, your site needs to provide a top-tier mobile app for placing bets and gaming on the fly. It's 2020 … I don't see any reason why a credible betting site and online casino should not have an app available in this day and age. Mobile gaming is the future (and it has been for around a decade now). If I am going to become a member of a site, it has to be as with the times as possible. Without a mobile betting app, that just is not possible.
So, keeping all of this in mind, where does that leave Tipico? We've already established that they have a great reputation of being dependable and trustworthy, but that doesn't necessarily mean that its products will be top tier. Well, there is no need to speculate further … let's dive right in and see everything that Tipico has to offer, shall we?
History
Tipico is split into 2 separate companies: Tipico Co. Ltd. and Tipico Casino Ltd., both of which were founded in 2004 and are international trading companies under the Malta Financial Services Authority. Over the course of Tipico's 16 years of operation, it has grown to become rather large. Today, Tipico employs nearly 1,000 people from 44 countries. There are, however, over 6,000 employees in the entirety of the company's franchise network.
Tipico is not just a singular betting and casino site. In addition to the online operation, Tipico runs a German franchise system (which employs 1,100+ people. Further bolstering Tipico's reputation is the fact that they were one of just 7 companies to be granted a sports betting license on their first attempt, the Schleswig-Holstein Ministry of the Interior reports.
2016 saw Tipico receive a new majority shareholder when the financing company, CVC Partners bought control of the company. This also came with the appointment of a new CEO, Jaochim Baca of Austria. Tipico, however, continues to grow and excel as an international company, having been party to a number of high-profile sponsorships.
In Germany, for instance, Tipico sponsors the football club, Hamburger SV. And in 2018, Tipico went even bigger by becoming an official sponsor of the German Football League (DFL). So, it would appear as if Tipico is showing zero signs of slowing down and is only poised to continue growing from here, both in the world of professional sports and gambling.
Design
As I mentioned earlier on, Tipico presents itself as it is: a solid sportsbook with intuitive design. It is not interested in being flashy and it is not overly concerned with its aesthetic. Although it may sound strange at first, this is a strength, I think, of the Tipico site design. One that is, yet again, not typical of a site like this. Tipico is not concerned with the bells and whistles. It is a pared down example of a highly functional sportsbook that focuses the majority of its energy on being just that: as good a sportsbook as it can be.
The site is, on the whole, fairly intuitive and easy to use. It makes use of a pretty standard layout but does so in a way that feels fresh and new, much less overwhelming and confusing than other sites that I have seen. Unfortunately, the tendency with a sportsbook site is to try and cram way too much information on a single page. Rare is the site that makes use of consolidation and clear organization to full effect. Tipico, however, does just that.
On the left side of the page, you'll find a complete list of every sport that Tipico has to offer, along with a great browsing function. Clicking on Basketball, for example, intuitively drops down a menu that allows you to select from USA, Israel, New Zealand, or Tunisia. Then, each of those countries comes with its own dropdown menu of markets (NBA preseason, NBA, and NBA Season Bets, for example).
From there, it is just a matter of checking boxes for whatever bets you want to browse. What I love about this site, though, is the fact that you can filter your options to your heart's content – so, if you wish to see only NBA season bets and, say, Ultimate Fighting Championships bets, you can do so with ease and convenience.
To the right of all of the possible bets, you'll find a permanently embedded bet slip, too, which is perfect for keeping track of your active bets. Below that, you'll find a list of popular casino games in case you want to make a quick jump over to the other features that Tipico has to offer.
Content and Features
In addition to superbly minimalistic site design, Tipico's sportsbook is competitive in terms of its size as well. Although, admittedly, not the largest sportsbook on the web, it is on par with many others. With around 23 sports for you to choose from and plenty of markets therein, you would be hard pressed to run out of action on this site.
Tipico does also have lots of in-play betting for those of you who prefer to keep up with the action as it happens. The majority of their live bets are geared towards football – by far the most popular sport on the site. The only downside here, though, is the fact that Tipico does not offer any live streaming of events. This, in my opinion, is a huge hinderance for the site. There are so many equally good sportsbooks around the web that do offer live streaming – so, if Tipico wishes to retain its competitive edge, it would be wise to integrate some form of live streaming. In-play betting just is not the same without it.
One area in which Tipico does excel, though, is its breadth of payment options. Tipico covers all traditional payment methods and it manages to provide transactions with zero fees for many providers along with speedy payout times. The only potential downside here? … There is a €5,000 transaction limit. So, this might not be the best choice for all of you high rollers out there. Furthermore, you should be advised that there is a weekly earning cap of €100,000.
Tipico also has plenty of fun casino games, slots (751 to be exact), virtual sports, video card games, roulette, blackjack, and live card games as well that allow you to play head to head against real dealers and fellow players. As far as online casinos are concerned, Tipico is definitely one of the best.
Mobile and Desktop Experience
When it comes to mobile gaming, few online gaming entities come anywhere close to providing the level of experience, functionality, and convenience of Tipico. With a truly superb app available on both iOS and Android devices, you will never have to miss out on the action. In fact, the iOS app is one of the highest-rated betting apps on the market, with an impressive average rating of 4.9 stars out of 5. The app offers a sleek look, user-friendly interface, and a features rich experience.
Plus, casino gamers and sports bettors can enjoy 2 separate apps – the casino app, too, is every bit as good as the sportsbook app. As far as mobile experiences go, Tipico is at the forefront of the industry.
Suggestions that I have for Tipico
Well, I think my biggest issue with Tipico is its lack of live streaming. So, my first suggestion for this site would be to figure out a way to integrate live streamed events ASAP. This shouldn't be too hard to do either, at least from a contractual standpoint for German football, considering that Tipico is an official sponsor of the DFL.

Related Sites