Claim offer
Minimum deposit:

£5

Minimum bet:

£2.00

Bettings limits:

no limits
Pros and Cons
Great site design

1% commission rate

Multiple apps

Diverse and sizeable sportsbook
Casino could be bigger

Not available in US, Canada, or France

No live streaming
Top Three Reason to Join
Lowest commission rate on the web
Company Information
Phisical address:

Inchalla, Le Val GY9 3UL, Alderney

Website:

https://www.matchbook.com

Date Established:

2004

Email:

[email protected]

Phone:

(+44) 203 642 6867

Payout option:

Country Restrictions:

Guyana,
Canada,
Myanmar,
Palestine State,
Spain,
United States of America,
Georgia,
India,
Netherlands,
Portugal,
France,
Italy,
Turkey

more

Currencies Accepted:

Accepted for customers from:

United Kingdom,
Estonia,
Czech Republic,
Netherlands,
Switzerland,
Ireland,
Kazakhstan,
China,
Bulgaria,
India,
Lithuania,
Slovenia,
Denmark,
Russia,
Portugal,
New Zealand,
Georgia,
Nigeria,
Malta,
Argentina,
Romania,
Vietnam,
Belarus,
Latvia,
Algeria,
Pakistan,
Chile,
South Africa,
Iceland,
Thailand,
Luxembourg,
Cyprus,
Jamaica,
Kenya,
North Korea,
South Korea,
Ecuador,
Panama,
Albania,
Montenegro,
Egypt,
Singapore,
Uganda,
Qatar,
Armenia,
Costa Rica,
Tunisia,
Oman,
Cameroon,
Côte d'Ivoire,
Mauritius,
Moldova,
Morocco,
Ghana,
Israel,
Malaysia,
Sri Lanka,
Ethiopia,
Indonesia,
United States of America,
Hungary,
Canada,
Mexico,
Brazil,
Australia,
Norway,
Finland,
Sweden,
Germany,
Poland,
Austria,
France,
Spain,
Italy,
Ukraine,
Greece,
Serbia,
Croatia,
Hong Kong,
Japan

more

Other products
Esports

Bitcoin

Bingo

Combined Betting

Entertainment

Football pool

In-Play Betting

Live Betting

Live Casino

Live Streaming

Online Games

Poker

Politics

Virtual Sports

Matchbook in short
Minimum Deposit

£5

Customer support

Live Betting

Minimum Bet

£2.00

In-Play Betting

Live Streaming

Betting Limits

Mobile App

Combined Betting

Welcome Bonus

Football pool

Bitcoin Bet

Summary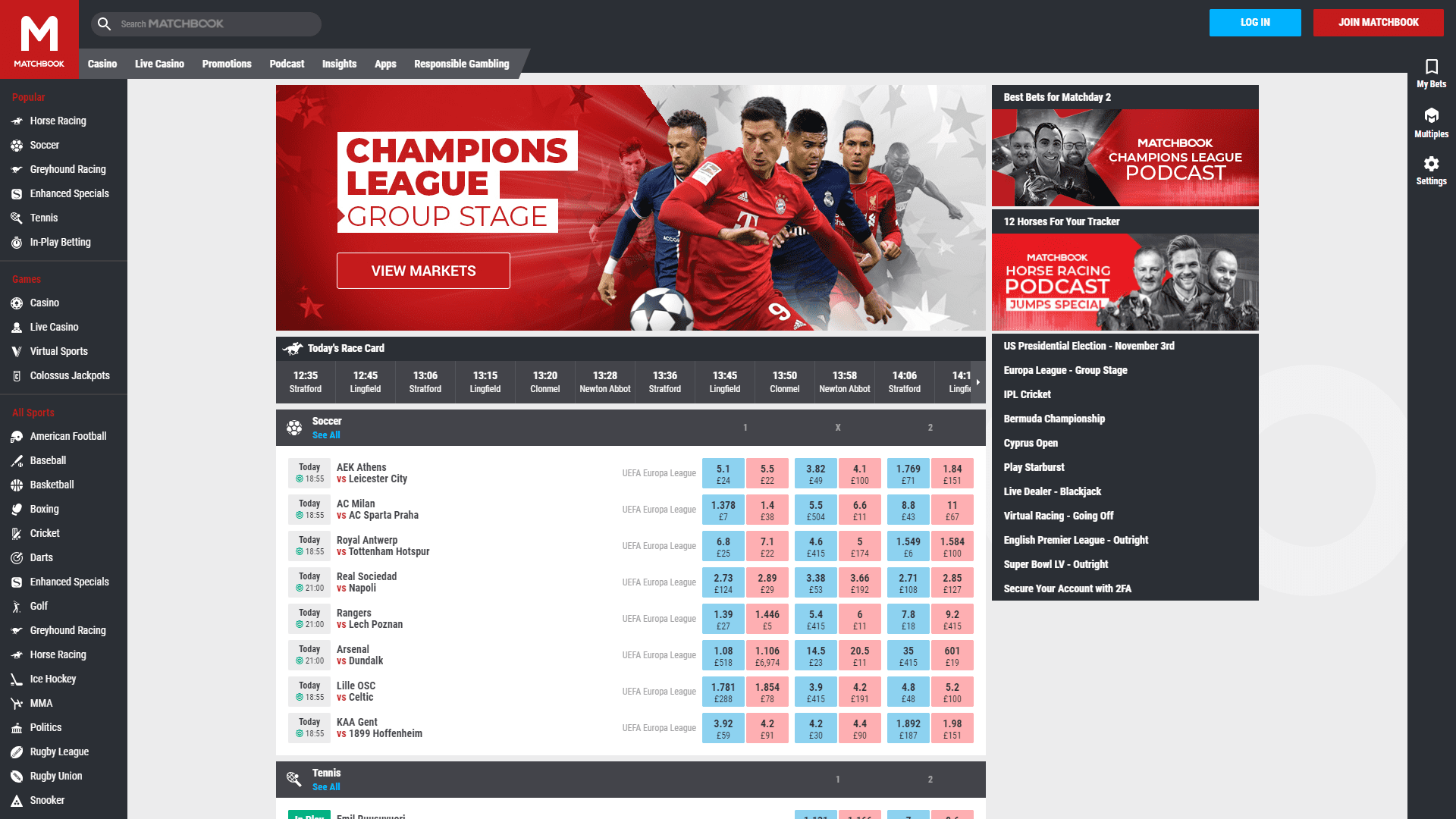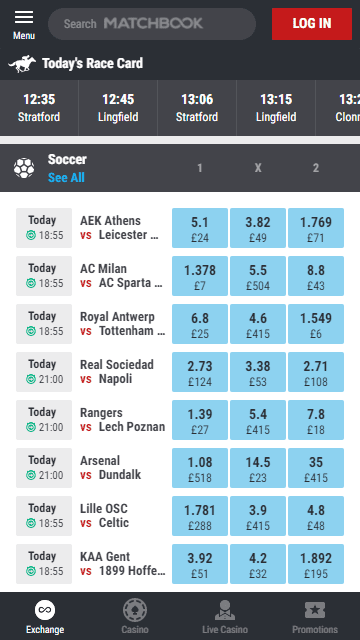 Introduction
Matchbook was founded in 2004. Ever since its launch, this site has developed an enormous userbase internationally. As Matchbook is technically billed as a betting exchange site, there are a lot of experts who compare the site to Bet Fair or Smarkets, saying that Matchbook are these sites' primary competition. And I would definitely agree with this assessment. There aren't nearly as many bet exchanges as there are traditional sports betting sites, so, whenever I hear about a new one, I automatically get excited.
For those who are unaware of the difference between betting exchanges and traditional bookmakers, there are a few distinct differences. Really what it boils down to, though, is the fact that betting exchanges give players more options for what they can do with their bets. Think of it as something in between a bookmaker and the stock market.
In addition to placing bets on a betting exchange such as Matchbook, users are also able to buy and sell their bets and the outcome (as you might buy or sell stocks). Additionally, gamblers can trade bets while a game is playing out, either to cut their losses or lock in a specific amount of profit. Typically speaking, bookmakers make a bulk of their money by offering relatively inefficient odds. Betting exchanges, on the other hand, usually just take a flat rate of a user's earnings, as commission, resulting in much better odds and a guaranteed amount (usually 2 or 3%) that users can expect to have to pay when they win.
Fans of Matchbook often cite the site's intuitive design, unprecedented low commission rates, sizeable and diverse sportsbook, huge selection of Asian handicaps, and, of course, the fact that players finally get to assume the role of bookies by selling and trading their own bets as the primary reasons that they are so dedicated to Matchbook.
How, though, does Matchbook fair when stacked up against the competition? There are, after all, some extremely well-executed betting exchanges out there with some of the most competitive odds on the web and shockingly low rates of commission. Does Matchbook have what it takes to become your new go-to betting exchange site?
Well, that is going to depend on a number of factors, to be sure, such as design, the quality of the sportsbook, the variety of the markets and bet types, what additional features the site has to offer, and how mobile-friendly this service is. Personally, I always prefer a sportsbook and online casino that offers a mobile app. I just cannot understand how so many of these betting sites do not have an app in 2020 … mobile betting is no longer the future … it is the here and now! So, here's to hoping that Matchbook is with the times.
But why speculate when we can dive right in and see for ourselves everything that Matchbook has to offer? Without further ado, I bring you one of the best betting exchange sites on market today, Matchbook.
History
Bet Fair was the first online betting exchange, along with Flutter, both of which launched in 2001. Both made a huge impact on the current world of sports betting … and, today, Matchbook is continuing this legacy (while also trying to become the number one betting exchange on the web).
Matchbook is headquartered and operated out of Alderney at the moment. However, the company found its start in the United States. In February of 2011, though, Matchbook was acquired by a group of investors from the United Kingdom who immediately withdrew from the market in the US (probably because of its prohibitive laws against gambling) and started out on its global expansion. By the time 2012 rolled around, Matchbook had already made an impact on the European and Asian markets as well.
Although Matchbook does not have quite as lengthy of a history as some of the other bookmakers on the web, it offers a trustworthy and reliable brand. You should have zero concerns regarding whether Matchbook is legit or not. This is one of the most reputable and respected sports betting and online casino sites on the web today. Matchbook, in a few short years, has accomplished what it has taken other sites decades to do in terms of establishing themselves as a trusted and preferred sports betting outfit.
Design
Matchbook offers a layered and nuanced site design. It is intuitive, user-friendly, and aesthetically pleasing. A gray, red, and white theme lends it the air of a classic bookmaker, while sharp edges and clean lines make it look contemporary and sleek. Everything is neatly organized and easy to find. Even the sportsbook itself doesn't get too bogged down in clutter (as online sportsbooks so often do). You shouldn't have much trouble at all becoming instantly fluent in reading the layout of Matchbook.
You'll find a classic sportsbook layout, featuring a long list of sports to choose from on the left-hand side of the page. I do like how this vertical menu bar scrolls independently of the rest of the page – it makes it much more convenient, as you are less likely to lose your place. In fact, both of the major sections of this site can be navigated independent of one another. Scroll past all of your betting options without affecting the menu bar and vice versa.
The bet slip, too, is provided in an intuitive and convenient manner. You'll find a few features tucked away to the far right of the page. One of those icons reads "My Bets." Click on this and your bet slip appears. Click it again and it disappears. I appreciate how easily accessible the bet slip is and, although I usually prefer it to be permanently embedded on the right-hand side of the screen, I am rather fond of this collapsible approach to the bet slip. It also appears anytime you click on a bet, of course, so that you can lock it in should you decide to do so.
Navigate the site to the casino section and, much to my delight, you'll find that your bet slip remains at the ready, still tucked away in that side menu. I love this – most sites that offer both a sportsbook and an online casino seem to put a ton of effort into making them entirely separate. Thankfully, this is not the case with Matchbook. Track all of your bets as you take a break and blow some steam playing the slots or table games.
Another nice touch comes in the form of the subtle darkening and atmospheric change that comes with entering the casino section of the site. In contrast to the sportsbook's functional and utilitarian white background, the casino shifts to become all about experience. The background is replaced by a sort of cosmically inspired theme – splashes of deep reds, pinks, oranges, and purples comprise the Matchbook's infinity logo, asserting itself in a texture that I can only describe as "planetary."
Clicking on the live casino tab transports the user to yet another atmosphere all its own. I absolutely love how immersive and uniquely experiential this site is. I have not seen a betting site put this much thought into user experience and content appropriate design in quite some time. More often than not, betting sites go with a one size fits all template and then apply that to its sportsbook, casino, and anything else that it has to offer. The fact that the site design reflects the specific kind of content it is meant for, however, makes for a much more effective and much more interesting site overall.
Content and Features
Let's return to Matchbook's sportsbook for a moment. With 24+ sports for you to place (and buy and sell) bets on, Matchbook offers a diverse and sizeable sports betting service. I appreciate, too, the fact that Matchbook caters both to popular sports such as football and basketball as well as novelty markets like politics and current events. There is a little something for everyone here.
It is not just the size that matters, though. Matchbook also offers the lowest commission rate of any betting exchange on the web. At just 1%, you can be sure to get the most of your earnings – which, of course, is what we all want. Pair this with the fact that Matchbook has some of the best odds of any sportsbook on the web and you begin to see why this site has become so popular in such a relatively short amount of time.
It would be one thing if Matchbook offered only the lowest commission rates and one of the most diverse sportsbooks out there, but they did not stop there. The casino and live casino platforms, both of which are flawlessly streamlined with the rest of the site, are also noteworthy. Matchbook may not have thousands of casino games like some other online casinos do, but they do offer a decent selection of high-quality games, nonetheless.
Casino lovers can enjoy slots (some of which have some hefty jackpots) with plenty of thematic options to choose from, a few video games, poker, blackjack, roulette, baccarat, and even specialty games like sic bo and craps.
When it comes to Matchbook's live casino offerings, you can test your skill (or luck) one on one against real live dealers. The live casino streams are provided by a mixture of the 2 biggest names in this industry, Net Ent and Evolution software, so, there should be no quality concerns to worry about. Here, you can play live roulette, poker, blackjack, and baccarat. Like I said, it's not the largest online casino in the world, but it is certainly fun filled and gets the job done in between placing, buying, and selling your sports bets!
Additionally, Matchbook also offers a podcast and a regularly updated blog of betting guides and insights. I don't know about you, but I always appreciate (and trust) a betting site that provides me with the tools necessary to get better at being a bettor. Matchbook clearly wants you to win – after all, as a betting exchange, it is in their best interest for you to win as much as possible (as they survive on commission from your wins).
Mobile and Desktop Experience
Matchbook offers a variety of mobile apps for the player on the go. There are apps available for both Android and iOS devices, and the app (interestingly enough) differs by region. There are separate Android apps, for instance – one dedicated to the UK and Ireland and one for the rest of the world. The iOS app, however, is the same no matter where you live.
The app is every bit as intuitive, sleek, and user-friendly as the desktop site. Although it does lose a little of that experiential edge in the app. That being said, you can always access the site through your mobile browser with ease as well, if you prefer.
Suggestions that I have for Matchbook
Matchbook does not appear to be available in Canada, France, or the United States. I would love to see Matchbook expand its international reach a bit more … however, I fully understand that this may be, in part, beyond the company's control.
The only other suggestion that I have for matchbook would be to add live streaming to its list of features in order to really make in-play betting as exciting as it could be.

Related Sites