Claim offer
Minimum deposit:

£20

Minimum bet:

£0.05

Bettings limits:

£99,999.99
Pros and Cons
Great site design

Trustworthy, reputable, innovative company

Flat commission rate (2%)

Very mobile friendly
Top Three Reason to Join
A one of a kind betting experience
Diverse and sizeable betting exchange
Intuitive and user-friendly site
Company Information
Phisical address:

1 Commodity Quay, St Katharine Docks, London E1W 1AZ

Current License:

000-039173-R-319366-002

Website:

https://smarkets.com/

Date Established:

2010

Email:

[email protected]

Phone:

+44-207-617-7413

Payout option:

Country Restrictions:

Australia,
France,
Switzerland,
China,
South Africa,
Denmark,
Czech Republic,
Belgium,
Turkey,
Italy,
Portugal,
Russia,
Belarus,
Ukraine,
Kazakhstan,
United States of America

more

Currencies Accepted:

Accepted for customers from:

United Kingdom,
Ireland,
United States of America,
China,
New Zealand,
Nigeria,
Portugal,
Slovenia,
India,
Czech Republic,
Netherlands,
Lithuania,
Romania,
Switzerland,
Latvia,
Argentina,
Denmark,
North Korea,
South Korea,
Pakistan,
Kenya,
Singapore,
Montenegro,
Bulgaria,
South Africa,
Russia,
Malta,
Luxembourg,
Philippines,
Colombia,
Thailand,
Indonesia,
Tanzania,
Belarus,
Tunisia,
Belgium,
Iceland,
North Macedonia,
United Arab Emirates,
Jamaica,
Ecuador,
Albania,
Algeria,
Israel,
Armenia,
Estonia,
Zambia,
Morocco,
Zimbabwe,
Egypt,
Costa Rica,
Cambodia,
Sri Lanka,
Uganda,
Cyprus,
Malaysia,
Georgia,
Ghana,
Cameroon,
Saudi Arabia,
Côte d'Ivoire,
Kazakhstan,
Iraq,
Ethiopia,
Canada,
Mexico,
Brazil,
Australia,
Norway,
Sweden,
Finland,
Germany,
Poland,
Austria,
France,
Spain,
Italy,
Ukraine,
Turkey,
Greece,
Serbia,
Croatia,
Hong Kong,
Japan,
Hungary

more

Other products
Esports

Bitcoin

Bingo

Combined Betting

Entertainment

Football pool

In-Play Betting

Live Betting

Live Casino

Live Streaming

Online Games

Poker

Politics

Virtual Sports

Smarkets in short
Minimum Deposit

£20

Customer support

Live Betting

Minimum Bet

£0.05

In-Play Betting

Live Streaming

Betting Limits

Mobile App

Combined Betting

Welcome Bonus

Football pool

Bitcoin Bet

Summary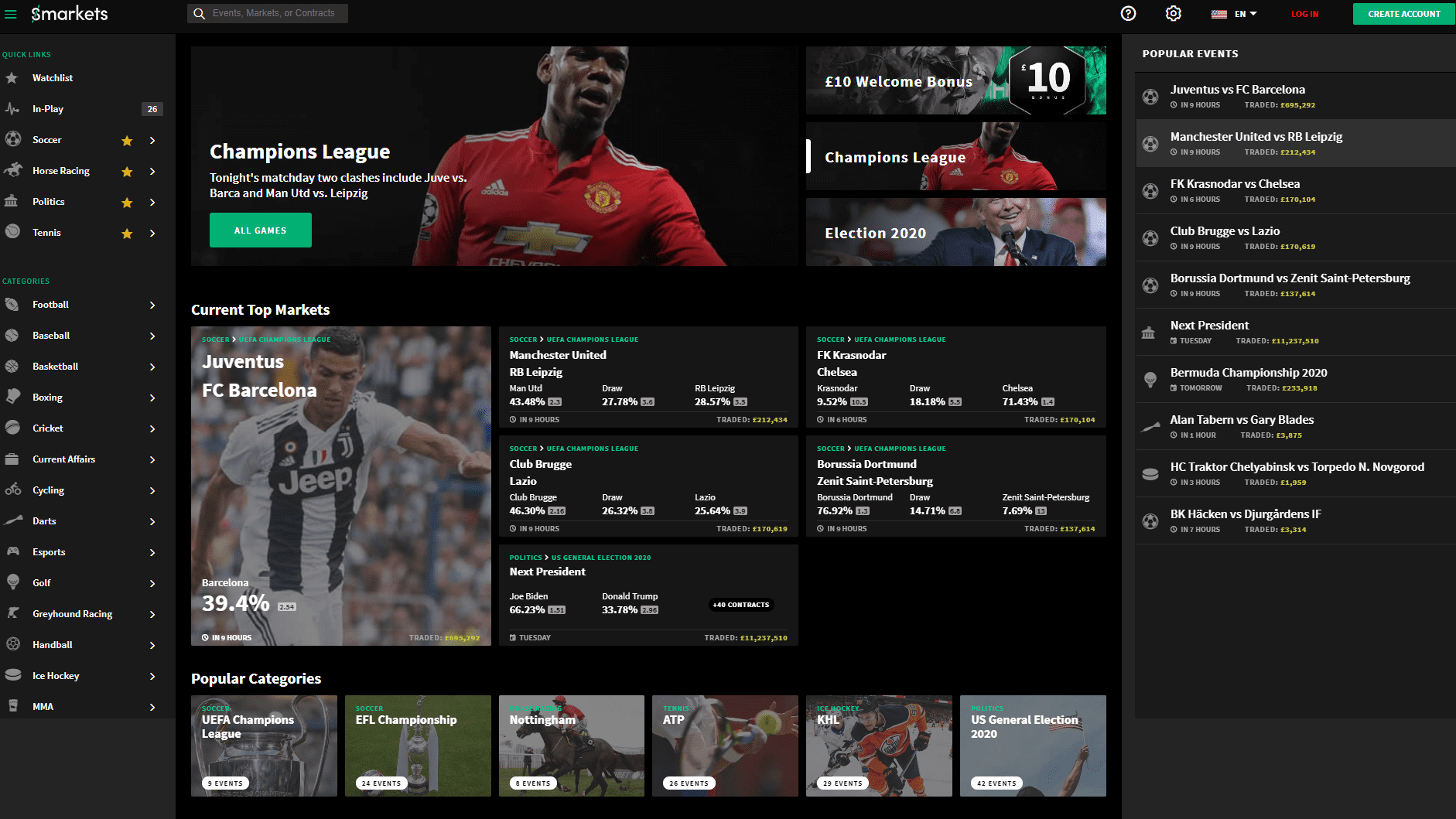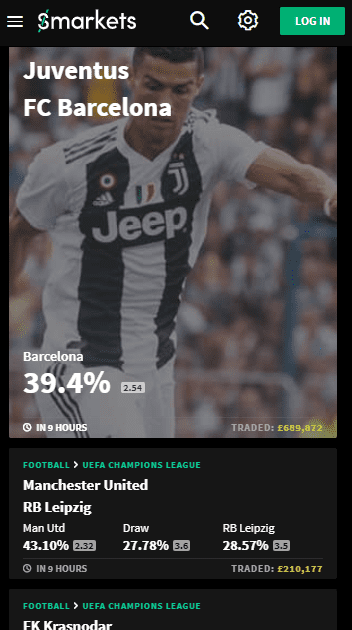 Introduction
One of the major buzzwords that has been ubiquitous in the world of the tech industry is "disruption." This is largely due to the fact that the tech industry, especially at the turn of the century, enabled companies to completely rethink, redesign, repurpose, and renovate almost every tried and true industry in the world. Disruption, as it pertains to tech, really just means to take an established industry or product and finding a way to make it more convenient. What is being disrupted, then, becomes the status quo of a given industry.
We have all seen disruption in action, of course, whether we call it that on a daily basis or not. eBooks, for instance, provided a major disruption to the traditional printing business. When eBooks fist came out, many publishers were scared beyond belief. For a good decade, there were some serious fears in the industry that the age of print media was doomed.
Fortunately, paper books are still holding on – it turns out not quite as many people as were anticipated decided to completely eschew physical books in lieu of digital ones – but the advent of eBooks, nonetheless, without a doubt did shake the literary industry up, effectively disrupting it to the point where publishers had to learn to adapt or perish.
Another industry that has undeniably been disrupted by tech companies is the gambling industry. Gone are the days of having to leave your home to go to a casino or a bookmaker in order to put money on a hand of poker, put cash on a favored horse, or to place a wager on the big game. With the rise of gambling sites, online casinos, and sports betting sites, the entire topography of the gambling industry had to be redesigned. Nowadays, if you don't have a solid betting site to compliment your chain of bookmakers, you don't stand a chance.
Some bookmakers, of course, have taken this more to heart than others. Some were reluctant to make the leap into the digital age. A select few, however, managed not only to successfully bridge that gap but to further innovate on top of it. One such bookmaker is the British company, Smarkets. Not only did Smarkets eagerly embrace the newly digitized terrain of sports betting, the company also breathed new life into the way that businesses approach matters of bookmaking.
How did Smarkets do this? By drawing inspiration from the stock market. By focusing on price and technology, Smarkets has managed to disrupt bookmaking in novel ways. "Betting should be priced like a commodity because it is one" says founder and CEO of Smarkets, Jason Trost in a Telegraph interview. "Betting on the outcomes of sports matches, elections or current affairs is no different from trading shares and stocks," he goes one, "The only difference has been that the margins are higher and the technology isn't as good – until now."
Smarkets' very model is unique in the world of sports betting. They are not your average, run of the mill sportsbook. Instead, they offer something that is closer to, as Parlez Media puts it, a "digital peer-to-peer betting exchange." It is not only the site's execution that sets the company apart, though. You can also see Smarkets disrupting the usual model of business in how it empowers its staff via its unique self-management structure.
"We wanted to get away from the legacy offer, because we're living in a very different space," Trost goes on to say to Telegraph. "We're a technology business, and that informs everything we do. For example, a traditional gambling website will be overloaded with high-margin games to fleece customers – we don't have those, because we're offering a platform for people to trade on their positions."
Trost continues to elaborate on his view of how sports bettors should be regarded more like stock market traders. Trost says, "People who take calculated risks with other people's money on the stock market demand a good trading rate. Why shouldn't people who put their own money on Manchester United winning their next game get a good deal as well? The only way to deliver this is through technology – and technology is at last being used for the benefit of the person laying down their money, rather than the bookmaker."
Smarkets has taken a truly novel and exciting approach to sports betting – one that is structured around the player first, as opposed to one that favors the bookmaker above all. Trost appears to fully grasp the paradigm shift in business that has occurred over the last few decades and he embraces it. Your business should provide a service that, above all else, enables the customer to have the power.
This is born out of the tech industry in many ways, seeing as technology is always about providing the best possible user experience. This, then, is nothing earth shattering in and of itself. What makes Smarkets' model unique, though, is the fact that they may have been the first company in online betting that has utilized this philosophy in order to elevate and empower their players.
The philosophy at the core of Smarkets sure sounds alluring. On paper, many theories do. However, practice and philosophy do not always go hand in hand. It all depends on how effectively that philosophy has been integrated into the product, in the execution of the tech and the site itself. So, was Smarkets able to deliver on their promises? Well, let's delve into the site and see for ourselves.
History
Hunter Morris and Justin Trost began working on Smarkets in 2008, programming the exchange platform. By the time August of 2009 rolled around, the first iteration of the site went live, as an invite-only platform. By February of 2010, Smarkets was being publicly traded on the stock market. In this year, the company was also listed as one of the top 10 young European companies in The Wall Street Journal Europe.
Smarkets continued to grow, expand, and ascend as a company over the next decade, adding horse racing to its list of offerings and surpassing the £50 million mark of lifetime trades in 2011. In January of 2012, Smarkets officially introduced its signature 2% flat rate for commissions on bets and trades.
In 2017, Smarkets expanded to the US, opening up its US headquarters in Los Angeles. This was also the year that Smarkets launched its iOS app, adding to its already successful Android one. And in 2019, Smarkets furthered their US reach, announcing a landmark deal to offer sports betting services to residents in Indiana and Colorado.
It's easy to see why the US has embraced Smarkets – if nothing else, the world of American business can appreciate the stock market and tech. Since Smarkets offers a platform that boldly speaks to both, the US market was a natural fit for the company. This is, of course, great news for US players, as it can be somewhat tricky to find a decent site for online gambling that accepts American citizens.
Design
The Smarkets site looks, I think, exactly like the product that it advertises: a sort of tech-driven sportsbook rooted in the practices of stock exchange. Smarkets' aesthetic seems to be rather serious compared to other sportsbook sites that I have seen. A sleek black and green theme smack of Wall Street and stock exchange charts (which, by the way, are incorporated throughout the site as a means of visually representing bets and odds).
One thing that I love about this site is its no-nonsense approach. From the second you land on Smarkets' home page, you are in the middle of all the action. There are no unnecessary frills or bells and whistles. It is just raw data, game highlights, news, and stats everywhere that you look. That being said, this is, somewhat surprisingly, not overwhelming at a glance. Nor is it too cluttered. Everything on the site is meticulously and cleanly organized and seamless, making for a very pleasant (and utilitarian) user experience.
On the left-hand side of the page, scroll through a list of markets. I like that this list is scrollable independent of the rest of the page, so that you can browse the list quickly and easily (without losing your place) no matter where on the site you happen to be. Oh, and you can collapse this menu as you see fit, allowing you a more immersive reading and research experience.
The bet slip, too, comes and goes as you need it. It appears when you click on a bet and when you are done, just exit out of it. Although I usually prefer a permanently embedded bet slip, I do appreciate the ease with which you can access Smarkets' bet slip. Again, everything on this site is consolidated, streamlined, and a click away.
Content and Features
Smarkets is all about sports and novelty bets. Unlike many other betting sites, you are not going to find anything in the way of casino games here. This site is for the sportsbook enthusiast only. This dedication to the craft of providing an excellent sportsbook is probably one of the reasons that Smarkets is one of the most respected and best-performing online sportsbooks to ever exist, even though they are a relatively new one.
There are often around 35 different leagues for you to bet on. Smarkets is especially popular when it comes to football, golf, and horseracing, but it offers staggeringly good odds on every sport offered. Smarkets has one of the most diverse sportsbooks on the web, too, catering to popular and obscure sports and leagues alike.
Another thing that makes Smarkets stand out is the fact that they have bustling politics and current events markets, too. Sure, there are other sports betting sites that allow players to bet on current affairs, but Smarkets is easily one of the industry leaders in these markets. In fact, the only site that might have a broader selection of these sorts of bets is Paddy Power – and if you know anything about this company, it's about time we had a more ethically conscious alternative.
Smarkets is also a great option for in-play betting. Smarkets lets you back and place bets on games as they are taking place, which is, in my opinion, one of the most exciting ways to bet on sports – play by play. Unfortunately, unlike many of their competitors, Smakets does not currently allow its users to live stream sporting events on their platform. This, as you can imagine, makes for a truly superb in-play betting experience. Seeing as Smarkets has become such a leader of the sports betting industry, though, I would not be at all surprised if they were in the process of developing a live streaming service of some sort.
Mobile and Desktop Experience
As I mentioned earlier, Smarkets does have both an iOS and Android app that allows you to back, place, and trade bets no matter where you happen to be. Quality seems to be the name of the game with Smarkets. So, as you might assume, the Smarkets app is top-notch. In fact, as far as mobile sportsbooks go, Smarkets may be my personal favorite. The Smarkets app is intuitive, user-friendly, functionally flawless, and easy to use. Anyone who prefers to place their bets on the fly will definitely want to give Smarkets a fair try.
Suggestions that I have for Smarkets
Firstly, like I just said, I would love to see Smarkets introduce live streaming. If they were to do this, I would probably list them as the best sports betting site out there right now. But alas, there is no way to stream sporting events on the Smarkets website. So, in-play betting might be a little more streamlined elsewhere.

Related Sites