Bet £5 Get £20 In Free Bets
Welcome bonus
Claim offer
Minimum deposit:

£10

Minimum bet:

£1

Payout Speed:

1-3 working days
Pros and Cons
Great mobile app

Massive site with tons of features

Live streaming events and live streaming card games
Not a huge fan of the desktop site design

No 24/7 customer support

Not available in US

No eSports betting
Top Three Reason to Join
A proven 120+-year track record
Huge sportsbook and plenty of games
Extremely secure, safe site
Company Information
Phisical address:

Suite 6 Atlantic Suites GIBRALTAR GX11 1AA

Current License:

ref 54743

Website:

https://sports.ladbrokes.com/

Date Established:

1998

Email:

[email protected]

Phone:

+44-208-866-4488

Payout option:

Country Restrictions:

Australia,
Belgium,
Afghanistan,
Albania,
Algeria,
Andorra,
Angola,
Antigua and Barbuda,
Armenia,
Austria,
Azerbaijan,
Bahamas,
Bahrain,
Bangladesh,
Belize,
Benin,
Bhutan,
Bolivia,
Bosnia and Herzegovina,
Botswana,
Brazil,
Brunei,
Bulgaria,
Burkina Faso,
Burundi,
Cambodia,
Cameroon,
Canada,
Central African Republic,
Chad,
Chile,
China,
Colombia,
Comoros,
Congo,
Costa Rica,
Cuba,
Cyprus,
Czech Republic,
Denmark,
Djibouti,
Dominica,
Dominican Republic,
Ecuador,
Egypt,
El Salvador,
Equatorial Guinea,
Eritrea,
Estonia,
Ethiopia,
Fiji,
Finland,
France,
Gabon,
Gambia,
Georgia,
Grenada,
Guatemala,
Guinea,
Guinea-Bissau,
Guyana,
Haiti,
Honduras,
Hungary,
Iceland,
India,
Indonesia,
Iran,
Iraq,
Israel,
Italy,
Jamaica,
Japan,
Jordan,
Kazakhstan,
Kenya,
Kiribati,
Kuwait,
Kyrgyzstan,
Laos,
Latvia,
Lesotho,
Liberia,
Libya,
Lithuania,
North Macedonia,
Madagascar,
Malawi,
Malaysia,
Maldives,
Mali,
Marshall Islands,
Mauritania,
Mexico,
Micronesia,
Moldova,
Monaco,
Mongolia,
Montenegro,
Morocco,
Mozambique,
Myanmar,
Namibia,
Nauru,
Nepal,
Nicaragua,
Niger,
North Korea,
Norway,
Oman,
Palau,
Pakistan,
Panama,
Papua New Guinea,
Paraguay,
Peru,
Philippines,
Poland,
Portugal,
Qatar,
Romania,
Russia,
Rwanda,
Saint Kitts and Nevis,
Saint Lucia,
Saint Vincent and the Grenadines,
Samoa,
San Marino,
Sao Tome and Principe,
Saudi Arabia,
Senegal,
Serbia,
Sierra Leone,
Singapore,
Slovakia,
Slovenia,
Solomon Islands,
Somalia,
South Africa,
South Korea,
Sri Lanka,
Suriname,
Swaziland,
Switzerland,
Sudan,
Sweden,
Syria,
Tajikistan,
Thailand,
Togo,
Tonga,
Trinidad and Tobago,
Tunisia,
Turkmenistan,
Tuvalu,
Uganda,
United Arab Emirates,
Ukraine,
Uruguay,
Uzbekistan,
Vanuatu,
Venezuela,
Vietnam,
Yemen,
Zambia,
Zimbabwe,
Turkey,
Greece

more

Currencies Accepted:

GBP,
AUD,
EUR,
NOK,
NZD,
CHF,
USD,
SGD,
JPY

Accepted for customers from:

United Kingdom,
Ireland,
United States of America,
Netherlands,
India,
Bulgaria,
Argentina,
Nigeria,
China,
Jersey,
Romania,
Latvia,
Belarus,
Russia,
Belgium,
New Zealand,
Czech Republic,
Barbados,
Philippines,
Israel,
Denmark,
Tanzania,
South Korea,
North Korea,
Georgia,
Andorra,
Kenya,
Cyprus,
Lithuania,
Armenia,
Peru,
South Africa,
Portugal,
Switzerland,
Bangladesh,
Vietnam,
Taiwan,
Singapore,
Malaysia,
Thailand,
Maldives,
Ghana,
Chile,
Pakistan,
Malta,
Slovakia,
Morocco,
Albania,
Tunisia,
Egypt,
Iceland,
Kuwait,
Nepal,
Trinidad and Tobago,
Bosnia and Herzegovina,
Indonesia,
Lebanon,
Estonia,
Tajikistan,
Jordan,
Cameroon,
Iraq,
Azerbaijan,
Kazakhstan,
Uzbekistan,
Sri Lanka,
Hungary,
Canada,
Mexico,
Brazil,
Australia,
Norway,
Sweden,
Finland,
Germany,
Poland,
Austria,
France,
Spain,
Italy,
Ukraine,
Serbia,
Croatia,
Hong Kong,
Japan

more

Other products
Esports

Bitcoin

Bingo

Combined Betting

Entertainment

Football pool

In-Play Betting

Live Betting

Live Casino

Live Streaming

Online Games

Poker

Politics

Virtual Sports

Ladbrokes in short
Minimum Deposit

£10

Customer support

Live Betting

Minimum Bet

£1

In-Play Betting

Live Streaming

Mobile App

Combined Betting

Welcome Bonus

Bet £5 Get £20 In Free Bets

Football pool

Bitcoin Bet

Summary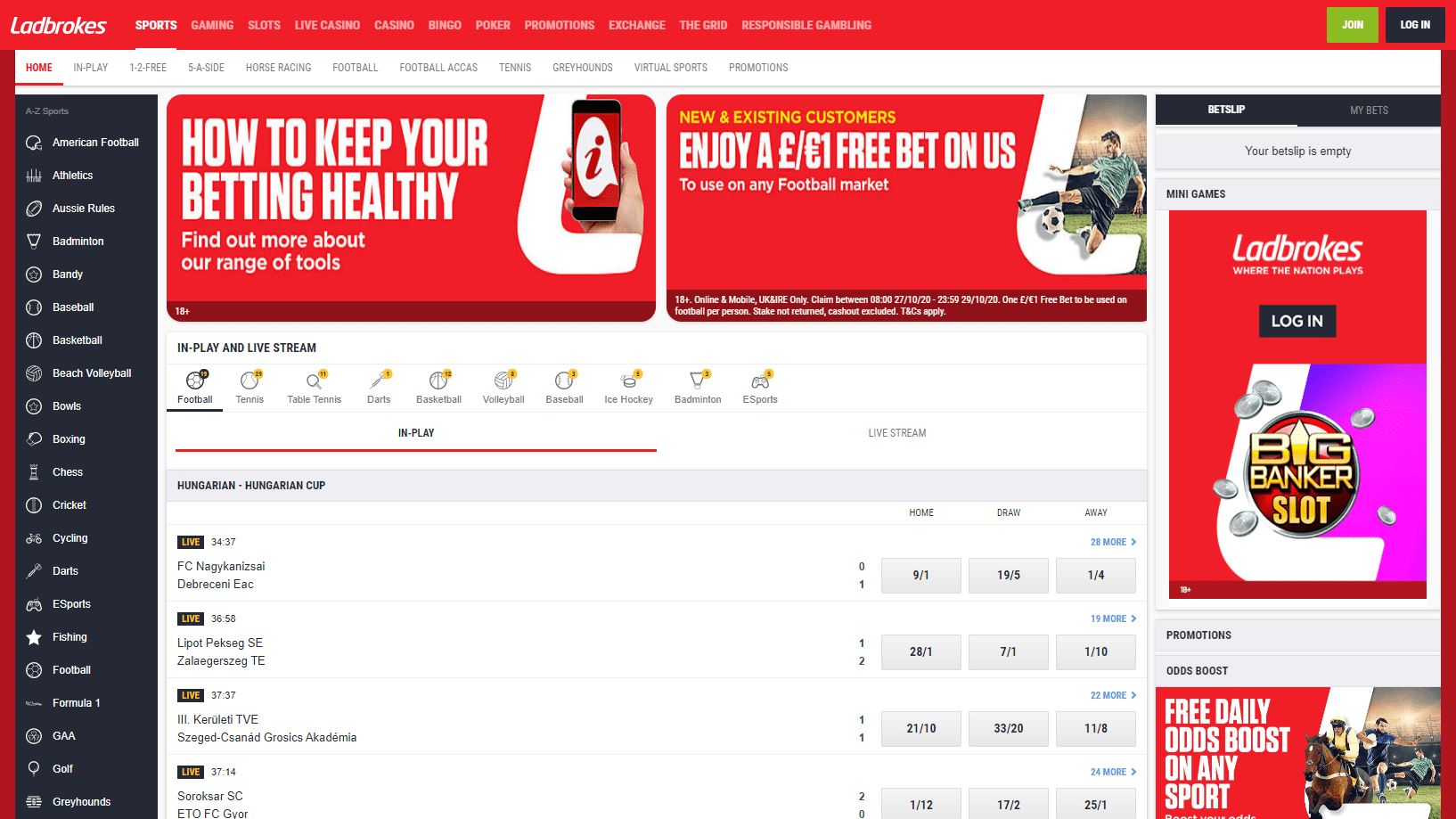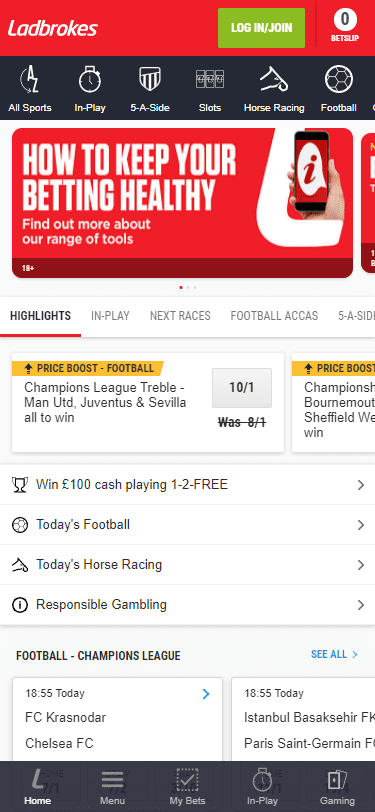 Introduction
There are very few (if any) bookmakers with as longstanding or rich a history as that of Lad Brokes. Nor are there many sportsbooks and online casinos with as stellar a reputation as this London-based site either. Knowing that Lad Brokes has been in the business for so long should immediately make any player feel comfortable making their first deposit on this site. There can be a great deal of comfort in becoming a customer of a site that has been in the gaming industry for so long.
And there is certainly some legitimacy to such an assumption. One would be safe in presuming, for starters, that this company has had more than enough time to work out any bugs or kinks in their business model. And that is true. It is also true that when a company has been around for so long, more often than not, they have also had time to recuperate their reputation should they have ever faced notable criticisms or customer complaints. Assuming that the company is forward-looking and open to criticism (which, frankly, is just good business).
This, fortunately, also appears to be the case. They say that practice makes perfect, and Lad Brokes has had more than enough practice in their more than 120 years as a retail and, now, online bookmaker. It is not every day that I get to review such a staple of the gambling word. Nor is it every day that I get the chance to review a company that is so integral to the very history of bookmaking itself. So, as you could imagine, I am very eager to dive in and discover, once and for all, how this institution of sports betting (and let us be clear, Lad Brokes is nothing short of an institution in this industry at this point).
However, just because a company has had a longstanding history of providing a superb retail product, that does not necessarily mean it will be able to successfully transition itself into an online brand. In fact, it is very common for brick and mortar companies to miss the mark when it comes to providing a digital presence. It takes a very forward-thinking and progressive company, it seems, to invest properly in their digital presence. And many companies, especially those that are so firmly rooted in the old world, struggle to bridge this gap.
There are so many aspects of a betting site that may be unfamiliar to a company that built itself into the firmament of retail bookmaking. For example, providing users with cutting edge, top of the line, user-friendly site design is one of them. In my opinion, betting sites in general tend to struggle with this – even those that began online. But this is far from the only pitfall.
In addition to great site design, you need to ensure that your site is secure. Safety online is not the easiest thing to secure, of course, and it is especially important when it comes to websites that specialize in trafficking large sums of peoples' money. Customers need to feel as if they have no worries whatsoever when it comes to choosing a betting site … especially when it comes to their money.
Lastly, a betting site, in order to be competitive in 2020, needs to offer much more than just a sportsbook. One might be concerned that Lad brokes, having been only a retain bookmaker for so long, might not offer all of the additional features that people have come to expect from their betting site of choice. And if they do offer other platforms like live poker, casino table games, slots, virtual sports betting, and bingo, one has to be certain that those platforms are going to be just as good (ideally better) than that of more modern, contemporary betting and online casino sites.
So, it would appear as if, even though Lad Brokes is nothing short of an institution in the gaming world, there will still be a great deal for us to evaluate when it comes to how it functions as an online enterprise. And I, for one, am thrilled to have the honor to review such an important site. So, without further ado, let us dive in and learn everything there is to know about Lad Brokes – where it came from, where it is now, and whether it is worth your time and money as far as online betting sites are concerned.
History
Lad Brokes is a British company that is based in London. It has, as I have mentioned, built itself into the very fiber of the gambling world, and at one point the company got so big that it acquired the US-based Hilton Hotel brand (between the years of 1996-2006). And in 2016, Lad Brokes acquired another very historical and influential betting company, Gala Coral. Thus, Lad Brokes officially changed the name of their company to Lad Brokes Coral that same year.
Messrs, Schwind, and Pennington founded Lad Brokes in 1886. The company was originally opened as a commissions agency for horses that were trained specifically at Lad Broke Hall in Warwickshire. The name of the company did not officially become Lad Brokes, however, until 1902 upon the addition of Arthur Bendir to the partnership. This was also the year that the company moved its headquarters to London.
Lad Broke's first offices were located in the Strand neighborhood of London, eventually relocating to Hanover in 1906 and in 1913, on to Mayfair. Between the years of 1913 and 1956, Lad Brokes catered primarily to members of the aristocracy, many of whom also frequented gentlemen's clubs in the St. James area in central London.
Lad Brokes was the first gambling company to employ a woman in a key role. Helen Vernet joined the firm as the principal representative on British racehorses in 1919. She was made partner in 1928, and she stayed on with Lad Brokes until just before her death in 1956 (she was 80 years old).
Lad Brokes' fortune and profitability, however, began a steady decline with the end of World War II. This was the result of a very apprehensive and mannerly economic post-war climate, which led to lower clientele numbers, and a refusal on behalf of the firm to rethink their specialized approach to bookmaking. In 1956, seizing on this opportunity, Mark Stein and his nephew Cyril Stein acquired Lad Brokes for £100,000.
This couldn't have been a better time to acquire a company like Lad Brokes either. Only a few years after, the government officially legalized betting shops with the Betting and Gambling Act of 1961. During his time as managing director, Stein used the company's profits to establish a chain of betting shops – a very popular move at the time in England.
And in 1964, Lad Brokes made their first foray into non-gambling industries, taking a major stake in the Dragonara Palace, a casino and hotel in Malta. Things seemed to be looking great for Lad Brokes … the company seemed untouchable. They went on to expand their reach into the world of bingo clubs, casinos, hotels, and other real estate investments. For a couple decades, it was smooth sailing for Lad Brokes.
The first real roadblock that Lad Brokes approached came in the form of scandal in 1979. It was exposed that illegal marketing schemes were being used in their London casinos. The most notable of which involved the company bribing a police officer into delivering personal information of some competitive casinos' high rollers. As a result of this, Lad Brokes was made to close its 4 London casinos – which comprised a staggering 40% of Lad Brokes' profits.
Luckily, though, Lad Brokes has managed to bounce back thanks to a long series of strategic rebuilding, rebranding, acquisitions, and expansion. And, today, they stand tall once again as gods of the gambling industry.
Design
The Lad Brokes website does not look quite as great as I would have expected from such an industry giant. In fact, parts of it look, at least to me, downright cheap and corny. It has a very classic sportsbook look and feel to it, which is nice in a novelty kind of way, but I think that, on the whole, the site could stand for a makeover.
Don't get me wrong, the site functions well enough. You have your list of sports on the left side of the page, in-play and live stream functions and highlights in the center, and a prominently embedded bet slip to your right. It's a pretty standard layout for a site like this. My main issue with it stems from the fact that it could be more consolidated, experiential, and customizable.
I do like how easy the site is to navigate, though. The site menu bar, for instance, at the top of the page is comprehensive and allows for quick and simple access to every corner of this expansive site.
Content and Features
If you had any concerns of Lad Brokes' inability to keep up with the times, the size and scope of this site's offerings should assuage them. Lad Brokes has managed to cater to just about every kind of gaming and betting that you can find on any of the next 10 competitor sites.
Lad Brokes features an enormous and versatile sportsbook with plenty of markets and competitive odds (you'll even find some fun, more obscure international markets on here as well). In addition to a diverse sportsbook, Lad Brokes also offers slots, table games, casino games, a live casino, bingo, poker, virtual sports, and more. Add on a decent selection of live streaming events and it becomes clear that boredom certainly won't be an issue on this site.
Mobile and Desktop Experience
Lad Brokes has seamlessly transitioned into the 21st century market, and their mobile apps are further evidence of this fact. Available on both iOS and Android devices, I love the clean and minimalistic look of the Lad brokes mobile app. You have access to every one of Lad Brokes' features, all in a sleek and condensed version of the site's design (personally, I think the design lends itself to the app much better than the site).
Suggestions that I have for Lad Brokes
Okay, maybe there is one area in which they have failed to keep up with the times. Lad Brokes, unfortunately, does not have any eSports betting features. Lad Brokes is willingly missing out on a whole generation of younger gamblers, given the increasing popularity of the eSports betting. I would love to see Lad Brokes expand into this space in the future.
Secondly – and this one is much more surprising to me – Lad Brokes does not have 24/7 customer support. How such a massive, global company could ignore the importance of 24/7 customer support is beyond. This is especially frustrating given the fact that their customer support centers are based in the UK – so, if you don't live in that time zone, you may have to call at odd hours to get help.

Related Sites