Claim offer
Minimum deposit:

€6.00

Minimum bet:

€0.12

Bettings limits:

€8.000
Pros and Cons
Great site design

Mobile friendly

Enormous sportsbook, thousands of wagers
Live casino games could be more populated

History of poor customer service and unethical actions
Top Three Reason to Join
Largest sportsbook, online casino, exchange site on the web
Many running promotions, deals, and bonuses
Great in-play betting with live streaming
Company Information
Phisical address:

Waterfront, Hammersmith Embankment, Chancellors Road, London W6 9HP

Current License:

MGA/CRP/131/2006

Website:

https://www.betfair.com

Date Established:

May 1999

Email:

[email protected]

Country Restrictions:

Afghanistan,
Algeria,
Samoa,
Angola,
Austria,
Brunei,
China,
Guyana,
Iran,
Iraq,
Japan,
North Korea,
South Korea,
Kuwait,
Laos,
Libya,
Myanmar,
Namibia,
Papua New Guinea,
Singapore,
South Africa,
Sudan,
Turkey,
Uganda,
United States of America,
Yemen,
Zimbabwe,
Canada,
Poland,
Greece,
Serbia,
France

more

Currencies Accepted:

Accepted for customers from:

United Kingdom,
Brazil,
Ireland,
Russia,
Netherlands,
Denmark,
Thailand,
Belarus,
Italy,
Nigeria,
Malta,
Moldova,
Portugal,
Côte d'Ivoire,
Peru,
India,
Montenegro,
Argentina,
Georgia,
Chile,
Czech Republic,
Bulgaria,
Luxembourg,
Kazakhstan,
China,
Ecuador,
Kenya,
Israel,
Venezuela,
Sweden,
Latvia,
Mozambique,
Vietnam,
Romania,
Iceland,
Costa Rica,
Egypt,
Oman,
South Africa,
Lithuania,
North Korea,
South Korea,
Morocco,
Belgium,
Bangladesh,
Andorra,
Colombia,
Pakistan,
Switzerland,
Slovakia,
Uzbekistan,
Estonia,
Liechtenstein,
Armenia,
United Arab Emirates,
Philippines,
Guatemala,
Zambia,
New Zealand,
Tanzania,
Slovenia,
Singapore,
Ghana,
Cyprus,
Bosnia and Herzegovina,
Kyrgyzstan,
Dominican Republic,
Malaysia,
Bolivia,
Jamaica,
Uganda,
Indonesia,
Paraguay,
Tunisia,
Cameroon,
Albania,
Benin,
Democratic Republic of the Congo,
Mexico,
Australia,
Norway,
Finland,
Germany,
Austria,
Spain,
Ukraine,
Croatia,
Hong Kong,
Japan,
Hungary

more

Other products
Esports

Bitcoin

Bingo

Combined Betting

Entertainment

Football pool

In-Play Betting

Live Betting

Live Casino

Live Streaming

Online Games

Poker

Politics

Virtual Sports

Raitings

Betfair in short
Minimum Deposit

€6.00

Customer support

Live Betting

Minimum Bet

€0.12

In-Play Betting

Live Streaming

Betting Limits

Mobile App

Combined Betting

Welcome Bonus

Football pool

Bitcoin Bet

Summary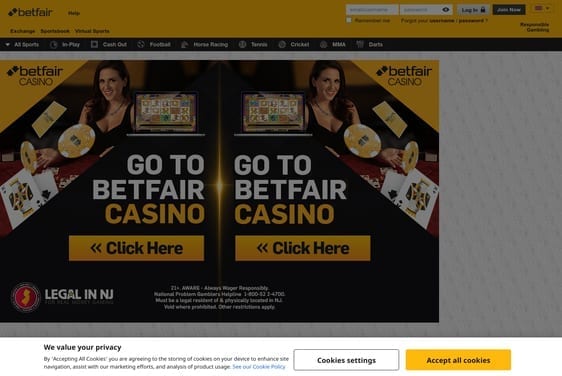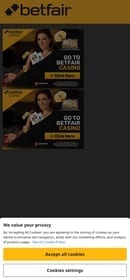 Introduction
There is a good chance that you have heard of the site, Bet Fair at one point or another. I mean, how could you not have? This is a truly massive website. In fact, Bet Fair is said to be the largest online company that deals in bet exchange in the world. The site also offers a sportsbook for fixed odds betting, an online casino, online poker, and online bingo. At least on paper, it looks as if this site might have the potential to become your one stop shop for all of your online gambling needs.
You don't have to just take my word for it, though. If you have any doubts about Bet Fair's popularity, all you have to do is look at their millions of international customers who, collectively, funnel millions upon millions of dollars into this online betting outfit every year. Few sites even come close to rivaling Bet Fair's impressive numbers when it comes to their gargantuan userbase and the remarkable amount of money that gets won (and, of course, lost … it is a gambling site, after all) on this sports betting and gaming site year after year.
Not only does Bet Fair offer a diverse range of betting styles, games, wagers, and sports to choose from … it is also a site that has been around the block a few times. To be exact, Bet Fair has been in operation for over 20 years now. So, if you are looking for an online betting site that you can trust, Bet Fair would seem like an obvious choice, right? This is something that everyone looks for in their sports betting site of choice … longevity and a longstanding history of trust with their customers.
However, it is important to remember the fact that longevity and having been around for a long time does not always directly equate to trustworthiness. Is Bet Fair truly a site that users, en masse, feel comfortable pooling significant amounts of money into? Well, the answer to that question, it turns out, might depend entirely on who you ask.
Bet Fair, like many sites that have been around for a long time, has seen their fair share of controversy. There are some who refuse to use Bet Fair altogether, due to ethical qualms that they have with the company. Much of Bet Fair's ill repute that exists in some circles, however, stems from a single transgression that occurred years ago. Still, though, this mess up was enough to turn some of my friends off of the service for good.
The story goes a little something like this … In 2010, Bet Fair initiated a promotional offer that enabled players to claim an unlimited number of "happy hour bonuses." Where things got interesting here, though, came in the form of a small 10x playthrough that came with these bonuses. Naturally, players jumped on this once in a lifetime opportunity to win big. And many did. This was an incredible deal for users; not so much, though, for Bet Fair.
When Bet Fair realized how badly they botched things with this promotion (they lost over $10 million), instead of admitting their mistake and simply owning up to their losses, the company decided to rescind the offer altogether, leading them to take a less than ethical route in order to make the money back.
Their main claim was that players did not adhere to "the spirit of the bonus," as vague as that may sound, and, thus, Bet Fair quickly acted to close hundreds of players' accounts, refusing to pay them what they won. In short, they cut off all communication with these players. And in some more extreme cases, players reported that Bet Fair actually revoked funds won in this deal from their bank accounts without so much as a simple request or notice that this would be happening.
This is obviously not okay, for a number of reasons. Not only did this lose the trust of many of Bet Fair's members, it also led to the site being blacklisted on a handful of review sites, such as The Pogg and Casino Meister. I should also note, however, that The Pogg still handed Bet Fair a score of 8 out of 10, despite the blacklisted status.
For what it's worth, though, this appears to be the sole issue that people have with Bet Fair, and it seems as if, since this snafu, the site has been 100% on the up and up. I just thought I would get it out of the way early on in my review, so that you can be aware as you read on.
History
Bet Fair was founded in June of 2000. The company was started by British entrepreneurs Andrew Black and Edward Wray. These two co-owned the company on their own until April of 2006, when SoftBank purchased 23% of Bet Fair, putting it at a £1.5 billion valuation. Bet Fair has gone on to be rather influential and intrepid in the world of betting in the years to follow.
Bet Fair, for instance, was the first betting company to officially sponsor a football team in England. This came, of course, prior to the Gambling Act of 2005 which permitted the betting industry to advertise on national television and radio. Expansion did not stop there, though. Their sports sponsorships were merely the beginning.
In March of 2007, Bet Fair launched its own radio service, Bet Fair Radio, which was made available on Betfair.com. This has since morphed into Time Form Radio, though, which now broadcasts strictly horserace commentary, as well as racing results.
From there, Bet Fair began their international ascent, purchasing the TVG Network in the United States, which they purchased from Macrovision for $50 million. And in 2009, Bet Fair struck a deal with the New York Racing Association. This allowed Bet Fair's users to begin wagering immediately on thoroughbred races. It wasn't until 2011 that Bet Fair launched their sportsbook, and the company continues to grow and thrive … so who knows what this megacompany has up its sleeves in the years to come.
Design
Bet Fair offers a sleek, user-friendly, responsive, and experiential site design. In fact, Bet Fair's site design is one of the most organized and easy to navigate that I have seen of all the online betting sites I have looked at. It can be difficult to translate such a data heavy thing as sports statistics, wagers, odds, and bets into such a modern, dashing site. Bet Fair, however, has managed to pull it off.
You'll find an extremely helpful site menu bar at the top of the page. It is not often that a site offers such a comprehensive yet sleek site menu bar, allowing you quick access to everything that the site has to offer in such an intuitive way. Bet Fair makes great use of numerous dropdown menus so that the information and menu options do not get overwhelming. Easily jump between the site's hundreds of options by a few main categories that drop down: Exchange, Sportsbook, Pools Betting, and Virtual Sports.
This site could not be any easier to navigate or responsive. Other sports betting sites, I think, could learn a thing or two from Bet Fair's smooth and user-friendly design.
Content and Features
Bet Fair is, as I said before, truly massive. I cannot overstate how enormous this site is … which translates directly to how many features, ways to bet, sports, games, and functions that it offers as well. The site's sportsbook is ridiculously large. Of the sportsbook's 20 featured sports, you are likely to find thousands of different markets to choose from. This is just looking at their regular sportsbook alone.
Bet Fair also offers in-play betting. There are, on average, around 80 in-play matches going on at any one time (during normal sporting hours, of course). The majority of these in-play matches are for soccer, but you'll also find plenty for tennis, hockey, golf, basketball, and cricket. The kicker, too, is that Bet Fair also has a great deal of live streams available, making the in-play betting as streamlined as possible.
In addition to a massive sportsbook and great exchange offerings, Bet Fair also has an online casino, live casino, slots, bingo, macau, fantasy sports, i-gaming, and much, much more. It's safe to say that there is never a dull moment on Bet Fair. But the best way to truly understand the breadth of all that this site has to offer is to go explore it for yourself.
Mobile and Desktop Experience
Bet Fair does offer a number of mobile apps in addition to its central desktop website. The apps that are available to you, however, will vary depending on your location and there are apps for both iOS and Android users. The sportsbook is available through your browser (and is optimized for mobile devices). But you can also access Bet Fair's casino through its own app. There is also an independent app for Bet Fair's exchange, too. All of the apps are designed well and have very fair ratings on the Apple App Store.
So, if you are the kind of person that loves to place bets on the go, Bet Fair is going to be a great online sports betting resource for you.
Conclusion
If you are looking for the world's largest online sports betting site and online casino, well, you have certainly come to the right place. Bet Fair is unparalleled when it comes to its numbers of offerings, massive sportsbook, exchange, and live casino games. There is no question about it … Bet Fair is the biggest online gambling operation of all time. Which means that you will have plenty of games, matches, wagers, and bets to win. Add to that some great deals, bonuses, and promotions, and it begins to look like no site can come close to touching Bet Fair.
However, I can not get behind the fact that Bet Fair has stolen funds from its customer's bank accounts in the past. Even if it was just one time. That kind of unethical behavior is not something that you want to see from any company that you patronize, of course, but especially not one that you need to build a great deal of trust with in order to funnel sometimes large sums of your hard-earned money through.
It's a real shame that Bet Fair did not do the right thing when it had the chance. That being said, it does appear to have been something of an isolated incident … and one that occurred over a decade ago, at that. So, if you can look past Bet Fair's past in order to hopefully secure a bright future of winnings and earnings, this could potentially be the online sports betting, exchange, and casino site that you have always been waiting for. You will certainly not run out of things to do here, that is for sure!

Related Sites