Claim offer
Minimum deposit:

$10

Minimum bet:

$1

Bettings limits:

$2,500
Pros and Cons
Great site and app design

Easy to use

Intuitive and fun sportsbook

Great online casino
Products vary depending on where you live

Separate apps (for sportsbook and casino) would help
Top Three Reason to Join
One of the most US-friendly betting and online casino sites
Sportsbook, casino, racetrack all on one platform
Quick and easy withdrawals
Company Information
Phisical address:

9931 Corporate Campus Dr, Louisville, KY 40223, United States

Current License:

F-107697

Website:

https://www.betamerica.com

Email:

[email protected]

Phone:

+1-866-607-7929

Payout option:

Currencies Accepted:

Accepted for customers from:

United States of America,
Bulgaria,
United Kingdom,
Venezuela,
India,
Chile,
Cambodia,
South Africa,
Philippines,
Denmark,
Nigeria,
Romania,
Pakistan,
Russia,
Colombia,
Indonesia,
Argentina,
Trinidad and Tobago,
Egypt,
Peru,
North Korea,
South Korea,
Netherlands,
Costa Rica,
New Zealand,
Switzerland,
Ecuador,
Guatemala,
Mauritius,
Portugal,
Georgia,
Uruguay,
Israel,
Kenya,
Sri Lanka,
Malta,
Morocco,
Algeria,
Thailand,
Tunisia,
Bolivia,
Syria,
Bahrain,
Estonia,
Honduras,
Rwanda,
Palestine State,
Myanmar,
Saudi Arabia,
Singapore,
Kazakhstan,
Canada,
Mexico,
Brazil,
Australia,
Norway,
Sweden,
Finland,
Germany,
Poland,
Austria,
France,
Spain,
Italy,
Ukraine,
Turkey,
Greece,
Serbia,
Croatia,
Hong Kong,
Japan,
Hungary

more

Other products
Esports

Bitcoin

Bingo

Combined Betting

Entertainment

Football pool

In-Play Betting

Live Betting

Live Casino

Live Streaming

Online Games

Poker

Politics

Virtual Sports

BetAmerica in short
Minimum Deposit

$10

Customer support

Live Betting

Minimum Bet

$1

In-Play Betting

Live Streaming

Betting Limits

Mobile App

Combined Betting

Welcome Bonus

Football pool

Summary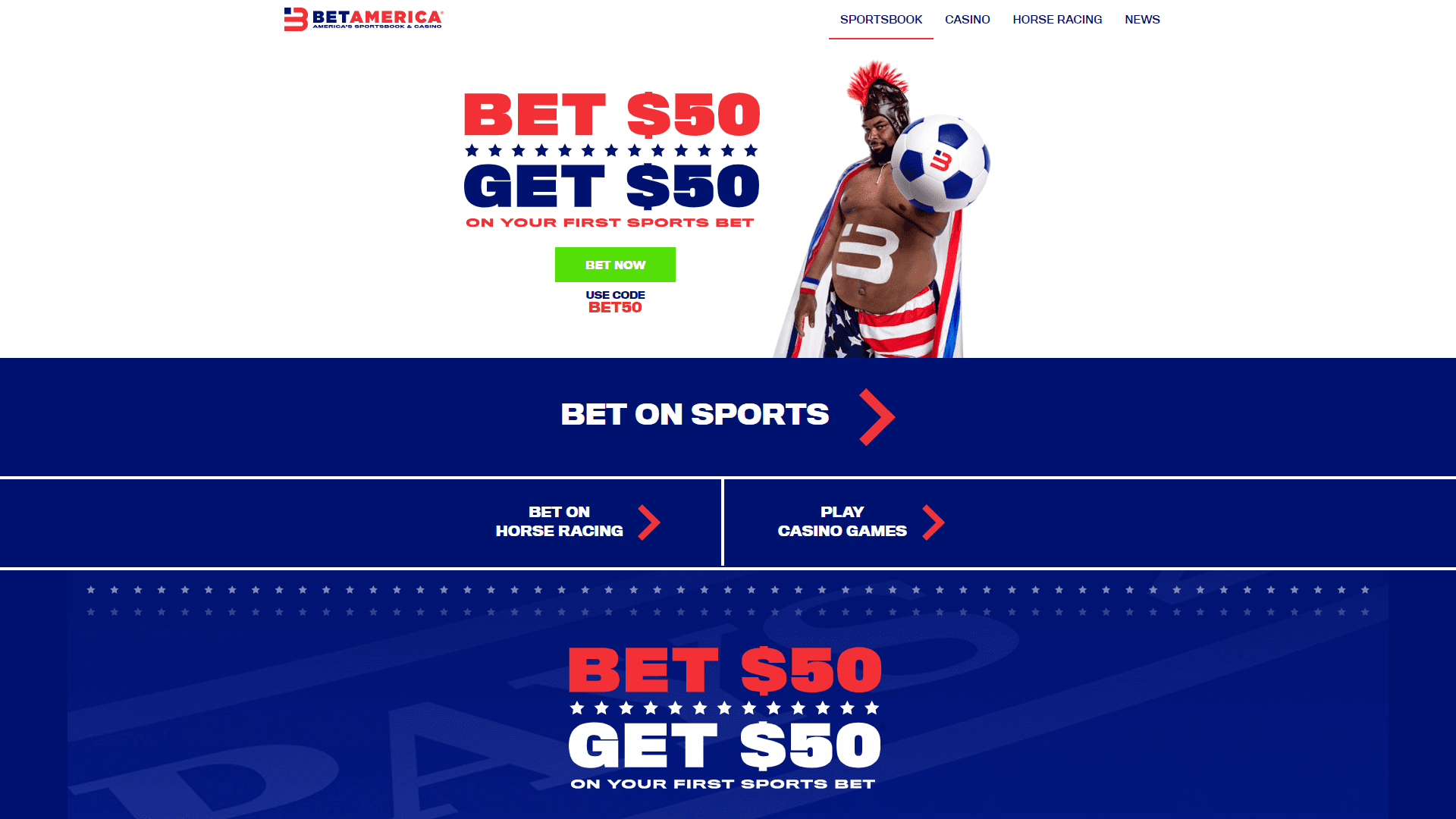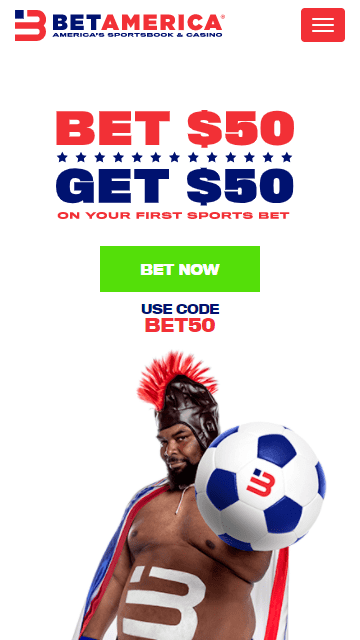 Introduction
Anyone who likes to gamble in the United States knows all too well how difficult it can be to find a betting site and online casino that accepts US players. Our options are, unfortunately, few and far between. This is, of course, not necessarily the fault of betting sites per se. In fact, the majority of the blame for why American citizens have such a hard time finding a betting site that allows them to play has more to do with the US government's laws than anything else.
It is no secret that the US is, in many cases, a proponent of dated, anti-progressive, religiously based, and Puritanical policies. In many ways, this is embedded in America's DNA (for any non-US citizen that doesn't know what I mean, spend one day in an average rural American town and it will become abundantly clear). This staunch religiosity (namely, Catholic religiosity) has resulted in the outlaw of just about anything deemed to be a "sin" by the Catholic church.
That is why so many drugs are still illegal in the US, that is why sex work will never be legal here, and that is why gambling is illegal as well in most states. Up until 2006, internet gambling existed in the States to a certain extent, often living in some sort of legal gray area. This was a fine time for online players in the US, until the Unlawful Internet Gambling Enforcement Act of 2006 was passed, outlawing many (virtually all) forms of online betting and gambling from taking place on US soil.
The passing of this legislature shut down the US operations of dozens of betting and online casino sites. The ones that weren't directly affected by the new law, even, were spooked and decided to cut ties with the American market anyway. Ever since this occurred, a majority of the betting sites around the world (many of which are European or UK-based) have wanted nothing to do with the US (even if they could get licenses, which are exceedingly difficult to acquire). Therefore, Americans do not have access to most of the top betting sites that exist today … bummer.
There are a few, of course, that do allow US players. However, they are often limited to the most gambling friendly states, such as Nevada and New Jersey. It can be almost impossible to place bets from the majority of US states. Even those that are more US facing than others are rife with limitations, restrictions, and exceptions.
Bet America, for instance, is clearly a US friendly betting site, right? Well, if the name is any indication, I would put money on the fact that I will be able to place bets on this site, even as a New Yorker. Right? … Unfortunately, I would lose that bet. In order for me, a New York resident to bet on Bet America, I would have to travel over state lines into New Jersey.
So, as you can see, even the most American friendly betting sites are still largely unable to operate to their full potential – and it's all thanks to archaic laws that are rooted in religious doctrine that I don't even believe in. I live in a county of zealots who do not even grasp the irony inherent in the fact that the stock market itself is a form of gambling just as much as sports betting is.
But putting both hypocrisy and the fact that I cannot fully enjoy Bet America from the comfort of my home, let's take a look at whether this is a betting and online casino site worth your deposit should you live in a state (or country) that allows you to use it. The states, by the way, that will allow you to game online at Bet America, at least if you plan to use the sportsbook, include Indiana, Mississippi, New Jersey, and Pennsylvania – the company also owns and operates brick and mortar bookmakers in Indiana, Mississippi, and Pennsylvania. Rumor has it, too, that the sportsbook service is also currently being worked on for Colorado, Michigan, and Illinois.
Bet America's unprecedented US reach, however, is not the only thing that the site has going for it. It also provides a competitive sportsbook, user-friendly interface, a great horseracing platform, an excellent online casino, and much more. As a newer site that has made a lot of noise over the last few years, Bet America offers the unique possibility to get in on what could end up being one of the largest online casino and sports betting enterprises in the world, right at the ground level. But is Bet America worth your time, energy, and money as it stands currently? Well, let's dive in and take a look, shall we?
History
Bet America is owned by Churchill Downs Incorporated, the parent company of the famous Churchill Downs. This enormous corporation has its roots in the late 1800s, when it began as a single racetrack in Louisville, Kentucky. Today, it exists as a national, publicly traded company comprised of tons of racetracks, casinos, and online wagering entities (like Bet America) making up its diverse and impressive portfolio.
Bet America was not the company's first foray into online gaming. The company purchased a developer of casual games known as Big Fish Games in December of 2014. The acquisition totaled a reported $880 million. Four years later, though, Churchill Downs turned around and sold Big Fish Games to Aristocrat Leisure for $990 million.
It wasn't until April of 2017 that Churchill Downs would make its more long-term online investment in the purchase of Bet America. This site, however, has proven to be a very lucrative move, as it is one of the most actively frequently betting sites and online casinos in the US (the world, even).
Design
Bet America has opted for a classic all-American look. You will be immediately slapped in the face with the sites unapologetically bold red, white, and blue theme. The site is, like America itself, loud and vibrant. That being said, I don't hate the design of the site. I can't fault Bet America for staying on brand, right? In fact, the site itself is rather intuitive, user-friendly, and fun.
It's somewhat refreshing, to be honest, to find a sportsbook and online casino that doesn't lean so heavily on the stern look of a black and red theme. Gaming on Bet America actually feels like you're having fun, not like you're doing something sketchy as other sites sometimes come off.
The sportsbook, too, is very easy to use. In fact, it utilizes a pretty standard layout – sports to the left, bet slip to the right, and games, highlights, and bets in the center. But the way that Bet America has executed this layout is excellent. It's very minimalist and extremely well organized. You won't waste a second of your time trying to familiarize yourself with the layout of this sportsbook. It is familiar while also looking fresh, modern, and sleek. Bet America's sportsbook's is one of the best-looking that I have seen in a while.
The casino is also expertly designed and easy to browse. Just take one look at the tabs at the top of the casino page – perusing the site's hundreds of games could not be easier. Simply click Featured, All Slots, Blackjack, Roulette, Table Games, Poker, Vegas, High Limit, Jackpots, Steppers, Ways, or All Games and pick your poison in seconds. The casino is appropriately flashy and colorful, making it feel a little more like you actually stepped into a real-life casino.
Content and Features
Speaking of the online casino feature, Bet America offers a full range of all the games you could ever want. From slots, to video poker, to your favorite table games … Bet America's online casino is both sizeable and fun. In addition to hundreds of games (including live card games against real dealers), Bet America's casino also routinely has some great promos. How does, for instance, a risk-free first bet of up to $1,000 sound? New Jersey players get to take advantage of that.
Although Bet America does not have the largest sportsbook in the world (it is, as you might have assumed, pretty limited to American sports), it is a quality sportsbook, nonetheless. Choose from 14 sports, with up to hundreds of wagers on each (depending on the event, sport, etc.). It's not all American sports, though, thankfully, Bet America also has Australian rules football, cricket, and Rugby Union in its lineup for international players.
Some of the more noteworthy features that coincide with Bet America's sports betting platform include early cashout, custom parlays, and teasers. With early cashout, you can choose to close your pre-game or in-play betbets early if you so desire (so long as it is before the wager has been settled). Odds then are determined by how well your selection is performing at a given moment. Use early cashout on Bet America to limit losses once a wager turns against you. It's always appreciated to have a safety net, just in case.
Bet America also offers endless custom parlays, or multi bets. All you have to do is hit the "multi-bet" button on your wager and, voila, all wagers become condensed into a single parlay that offers enhanced payout odds. The downside to this, however, is the fact that every single selection in your parlay has to win, or else the entire bet will be lost.
Lastly, of course, is the feature that Bet America is arguably most famed for: their horseracing. By far, Bet America's most far-reaching platform, obviously Churchill Downs would put their all into online horseracing. Although the majority of the site is restricted, horseracing bets are available in almost every state. You'll have to check to see if you have access in your state. Either way, Bet America's horseracing platform is top-tier and full of action. With coverage of over 200 racetracks around the world, there's never a dull moment here.
Mobile and Desktop Experience
It seems as if the Bet America app is focused largely on sports betting … but it is an excellent sportsbook app, nonetheless. Available on both iOS and Android devices, you never have to miss a second of the action with the Bet America mobile app. The app itself is easy to use, just as intuitive and fun as the desktop site. It is smooth, from download to placing your first mobile bet. With a simplified layout that makes navigation as easy as you want it to be on your mobile device, placing bets can be done with just the tap of the screen.
Your bet slip will be conveniently located at the bottom of the app. Anytime you place a bet, the bet slip intuitively pops up, allowing you to edit or lock in your decision. Once you place the bet, it will disappear for a totally immersive and streamlined experience.
Suggestions that I have for Bet America
My biggest suggestion pertains more to the US than it does to Bet America. But I guess it pertains to Bet America too because they could potentially work harder to lobby for their services to be farther reaching. Whomever is to blame, I want Bet America to be available more widely across the US. As a New Yorker, if I could actually use any of the components of Bet America (save for betting on the ponies), this site would be near perfect.

Related Sites