Claim offer
Minimum deposit:

€10

Minimum bet:

€0.50

Bettings limits:

No

Payout Speed:

3 workdays
Pros and Cons
Nice variety of betting and gaming types

Large selection of virtual sports

Active live poker tables

Plenty of casino games

Speedy payouts
Lackluster site and app design

Only available in Europe

Limited video poker options
Top Three Reason to Join
Highly competitive sports betting
One of the largest sportsbooks around
Great promos and bonus deals
Company Information
Phisical address:

Portomaso Business Tower, Level 12 STJ 4011, St. Julian's MALTA

Website:

http://bet-at-home.com/

Date Established:

December 1999

Email:

[email protected]

Phone:

+356-20102511

Number of Players:

4.5 million

Country Restrictions:

United States of America,
Turkey,
Albania,
Belgium,
Portugal,
Denmark,
Czech Republic,
Romania,
Bulgaria,
Russia,
Israel,
Iraq,
Iran,
Syria,
Afghanistan,
North Korea,
South Korea,
Sweden,
Bosnia and Herzegovina,
Canada,
Mexico,
Brazil,
Australia,
Norway,
France,
Spain,
Italy,
Ukraine,
Greece,
Serbia,
Japan,
Hungary

more

Currencies Accepted:

EUR,
GBP,
CHF,
PLN,
RUB,
DKK,
CZK

Accepted for customers from:

Netherlands,
United Kingdom,
Slovenia,
Kenya,
Slovakia,
Montenegro,
United States of America,
Switzerland,
Czech Republic,
Nigeria,
Bulgaria,
Portugal,
Malta,
Ireland,
Cyprus,
Romania,
Bosnia and Herzegovina,
Israel,
Peru,
India,
North Korea,
South Korea,
Denmark,
Philippines,
Albania,
Russia,
Colombia,
Belgium,
Argentina,
Georgia,
China,
Latvia,
Thailand,
South Africa,
Cameroon,
Algeria,
Vietnam,
Morocco,
Iran,
Tunisia,
Belarus,
Côte d'Ivoire,
Guatemala,
Uzbekistan,
Democratic Republic of the Congo,
Lithuania,
United Arab Emirates,
Singapore,
Costa Rica,
Indonesia,
Estonia,
Bangladesh,
Ethiopia,
Ghana,
Bolivia,
Uganda,
Zimbabwe,
Kyrgyzstan,
Armenia,
Malaysia,
Azerbaijan,
Egypt,
Palestine State,
Sweden,
Finland,
Germany,
Poland,
Austria,
Croatia

more

Other products
Esports

Bitcoin

Bingo

Combined Betting

Entertainment

Football pool

In-Play Betting

Live Betting

Live Casino

Live Streaming

Online Games

Poker

Politics

Virtual Sports

Raitings

bet-at-home in short
Minimum Deposit

€10

Customer support

Live Betting

Minimum Bet

€0.50

In-Play Betting

Live Streaming

Betting Limits

Mobile App

Combined Betting

Welcome Bonus

Football pool

Bitcoin Bet

Summary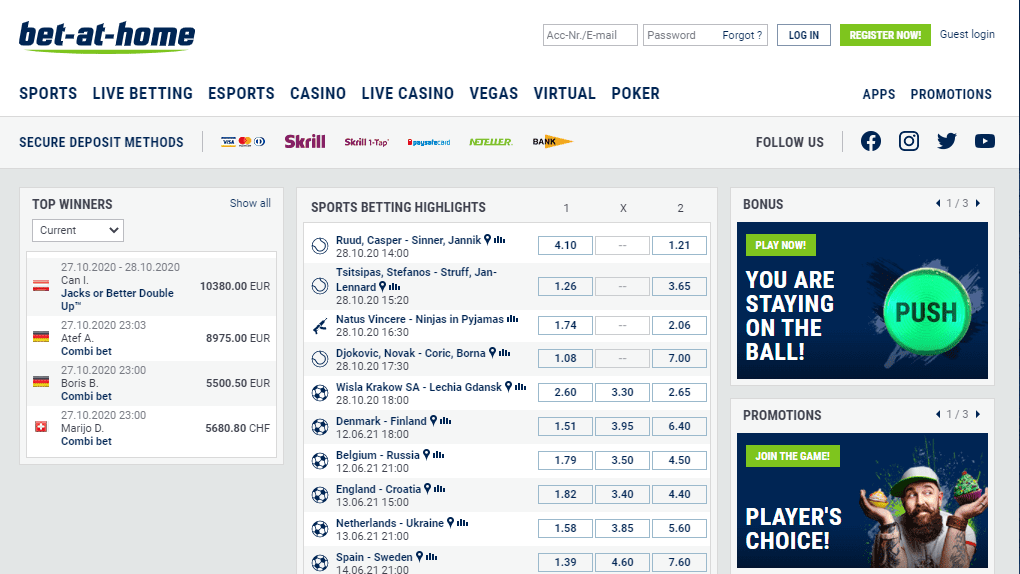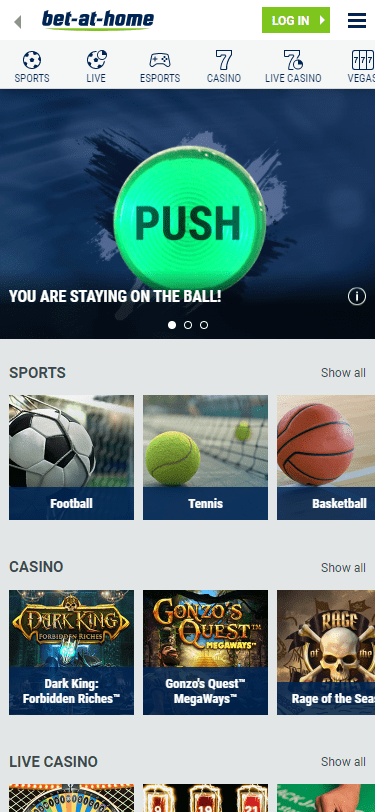 Introduction
There are so many factors to take into account when it comes time to find a new online betting site. Perhaps more so than any other kind of site on the web, when it comes to online betting, you need to be sure that you pick a credible, legitimate site that you can trust. Because, well, you likely aren't risking nearly as much money on other sites. Choosing the wrong online gambling outfit can end up costing you hundreds or thousands of dollars. Which is precisely why I take reviewing betting sites so seriously.
And that is why I started Bettingdude.com. I realized that there was no easy to access, well-organized, and intuitive list of online gambling sites for people to browse elsewhere on the web. Sure, there are plenty of other sites that review online gambling enterprises out there, and they do an okay job … but none combine thorough and thoughtful reviews with such a user-friendly index as BettingDude.
With so many out there to choose from, I wanted to ensure that people had a place where all of their options are both easy to peruse and each one came with a comprehensive review. Oh, and there is one other thing … I only feature the best of the best when it comes to betting sites. So, you never have to worry about whether any of the sites featured on BettingDude are legit. Why waste my time reviewing bad websites only to waste your time reading reviews of websites that aren't any good, right?
Which brings us to the site that we will be taking a look at today … Bet at Home. As one of the staples of European online gaming, this site has a longstanding history of providing quality products, quality bets, and quality site design. But is Bet at Home the right online betting and casino site for you?
When it comes to dealing with the best online betting sites, that is really what it comes down to, at the end of the day … which site is the right one for what you are looking for, specifically? Many of these sites are, just baseline, high quality. So, picking the right site is more a matter of identifying what it is that you hope to get out of your online betting experience, and then narrowing down the list from there.
Knowing what you want out of a betting site can truly go a long way. Do you want, for instance, a site that offers an enormous sportsbook? Maybe you want to be able to play tons of live casino games? How about some packed poker tables? Maybe you need a site that has a broad range of eSports to bet on. Perhaps live in-play betting is what you are most concerned with.
If any of this sounds at all like you, well, I have some great news. Bet at Home will have you covered. Offering a large breadth of services, Bet at Home has a little something for everyone, no matter what kind of betting you prefer. But enough beating around the bush, let's dive in and take a look at all that Bet at Home has to offer, as well as where it came from, shall we?
History
Bet at Home was founded in the year 1999 by Jochen Dickinger and Franz Ömer in Wells Upper Austria. The site launched the following year. However, at first, Bet at Home specialized only in sports betting. It would take the site a little bit of time to grow into its full potential. The site, admittedly, got off to a little bit of a bumpy start for the first few ,years undergoing a couple relaunches to better align itself with the rapidly shifting times. Two months after Bet at Home launched, for example, the live scoring site, Live Score went live, which caused Bet at Home to rethink their entire website design, branding, and services offered.
By the time 2005 rolled around, Bet at Home had opened up its live online casino as well, which prompted yet another site redesign. From there, however, it looked like Bet at Home had finally reached a tipping point. Growth became exponential. The following year, in 2006, Bet at Home launched its online poker platform, adding it to the site. In 2008, Bet at Home redesigned their online casino, packing it with improvements and putting it at the forefront of online gameplay.
In 2009, Bet at Home launched a new product line, Games. And since September of that year, live betting has been offered for various sports. Although the company started humbly as a limited company, by 2004 (5 short years after being founded), capital investments came pouring in, resulting in Bet at Home to list themselves as a joint stock corporation. And in December of that year, Bet at Home was listed on the public stock exchange.
After a long and fortuitous run, in 2012, Bet at Home cofounder Jochen Dickinger decided to part ways with the company, giving up his position as CEO. He was succeeded by Michael Quatember, who led efforts for yet another site redesign. In August of 2013, the new site went live. It appears as if this relaunch was to be one of the last, though, as the company has finally started to settle into its offerings and its brand identity (took 'em long enough!).
Sportsbook is and always has been Bet at Home's central product. It was the first thing that the site offered, and today it is still, by and large, the most popular feature on the site. In the fiscal year of 2019, the sportsbook betting feature offered over 473,000 events for more than 80 sports, and 110,000 live events. Bet at Home's sportsbook is easily one of the largest in the world.
It has been a pleasure, however, to watch Bet at Home's slow expansion into online casino games, virtual sports simulation games, and poker. It makes you wonder where Bet at Home may take things in the years to come. I, personally, love finding a site that keeps me on my toes. That is precisely the kind of betting site that I like to be a part of.
Design
Bet at Home offers a fairly modern and responsive site design. It is easy enough to navigate, place bets, track statistics, etc. on here. It also looks decent enough. But for some reason, I am not immediately drawn to the design of this site. Don't get me wrong, it is not bad, not by any means. It just lacks a sort of "wow" factor, if you ask me.
Perhaps this is because I just logged off of what I consider to be the best-designed online sports betting site of all time, Fan Duel. That may be making me a little biased. But, still, I suppose we should be able to hold all sites to the highest standard of design, should we not?
Like I said, the site is not poorly designed. It's just a little uninspired, I guess. There is a site menu bar allowing for easy navigation of all of Bet at Home's offerings. You will also find some featured match results, highlights, and live betting options right on the home page, which is nice. And there is an extra-large carousal banner just below the site menu bar that lets users jump through promotions and familiarize themselves with everything that this site has to offer with ease.
Personally, I like a website to be very dynamic and bold. Very responsive and experiential. Bet at Home offers little more than data dressed up and made to look nice. Betting, at the end of the day, should be fun … and I like my online betting sites to reflect the enjoyable nature of gaming. Bet at Home, however, does not quite get there for me.
Content and Features
As I have said repeatedly, Bet at Home is best known for its sportsbook. And at this, it certainly excels. Bet at Home's selection of available sports is huge. The site averages 24,000 bets a day on more than 75 sports. Plus, Bet at Home offers some of the most competitive odds on the web alongside a great deal of market coverage. A well-informed bet is a solid bet, after all, and Bet at Home gives you all the tools to place your bets strategically.
Bet at Home offers live betting on ongoing matches as well. Here you can choose between a single bet, a combination bet, a system bet, and a multiway bet – making it possible to enjoy all sorts of gambling possibilities. Another beloved feature of this site is its generous sign-on bonus. All new members to the sportsbook can enjoy 50% on their first deposit (up to $100). Additionally, Bet at Home offers fun promotional tournaments, such as the Bet Master Cup and the Bet Cup, increasing earnings potentials even more.
The site, of course, also offers a decent online casino, poker tables with live dealers, plenty of slots and casino games, and virtual eSports, such as virtual dog racing and others. You would be hard pressed, I think, to run out of action on Bet at Home.
Mobile and Desktop Experience
Bet at Home rolled out its mobile casino in 2016. This can be accessed by directing your browser (desktop or mobile, that is) to betathome.com/mobile. The mobile interface is renowned for providing a great casino and betting experience, perfectly optimized for smartphone and tablet gameplay. But you aren't limited to using your phone's browser if you want to place bets and game on the go.
Bet at Home also has an app for both iOS and Android devices. Again, though, the app seems to run into the same problem of lackluster design that the site does. In fact, the app, in my opinion, is significantly worse than the site in terms of design. This is not a problem of usability. It's easy enough to navigate the app and place bets. But it is simply boring. It looks like it was designed with nothing but practicality in mind. I hope that Bet at Home will consider just one more site and app redesign to add to their already sprawling list of them.
Conclusion 
Bet at Home may not be the flashiest online sports betting site around, but it is a powerhouse, nonetheless. With one of the longest running, largest sportsbooks on the internet, Bet at Home is a longtime fan favorite for sports bets. I do think that the site needs another makeover, as the design is not particularly inspired. But that is not the most important thing, right? What matters to you is that this site has action (which it does), competitive odds (which it does), and a variety of betting and gaming options to choose from (which, again, it does).
If you are looking for one of the best sports betting and online gaming sites in Europe, Bet at Home is definitely making the top 5 list.

Related Sites