Pros and Cons
Incredible number of games, sports, and wagers

Competitive odds

Available in 23 languages

Massive number of live markets

Mobile friendly
Fees for payout and deposits for many payment types

Shoddy customer support
Top Three Reason to Join
Nearly limitless betting options
Amazing in-play betting features
Company Information
Phisical address:

Suite 6, Atlantic Suites, Europort Rd, Gibraltar

Current License:

K 14/05/5/129

Website:

http://bwin.com/

Date Established:

2001

Email:

[email protected]

Phone:

+350-200-77761

Country Restrictions:

Denmark,
Portugal,
Turkey,
United States of America,
Greece

more

Currencies Accepted:

Accepted for customers from:

United Kingdom,
Netherlands,
Bulgaria,
Morocco,
United States of America,
Switzerland,
North Korea,
South Korea,
Tunisia,
India,
Czech Republic,
Tanzania,
Kenya,
Argentina,
Bosnia and Herzegovina,
Malta,
Taiwan,
United Arab Emirates,
Portugal,
Philippines,
Egypt,
Romania,
Cyprus,
Nigeria,
Israel,
Vietnam,
Luxembourg,
China,
Belarus,
Ireland,
Thailand,
Armenia,
Ghana,
Slovenia,
Latvia,
Slovakia,
Algeria,
Moldova,
Peru,
Belgium,
Colombia,
South Africa,
Russia,
New Zealand,
Jordan,
Iceland,
North Macedonia,
Chile,
Venezuela,
Lithuania,
Qatar,
Denmark,
Indonesia,
Mauritius,
Costa Rica,
Malaysia,
Iran,
Lebanon,
Albania,
Panama,
Uruguay,
Jersey,
Singapore,
Pakistan,
Cameroon,
Ethiopia,
Uganda,
Uzbekistan,
Azerbaijan,
Zimbabwe,
Tajikistan,
Paraguay,
Angola,
Afghanistan,
Suriname,
Saudi Arabia,
Dominican Republic,
Ecuador,
Sri Lanka,
Nepal,
Canada,
Mexico,
Brazil,
Australia,
Norway,
Sweden,
Finland,
Germany,
Poland,
Austria,
France,
Spain,
Italy,
Ukraine,
Serbia,
Croatia,
Hong Kong,
Japan,
Hungary

more

Other products
Esports

Bitcoin

Bingo

Combined Betting

Entertainment

Football pool

In-Play Betting

Live Betting

Live Casino

Live Streaming

Online Games

Poker

Politics

Virtual Sports

Bwin in short
Minimum Deposit

€10

Customer support

Live Betting

Minimum Bet

€0.50

In-Play Betting

Live Streaming

Mobile App

Combined Betting

Welcome Bonus

Football pool

Bitcoin Bet

Summary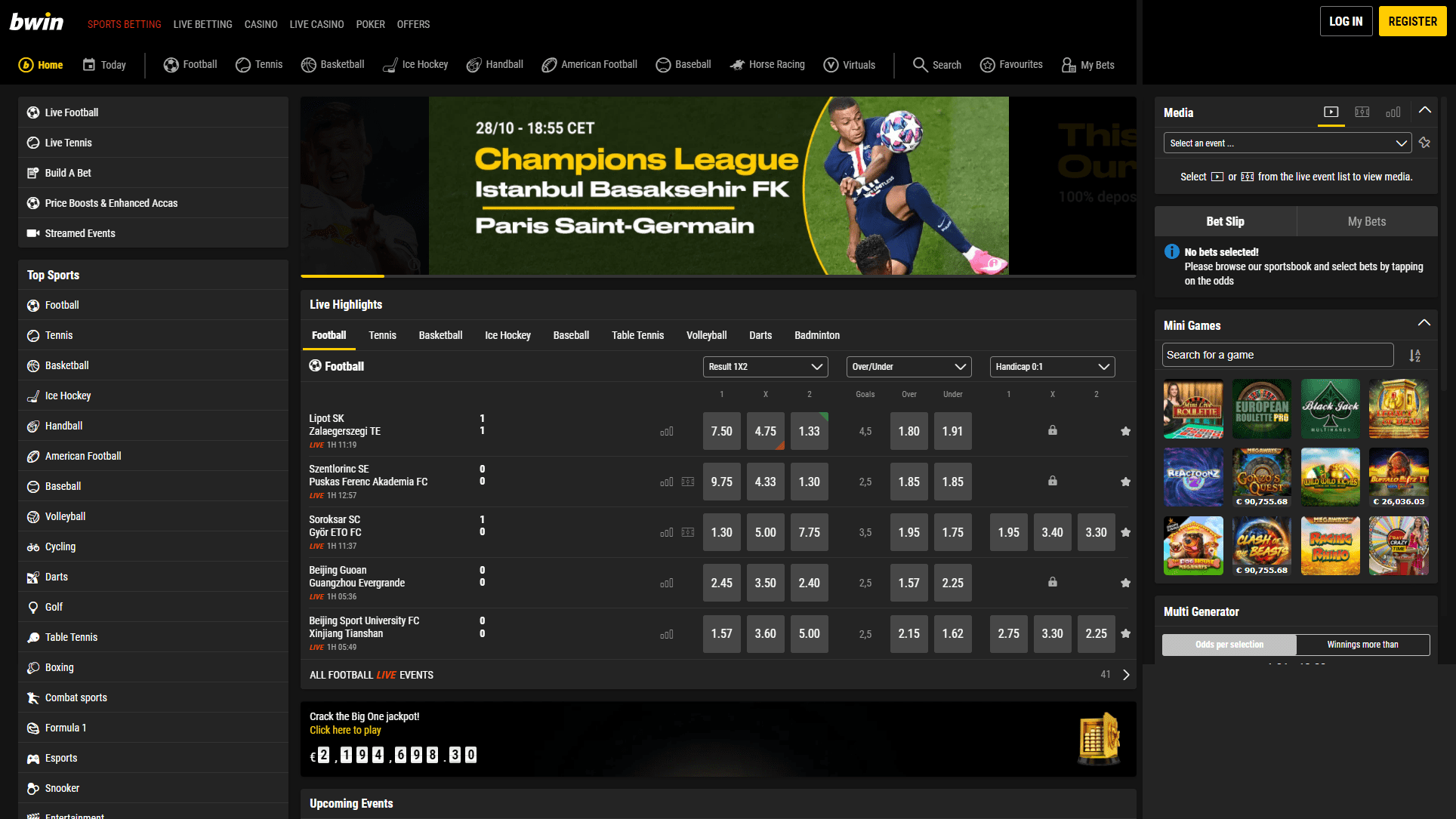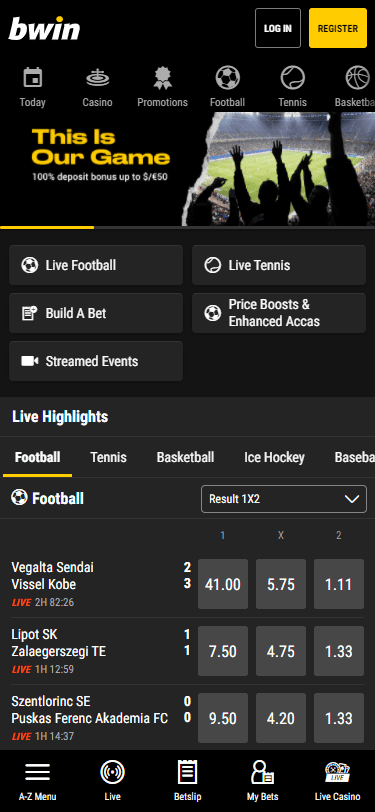 Introduction
When it comes to online sports betting sites, few are better known than B Win. Easily one of ther largest online sportsbooks and casinos in the world, B Win has been providing players with a safe and reliable way to place myriad sports bets for over 20 years now. They have worked hard to earn a glimmering reputation in the world of online gambling. And you are wise to be considering this site for your own online betting needs.
When it comes to finding the best betting site for you, there are so many things to consider. Some of us are hardcore sports fanatics and, thus, need a site that has a sizeable sportsbook with plenty of live and in-game bets to partake in. Some of us are more into virtual sports and, so, require the most cutting-edge betting sites there are. Or maybe you fancy yourself a more classic gambler and just need a huge online casino filled with slots, table games, poker tournaments, and more.
Ideally, though, if you ask me, the best betting sites are the ones that have it all. No matter what kind of action you might be in the mood for, your betting site of choice should be able to accommodate you, and it should be able to accommodate you well. When it comes to sites like these, the perfect balance between quantity and quality is what we are looking for. The best betting sites provide tons of bets, plenty of ways to play, a huge sportsbook, a massive online casino, live table games, poker, bingo, virtual sports … any and everything that can be bet on, you should be able to bet on it.
But you shouldn't ever have to even consider sacrificing quality for quantity. There are so many betting sites out there, competition is fierce. As it should be. Which means that, for players, there has never been a better time to be alive. Every site tries to outdo one another in hopes that you will wager your hard-earned money on their site. And what that amounts to, of course, is a ton of high-quality, trustworthy sites with outstanding odds, great site design, awesome promos, eyebrow raising bonuses, and some truly innovative ways to place live bets.
When it comes to finding a site that ticks just about every one of those boxes, B Win comes very close. By providing a huge variety of games, there is bound to be a little bit of something for everyone on this site. Well, correction, there is bound to be a whole lot of something for everyone on B Win. If you are looking for one of the most versatile betting sites on the web, you have certainly come to the right place.
Time and time again, B Win has received stellar reviews from many of the authorities when it comes to online gaming. They almost always receive above average ratings and recommendations, and for good reason. B Win has truly earned its reputation over the years.
Now, this is, of course, not to say that B Win is going to appeal to every player in the world. There may be a few things about it that you could do without or that may drive you to continue your search. That's fine, you should bet where it makes the most sense for you. That being said, I can certainly see why so many players lionize this site.
Anyway, let's stop talking about what other people think of B Win and take a closer look for ourselves, shall we? The only way to truly figure out if B Win is the right site for you is to explore the company's history, and every little feature that the site has to offer.
History
B Win was founded as Bet and Win in 1997. The passion project of only 12 employees, Bet and Win began by taking sports bets via the telephone. That being said, B Win was one of the very first sportsbooks to successfully make the transition to online sports betting, launching their website only one year after the company was founded – a rather impressive feat for a scrappy, young company prior to the 2000s.
Bet and Win was also one of the first sites to offer live in-play betting feature. To say that Bet and Win was ahead of its time would be something of an understatement. You have to keep in mind, of course, that this was before live streaming and reliable forms of live entertainment had really broken through on the internet. Bet and Win's in-play betting product was developed in house and proved to be an immediate success.
From there, Bet and Win began to further their ascent. The company started being traded publicly on the Australian Stock Exchange in March of 2000, and wasted no time entering its acquisitions phase. in June of 2001, Bet and Win acquired Simon Bold of Gibraltar (the company has since been rebranded to International Ltd.). This allowed for Bet and Win to relocate its headquarters to Gibraltar. This was a strategic move, indeed, as it allowed Bet and Win to now place themselves in direct competition with the company's biggest rivals in the British overseas market.
By the time that 2001 rolled around, Bet and Win was in a very comfortable position to enter the online casino market. Bet and Win did just that, launching their first online casino platform in December of 2001. From there, growth occurred steadily. In 2003, Bet and Win launched its soft games platform, Balls of Fire. The next year came with live multiplayer poker matches. And the year after that, B Win acquired Betoto.com, a company which offers fixed odds betting for punters, which allowed B Win to expand into the Greek gaming market.
That year was a big one for Bet and Win, from an acquisition standpoint. The company went on to purchase On Game e-Solutions AB – a move that reinforced the company's strategy of cornering the online poker market. On Game e-Solutions became B Win Games. Also in 2005, B Win acquired international media rights to the German Football League. This enabled B Win to stream and distribute German football matches anywhere outside of Germany, which has proven very helpful for the site's in-play betting features.
Today, B Win continues to be a key player in the online gaming market, even if the company has cooled down quite a bit on its growth and acquisitions over the last decade or so. I view this more as a company knowing when they have perfected their product than a sign of slowing down or ineffective management. If it ain't brokek, don't fix it, right?
Design
At first glance, the B Win site may be a little overwhelming, especially if we are talking about the sportsbook. That being said, I do like the aesthetic of the site. It has a crisp, sharp, and modern look to it, in part due to a sleek black, gray, and yellow theme. Well, that and the fact that few sites are more responsive and interactive than this one is.
This aspect, though, just how experiential B Win's site design is, is where I become torn as to how I feel about it. On the one hand, sure, I love an interactive site with plenty of active carousal menus, options, tons of features, and comprehensive means of navigation on every page. On the other hand, though, it is a lot to take in. I definitely appreciate what the site is going for, but I tend to prefer a more minimalistic approach to site design. And B Win is all about maximalism, about fitting as many features and as much information onto the page as possible. The end result, at least for me, is one of clutter.
Perhaps this is just a matter of lacking experience with this site, though. I could also see the B Win site design being one that could be extremely powerful and useful once you become accustomed to it. Maybe it's an acquired taste, I mean. I do love, for instance, the fact that there is an embedded media center just above the permanently featured bet slip. This, I would imagine, would make for some of the most streamlined in-play betting of any site on the market. Features wise, this site is phenomenally designed. I just wish it were a little more layered and less sprawled out as it is.
Content and Features
Speaking of features, B Win has them in spades. As I mentioned earlier, this may be one of the most comprehensive and features rich sites out there. When it comes to number of sports and markets offered, B Win rivals just about any other online sportsbook on the web. In fact, in many instances, it is safe to say that B Win far exceeds a great deal of sportsbook competitors. The site offers plenty of both pre-match and in-play betting options, sure, but much of the focus of B Win appears to be on live betting – the site's bread and butter.
And, just to reiterate, B Win does offer some of the best live betting I have ever seen. I love how convenient that media player is on the home page, allowing you to stream live sporting events as you consider your bets and wagers. It is nearly the perfect in-play and live betting platform.
Then, there are plenty of other games to enjoy on the site as well. Try your luck at the site's live casino, play some poker, play some bingo, play the slots, check out B Win's robust virtual sports betting platform. No matter what kind of player you happen to be, B Win has an abundance of ways to game.
Mobile and Desktop Experience
Wouldn't it be crazy if an established online betting site such as B Win didn't have in app in 2020? Luckily, they do. In fact, B Win offers one of the best mobile experiences that I have ever seen when it comes to sports betting and casino gaming. Not only is the browser site perfectly optimized for mobile devices, but the apps – available for both iOS and Android devices – are also some of the best on the market. Again, a little bit too much going on for me when it comes to the design … but, personally, I prefer using the B Win app over the desktop site. It feels a bit more manageable to me.
Suggestions that I have for B Win
Speaking of their overwhelming site design, my first suggestion would be for B Win to consider just cleaning up their site design ever so slightly. Consolidation is going to be key. Try out a few more collapsible tabs and menus. The art of the dropdown menu is not to be taken for granted!
Other than that, the one major complaint that I keep seeing from players around the web is that B Win needs to step up its customer support. None of their platforms offer 24-hour support, which feels strange for a bookmaker of this size and popularity. I'm not saying that you should let this fact turn you away from B Win … just something that I thought you should know about in order to make a more informed decision.

Related Sites