Pros and Cons
Intuitive and sharp-looking site

Wide variety of sports, bets, and games

Great for in-play bets

Very mobile friendly (great app)
Unavailable in many countries (including US)

Not the best poker and bingo options on the web
Top Three Reason to Join
Solid sportsbook with many live and in-play bets
Awesome site and app design
Company Information
Phisical address:

9 Empire Stadium Street, Gzira, GZR 1300, Malta

Current License:

MGA/B2C/130/2006

Website:

https://sports.betway.com/

Date Established:

2006

Email:

[email protected]

Phone:

0-808-238-9841

Payout option:

Country Restrictions:

Afghanistan,
Angola,
Argentina,
Australia,
Belize,
Bolivia,
Bosnia and Herzegovina,
Bulgaria,
Chile,
Colombia,
Costa Rica,
Cuba,
Dominican Republic,
Ecuador,
El Salvador,
France,
Germany,
Ghana,
Greece,
Guatemala,
Guyana,
Haiti,
Honduras,
Hungary,
Iran,
Iraq,
Israel,
Kenya,
Lithuania,
Myanmar,
Nicaragua,
Nigeria,
North Korea,
Panama,
Papua New Guinea,
Paraguay,
Peru,
Philippines,
Portugal,
Romania,
Russia,
Singapore,
Slovenia,
Slovakia,
South Africa,
Syria,
Switzerland,
Thailand,
Trinidad and Tobago,
Tunisia,
Turkey,
Uganda,
Uruguay,
Vanuatu,
Venezuela,
Yemen,
United States of America,
Mexico,
Sweden,
Spain

more

Currencies Accepted:

Accepted for customers from:

United Kingdom,
India,
Netherlands,
Guernsey,
United States of America,
Bulgaria,
Ireland,
New Zealand,
Malta,
Botswana,
Mauritius,
Morocco,
Iran,
Luxembourg,
Switzerland,
Czech Republic,
Romania,
Vietnam,
Lithuania,
Taiwan,
Albania,
Slovakia,
Russia,
North Macedonia,
Israel,
Thailand,
Philippines,
Kuwait,
Cyprus,
Pakistan,
Malaysia,
Algeria,
Egypt,
Portugal,
Latvia,
China,
Iceland,
North Korea,
South Korea,
Bosnia and Herzegovina,
Singapore,
Belarus,
Ethiopia,
Slovenia,
Mongolia,
Colombia,
Cambodia,
Tanzania,
Indonesia,
United Arab Emirates,
Tunisia,
Mozambique,
Namibia,
Lebanon,
Kazakhstan,
Bangladesh,
Sri Lanka,
Estonia,
Montenegro,
Moldova,
Georgia,
Armenia,
Malawi,
Cameroon,
Côte d'Ivoire,
Zimbabwe,
Angola,
Rwanda,
Jordan,
Bahamas,
Saudi Arabia,
Belgium,
Uganda,
Puerto Rico,
Trinidad and Tobago,
Bermuda,
Argentina,
Nepal,
Myanmar,
French Polynesia,
Macao,
Canada,
Brazil,
Australia,
Norway,
Finland,
Germany,
Poland,
Austria,
France,
Italy,
Ukraine,
Turkey,
Greece,
Serbia,
Croatia,
Hong Kong,
Japan,
Hungary

more

Other products
Esports

Bitcoin

Bingo

Combined Betting

Entertainment

Football pool

In-Play Betting

Live Betting

Live Casino

Live Streaming

Online Games

Poker

Politics

Virtual Sports

Betway in short
Minimum Deposit

$/€10

Customer support

Live Betting

Minimum Bet

$/€0.10

In-Play Betting

Live Streaming

Mobile App

Combined Betting

Welcome Bonus

Football pool

Bitcoin Bet

Summary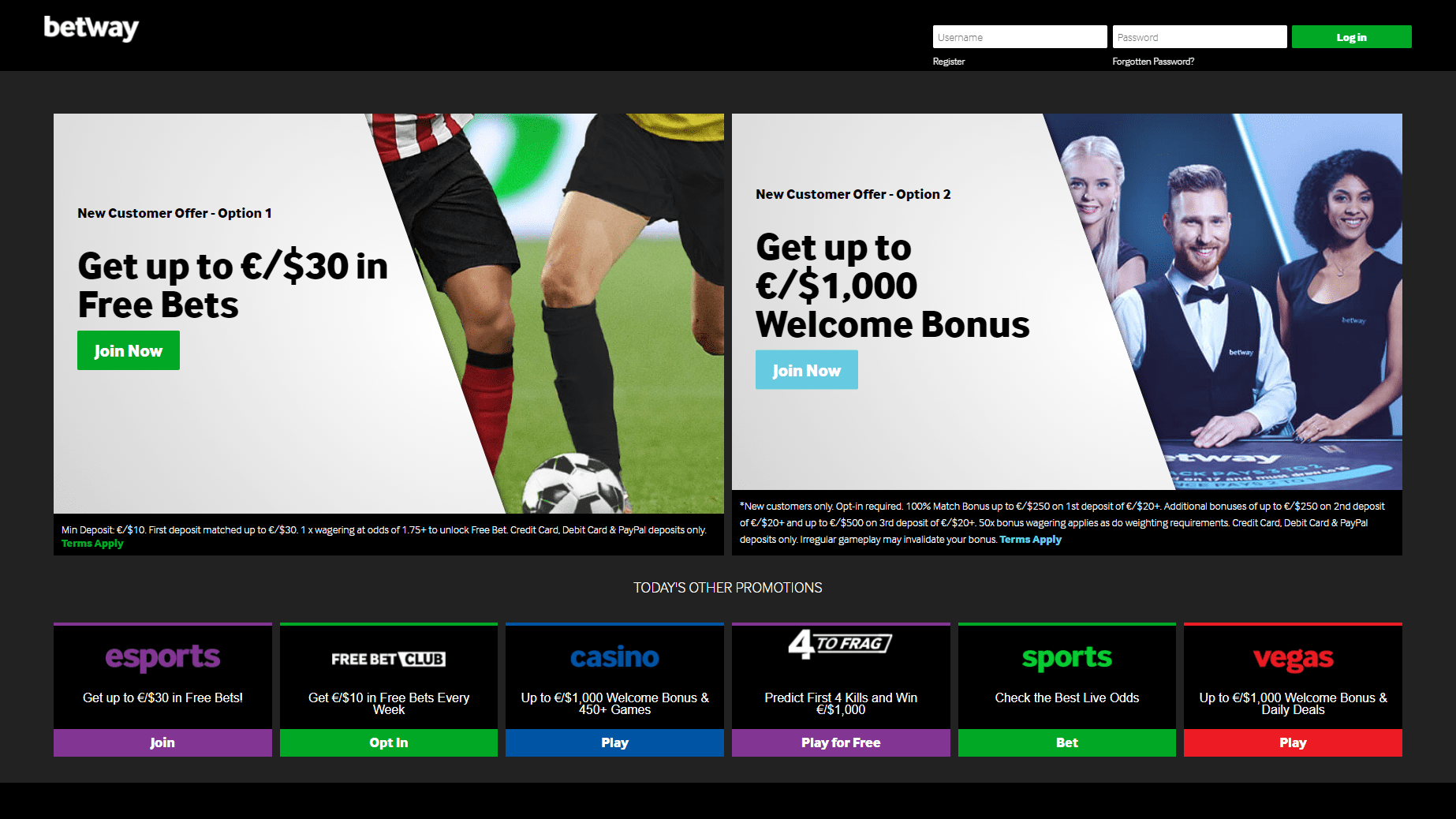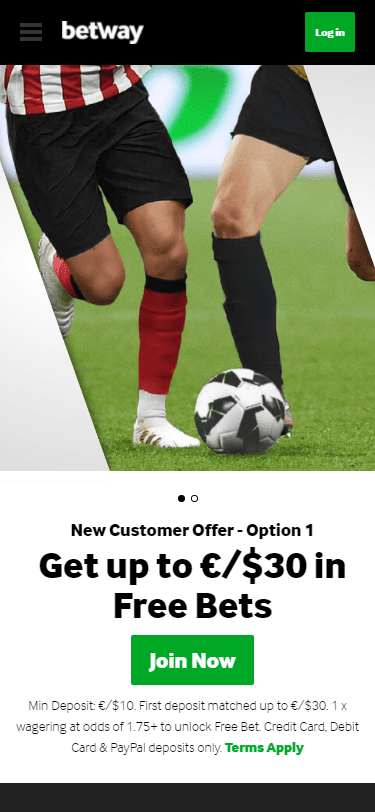 Introduction
When it comes time to decide on which online sports betting and virtual casino site to use, it is crucial that you do your homework. This is not a decision that one should take lightly. Unfortunately, the fact of the matter is that there are less than credible websites that exist, posing as legitimate sportsbook and betting sites. The number of scams and sites with ethically sordid pasts is troubling. If there was ever a service that should be vetted to the max before signup, it's online betting sites.
The worst that can happen if you sign up for a shoddy streaming service, say, or a subscription box that you end up discovering later is much lamer than advertised, is that you are out anywhere between, I don't know, 10 and 50 dollars. From there, all you have to do is cancel the service. In many cases, even, you might be able to get your money back. However, when it comes to an online betting site, hundreds of your hard-earned dollars are likely to go into it. That's why I view choosing the right sportsbook and casino site as something on par with picking a new bank.
You wouldn't pour all of your money into a bank that you never heard of, right? At least not without properly investigating it first, doing your research, reading reviews, etc.? The amount of money that can be lost at the hands of a subpar gambling site is considerable. Therefore, finding the perfect one for you should be a matter of much consideration.
Luckily, I have never been ripped off personally by an illegitimate betting site. But I do know a handful of people who have. Some sites have been known, for instance, to refund winnings without warning. Others have terrible customer service (if any to begin with), making it impossible to reach out in case of a payout issue. Others still can riddle your earnings with hidden fees, dwindling your winnings before you even have the chance to access them.
Then, of course, there is the ultimate fear: handing over your bank account information to a scam site that will do nothing but take your money and run. Although this is, thankfully, an incredibly rare occurrence, it does happen. And the only way to prevent it is to do your due diligence and read up thoroughly on any site that you plan to place bets on. The games should be things that require you to gamble; the site itself should be nothing but a sure bet.
Which is precisely why I made Betting Dude: the most comprehensive and user-friendly list of betting site reviews on the web. I can't stand it when sites try to rip people off … And that is why you will only find the best of the best when it comes to online sportsbooks and virtual casinos on my site. Any site that you find here, you can be guaranteed that it is at the very least legitimate. By only linking to high-quality and reputable sites, you never have to worry about whether or not a site on Betting Dude is a scam. The only concern that you should have when picking from the sites that I have listed is identifying whether a certain site is right for you!
Which brings us to today's site: Bet Way. As one of the premiere online sports betting and casino websites on the market, I trust that you will find much to love here. Whether you are just looking for a solid sportsbook that features a wide variety of sports and wagers, a sleek and well-designed place to play casino games (either live or at your own pace), some fun eSports betting, exhilarating in-play bets, or some Vegas style slots and games, Bet Way has got you covered.
But is Bet Way truly the perfect site for you? Well, in order to figure that out, we'll have to really delve into the site and everything that it has going for it … its history, its design, its bonuses and promos available, how mobile friendly it is, etc. So, without further ado, let's dive in and see what Bet Way is all about, shall we?
History
Bet Way was founded in 2006 by a group of entrepreneurial guys who had a shared love and appreciation of all things related to sports. They came together to bring the world what they hope to be the best online sports betting site with the most possibilities for wagers and winnings. And, thus, Bet Way was born.
The site, though (in the interest of full disclosure), did get off to a bit of a bumpy start. In 2013, Bet Way faced a great deal of scrutiny that resulted in their being blacklisted by one of the largest betting site review enterprises on the web, Sportsbook Review. The company came under fire after many players filed complaints against Bet Way that claimed the site was not allowing them to claim bonuses. Others alleged that Bet Way was also flat-out denying payouts on account of absurd fine print stipulations regarding bonuses. Others still were denied winnings without even being told why.
Fortunately, though, Bet Way eventually heeded these complaints and negative reviews. This resulted in the company completely restructuring their management twice in just 5 years, as well as doing a serious overhaul of the site's customer service, making for a much more reliable and dependable betting site overall.
Their hard work did pay off, too. Sportsbook Review went on to remove the site from their blacklist and reviewed Bet Way again. On the second time around, Bet Way received a rating of B-. Other reputable sites have also reviewed Bet Way in the past few years, providing glowing reviews that place the site far above an average rating.
Nowadays, Bet Way is often listed as one of the best online sportsbooks and gambling sites on the web. So, do not allow yourself to be too deterred by their early issues. Bet Way is proof that a company truly can turn things around. The site has not received any notable negative press since they reinvented themselves. So, you shouldn't have anything to worry about when signing up for a Bet Way membership.
Design
The site, in general, has a very sleek and professional look about it. I applaud Bet Way for implementing such a minimalistic and modern aesthetic to their site design. The interface is extremely user-friendly, the games and sportsbook are fairly intuitive, and the site is very easy to navigate.
An online sportsbook can be a difficult thing to pull off with grace. The intrinsically data-heavy nature of a sportsbook can easily get bogged down, cluttered, and confusing. Bet Way, however, offers a clean and organized site design that makes placing bets and tracking sports as natural and simple as it can be.
In fact, I only have one minor complaint with the way that Bet Way's sportsbook is designed, and that is the fact that the bet slip could be a little more easily accessible. Lots of sites will embed it directly on the sportsbook page itself, allowing you to quickly switch between tracking your bets and browsing the sportsbook.
On Bet Way, however, you have to click on an additional tab to expand your bet slip. On the one hand, sure, this definitely helps add to the site's neatly stripped-down feel; but on the other, it would be nice if it were just there at all times for quick reference. But, hey, if that is my biggest complaint when it comes to the way that this site is designed, then that should speak volumes to how good it is on the whole.
Content and Features
In addition to placing bets on a wide variety of sports, Bet Way also offers in-play betting, making sure that you never miss out on any potential action as the game unfolds. As is becoming increasingly common with sports betting sites, Bet Way also has a thriving virtual sports betting section. Here, you can bet on popular video games like Counter Strike, League of Legends, and Defense of the Ancients 2.
Since many of the sports betting features do rely on live bets, I should probably note here as well that, yes, Bet Way does offer live streaming, even though they do not make this overtly known on their website for some reason. Never miss a beat on Bet Way in order to make the smartest bets possible.
If you aren't as much of a sports fanatic or a gamer, though, worry not … there is still plenty for you to do on Bet Way as well. With over 500 casino games, Bet Way is like having 24/7 access to Las Vegas without ever having to step foot outside of your house. Enjoy 420+ slot machines, roulette, 40+ active blackjack games, 59 video poker machines, and 17 other assorted table games to choose from. There are also plenty of live dealer games going on all the time. Never a dull moment on this site, that's for sure.
Mobile and Desktop Experience
In addition to offering elegant and stylish browser site design, Bet Way also has an awesome app. Whether you use an Android or iOS device, you can take Bet Way with you on the go, further reinforcing the site's mission of allowing players to place bets their way. This is especially convenient for live and in-play betting, which comprises a great deal of what Bet Way has to offer.
The app, too, is just as well-designed as the site. In fact, I think that the argument could be made that Bet Way offers potentially the best mobile experience of any online sportsbook and casino. Easily and intuitively place bets on the go or begin processing your payout no matter where you may happen to be.
Suggestions that I have for Bet Way
Unfortunately, Bet Way is unavailable in a lot of countries. Most notably, though, players in the United States are out of luck when it comes to this service. Users in France, Australia, Bulgaria, Denmark, Greece, Greenland, and Russia (to name a few) will also not be able to access Bet Way. My main suggestion would be for the site to branch out more internationally. Those are huge markets that they are ignoring and unable to tap into. Plus, as a player in the US, I would love to be able to use Bet Way without having to travel to another country in order to do so!
Conclusion
If you are looking for an online sportsbook and casino that lets you place bets and play your way, Bet Way is one of your best bets. Although the site may be lacking a bit when it comes to poker and bingo tournaments and gameplay, the sportsbook, in-play betting, virtual sports, and casino are top-notch. Unfortunately, Bet Way is not currently available for US citizens, but if you live in a more gambling-friendly country, I highly recommend giving this site a try.

Related Sites