Up To ₽ 15 000
Welcome bonus
Claim offer
Minimum deposit:

RUB 100

Minimum bet:

RUB 8
Pros and Cons
Great site design

Awesome app

Helpful user resources

Quick withdrawals

Lots of banking options
No live streaming

US players not welcome
Top Three Reason to Join
Very mobile friendly betting
Tons of bettor resources/predictor
Trusted and respected brand
Company Information
Phisical address:

8 ul. Dekabristov, Moscow 127562

Current License:

4

Website:

https://www.fonbet.ru/

Date Established:

1994

Email:

[email protected]

Phone:

8 (800) 100-7234

Payout option:

Country Restrictions:

Albania,
Australia,
Benin,
China,
Croatia,
Denmark,
France,
Ireland,
Côte d'Ivoire,
Latvia,
Libya,
Netherlands,
Norway,
Portugal,
Somalia,
South Korea,
Switzerland,
United Kingdom,
United States of America,
Uganda,
Greece

more

Currencies Accepted:

AMD,
AUD,
BYN,
GBP,
CAD,
EUR,
GEL,
KZT,
KGS,
MDL,
RUB,
SEK,
USD,
UAH

more

Accepted for customers from:

Russia,
Belarus,
United Kingdom,
Georgia,
Czech Republic,
Estonia,
Bulgaria,
Armenia,
Netherlands,
Tajikistan,
Moldova,
Romania,
United States of America,
North Korea,
South Korea,
Indonesia,
Kazakhstan,
Latvia,
Switzerland,
Kyrgyzstan,
Uruguay,
Philippines,
Malta,
China,
Iran,
Vietnam,
Israel,
Chile,
Portugal,
Thailand,
Lithuania,
Colombia,
India,
Ireland,
Luxembourg,
Singapore,
Azerbaijan,
Denmark,
Tanzania,
Montenegro,
Slovenia,
Uzbekistan,
Argentina,
Belgium,
Algeria,
Tunisia,
Egypt,
Costa Rica,
Peru,
Slovakia,
Bolivia,
Saudi Arabia,
Uganda,
Nigeria,
Canada,
Mexico,
Brazil,
Australia,
Norway,
Sweden,
Finland,
Germany,
Poland,
Austria,
France,
Spain,
Italy,
Ukraine,
Turkey,
Serbia,
Croatia,
Hong Kong,
Japan,
Hungary

more

Other products
Esports

Bitcoin

Bingo

Combined Betting

Entertainment

Football pool

In-Play Betting

Live Betting

Live Casino

Live Streaming

Online Games

Poker

Politics

Virtual Sports

FonBet in short
Minimum Deposit

RUB 100

Customer support

Live Betting

Minimum Bet

RUB 8

In-Play Betting

Live Streaming

Mobile App

Combined Betting

Welcome Bonus

Football pool

Bitcoin Bet

Summary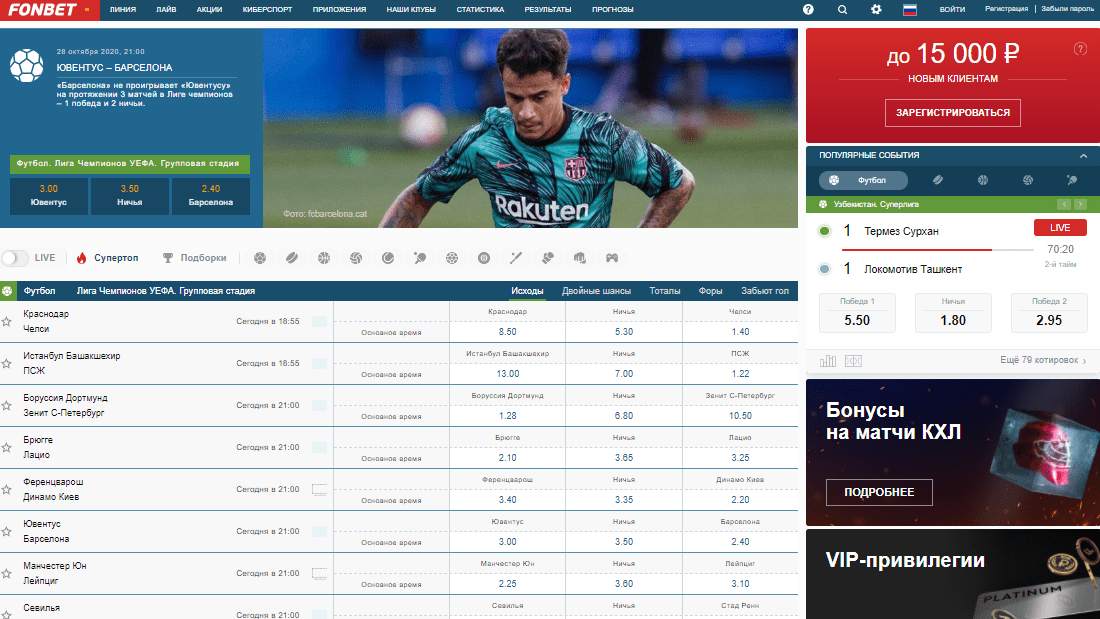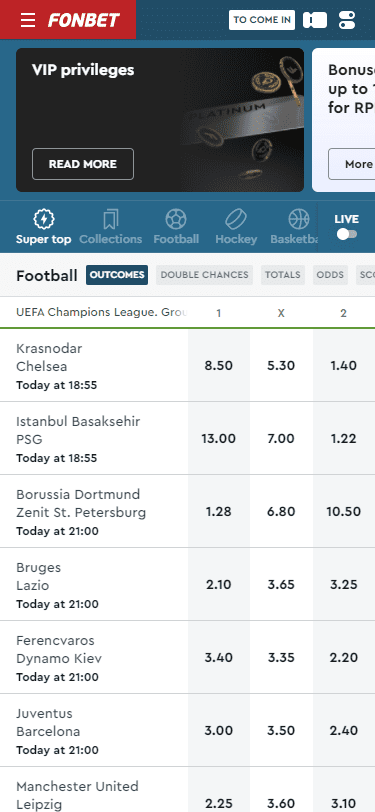 Introduction
If you are looking for a new sports betting site, what is the most important aspect to you? Do you need a site that has an enormously diverse sportsbook with a great spread of both popular and obscure sports? Is your number one concern finding a sports betting site that has some of the best odds on the web? Maybe you are primarily interested in becoming a member of the site with the most banking options and the fastest payout speeds. Perhaps it is something closer to a mix of all of these factors.
If so, I wouldn't blame you. Sure, there are certain things that we can look past more easily than others. I, for one, could probably turn a blind eye to payout speed if, in fact, the sportsbook were truly that phenomenal. Maybe that is how you feel about, I don't know, site design and layout or promotions. We all have our things that we aren't willing to budge on and we all have our things that would be nice to have but are not absolutely necessary.
Ideally, of course, you would be able to find a site that does not ask you to sacrifice any of your preferences. That is why I do this, after all, to try and find that illusive betting site that has it all – a site that offers brilliant design, an incredible sportsbook, great odds, awesome promos and bonuses, a stellar mobile app, and a features rich user experience. Some sites come closer to this goal than others, but I am yet to find the perfect betting site. I do believe that one day, however, it will come along. Thus, my search continues.
One of the components of a betting site, though, that I am not willing to falter on in the slightest is credibility and reputation. I don't care if a certain sports betting company has crafted, in all other categories that count, the perfect online sportsbook … if that same company also has a reputation of ripping off its customers, ethically shady behavior, or refusing to payout earnings, it is a no go for me.
You might be surprised, too, to learn of some of the companies that have such reputations. Many of them are those with big names that have been around for a long, long time. I guess you could say that the longer you have been in the bookmaking business, the more likely you are to have had allegations made against you. Surely, not all allegations are, indeed, true. Sometimes it can be difficult to discern between the facts and the fictions. Which is why it is crucial that you always do your homework on a betting site before making your first deposit.
Luckily, though, I have done your homework for you! In the interest of saving you time, money, and energy, I have reviewed all of the best betting sites that are worth a review. If I ever come across anything alarming in a company's history or a blemish on its reputation, worry not, I will be sure to divulge that information up front.
One company that has had a great reputation in the world of bookmaking for nearly 30 years is Fonbet. A bookmaker that originally started with brick and mortar shops in Russia, Fonbet is one of the most respected sports betting sites in all of Europe today. Some have called the site "stoic." I would say that they certainly are a no-nonsense sportsbook – which is precisely what serious bettors want, is it not?
Fonbet, first of all, offers nothing but its sports betting and eSports betting services. This is surprisingly rare in the world of online gambling. It seems as if every other gambling site these days wants to become your one stop shop for all things gaming. More often than not, betting sites that have decent sportsbooks will also focus their energies on providing online casinos, virtual sports, live casinos, etc., oftentimes resulting in the degradation of every individual part in service of the site as a whole.
I don't know about you, but I would rather have my betting platforms compartmentalized. If I want to place a bet on my favorite sport, I want a sportsbook that is only focused on providing the best sportsbook experience possible. If I want to play poker, blackjack, or try my luck on the slots, again, I want an online casino that has put all of its effort into being an incredible online casino. There is something to be said about specializing your skillset … and Fonbet understands the value in this.
I think it shows, too, as Fonbet truly is one of the best sports betting sites that I have had the pleasure of testing out. It offers an exquisite design and user experience, plenty of useful features, helpful resources, and an extremely mobile friendly interface. In many ways, Fonbet is the perfect sportsbook for beginners and expert bettors alike. But don't take my word for it, let's dive in and take a closer look at the site itself, shall we?
History
Fonbet started out in 1994, with the fall of the Soviet Union. The company was created by chess grandmaster, Anatoly Machulsky. Although Fonbet has been around as a bookmaker for quite some time now, it did not make its entrance into the arena of online sports betting until 2002 – not quite the earliest to jump on the bandwagon headed to the digital age, but definitely not what I would consider late to the point of ignorance. Fonbet seems to have been calculated in their decision to go online – I can respect that.
One thing that makes Fonbet stand out as the upstanding sportsbook that it is comes in the form of a dedicated program meant to combat match fixing. Fonbet has partnered with FIFA's Early Warning System and the Tennis Integrity Unit (among other organizations) to take measures against cheating. This is how the company earned a spot on the European Sports Security Association. If you are looking for a sportsbook that is as secure as it is reputable, it doesn't get any more honest than that.
Fonbet has only come under controversy one time in its nearly 30 years of bookmaking. And it wasn't anything odious at all. In 2020, Fonbet was criticized for showing up on the Russian Federation's list of companies who were "system critical" that required financial support from the state due to the COVID-19 pandemic. The Russian government, soon thereafter, reconsidered its criteria for needing support and Fonbet made a public announcement stating that it no longer needed state support. Furthermore, the company had devised its own way of helping to fund anti-COVID measures (among other charitable ventures). Somehow, Fonbet really turned that situation around on a dime.
Today, Fonbet stands tall as one of the most respected, reputable, and successful sports betting sites in all of Russia. Operated dually out of Russia and Kazakhstan, Fonbet is a thriving company with over 1,000 offices and millions of members. There are few sites out there that are a safer bet than this one, especially when it comes to placing bets on your favorite sports (as well as a few novelty markets).
Design
I have read a few reviews that are rather critical of Fonbet's design. I, however, am a huge fan. I think that it is clever and refreshingly unique. It breaks the mold of how a majority of sportsbooks on the web tend to be designed. The typical layout is thus: list of sports on the left, bets and highlights in the center, bet slip on the right. Fonbet, though, turns this whole standard layout on its head.
They go for a more top to bottom approach. Toward the header of the sportsbook, you will find a list of popular sports to choose from. Select one and watch as everything below it automatically changes to reflect the games and bets that are available within that sport. Or. to quickly switch to live, in-play bets, just toggle to "live" mode by clicking the button at the top left of the page. Click on a bet to make your bet slip magically appear (which you can minimize as you see fit).
This is, however, just the home page version of the sportsbook – the one that quickly lets you place bets on the most popular or featured bets of the day. There is also a much more involved and traditional sportsbook to be found under the site's Sports tab. Here, you will find that typical layout and design (and not the most impressive execution of it either) … perhaps this is what fellow reviewers were referring to as they trashed Fonbet's site design and layout.
Although I do like that the site offers 2 different takes on a sportsbook, I would like to see them embrace the sleeker, more experiential and responsive one over the data-heavy second choice. Either way, regardless of which version of the sportsbook you end up relying on, both are easy enough to navigate and place bets on.
Content and Features
This is where Fonbet starts to get really interesting, in my opinion, in what features the site has to offer. Before we get into the stuff that sets Fonbet apart from its competitors, content wise, let's take a look at the sportsbook itself to see if it is what you are looking for. The site offers a little more than 20 sports to bet on, making Fonbet not quite the largest sportsbook on the web, but on par with the average in terms of size. One thing, though, that is unique about their sportsbook is the 96.5% payout on football bets. Good luck finding that anywhere else.
In addition to popular sports like football, hockey, basketball, and baseball, Fonbet also lets players bet on more obscure markets like politics and current events, badminton, and darts as well. If you are a fan of the thrill that comes with live, in-play betting, Fonbet has you covered, too, however, you'll have to make do without live streaming.
What I love about Fonbet, though, is how many resources it offers players. Take advantage of the site's super accumulator, live-updated stats feed, constantly updated match results, and even a fairly accurate Fonbet predictor to help guide you through bets you aren't quite so sure about. I always love it when I come across a sports betting site that clearly cares about its customers, that wants its players to win. Fonbet makes it apparent that they have your best interest in mind thanks to features such as these.
Mobile and Desktop Experience
What's more, Fonbet provides an excellent mobile experience, too. With a mobile app that is available on iOS and Android, you can make sure that you never miss out on any action. The app is every bit as smooth and intuitive as the desktop site as well, resulting in one of the most mobile friendly betting experiences on the market.
Plus, Fonbet even offers a desktop standalone program for a more immersive desktop experience as well. Don't allow yourself to become distracted with additional tabs and social media when you fire up the desktop application – now it's just you and your bets.
Suggestions that I have for Fonbet
I would love to see Fonbet introduce live streaming. This would make a huge difference in the site's in-play betting experience, putting it up there with my favorite sites.

Related Sites