Claim offer
Minimum deposit:

€10

Minimum bet:

€0.50

Bettings limits:

No limits

Payout Speed:

max 24 hours
Pros and Cons
Solid site design, easy to use

Very mobile friendly (2 apps)

Excellent sportsbook

Tons of casino games
High fees

Promos are nothing to write home about
Top Three Reason to Join
Sizeable and competitive sportsbook
Company Information
Phisical address:

Better Collective, Toldbodgade 12, 1253 Kobenhavn (Hovedstaden), Denmark (DK)

Current License:

MGA/CRP/178/2009

Website:

https://www.comeon.com/

Date Established:

June 5 of 2016

Email:

[email protected]

Phone:

+45-29919965

Payout option:

Country Restrictions:

Portugal,
Hungary,
Netherlands,
United States of America,
Czech Republic,
France,
Romania,
United Kingdom,
Australia,
Poland,
Spain,
Italy,
Turkey,
Greece,
Croatia

more

Currencies Accepted:

USD,
EUR,
CAD,
GBP,
NZD,
JPY,
DKK,
NOK,
SEK,
CLP,
INR,
AUD,
RSD,
RUB

more

Accepted for customers from:

India,
Denmark,
Malta,
United States of America,
Bulgaria,
Cyprus,
Belarus,
Netherlands,
Russia,
Latvia,
Nepal,
Colombia,
Estonia,
Ireland,
Belgium,
Philippines,
Portugal,
Israel,
China,
Switzerland,
Kenya,
Vietnam,
Romania,
South Africa,
Nigeria,
Slovakia,
Pakistan,
Bosnia and Herzegovina,
Czech Republic,
Mauritius,
Georgia,
Peru,
Moldova,
Iran,
Costa Rica,
Bangladesh,
Oman,
North Macedonia,
United Arab Emirates,
Senegal,
Tanzania,
Indonesia,
Iraq,
Tunisia,
North Korea,
South Korea,
Benin,
Rwanda,
Armenia,
Egypt,
Sri Lanka,
Kazakhstan,
Canada,
Mexico,
Brazil,
Norway,
Sweden,
Finland,
Germany,
Austria,
France,
Ukraine,
Serbia,
Hong Kong,
Japan,
Hungary

more

Other products
Esports

Bitcoin

Bingo

Combined Betting

Entertainment

Football pool

In-Play Betting

Live Betting

Live Casino

Live Streaming

Online Games

Poker

Politics

Virtual Sports

Raitings

Comeon in short
Minimum Deposit

€10

Customer support

Live Betting

Minimum Bet

€0.50

In-Play Betting

Live Streaming

Betting Limits

Mobile App

Combined Betting

Welcome Bonus

Football pool

Summary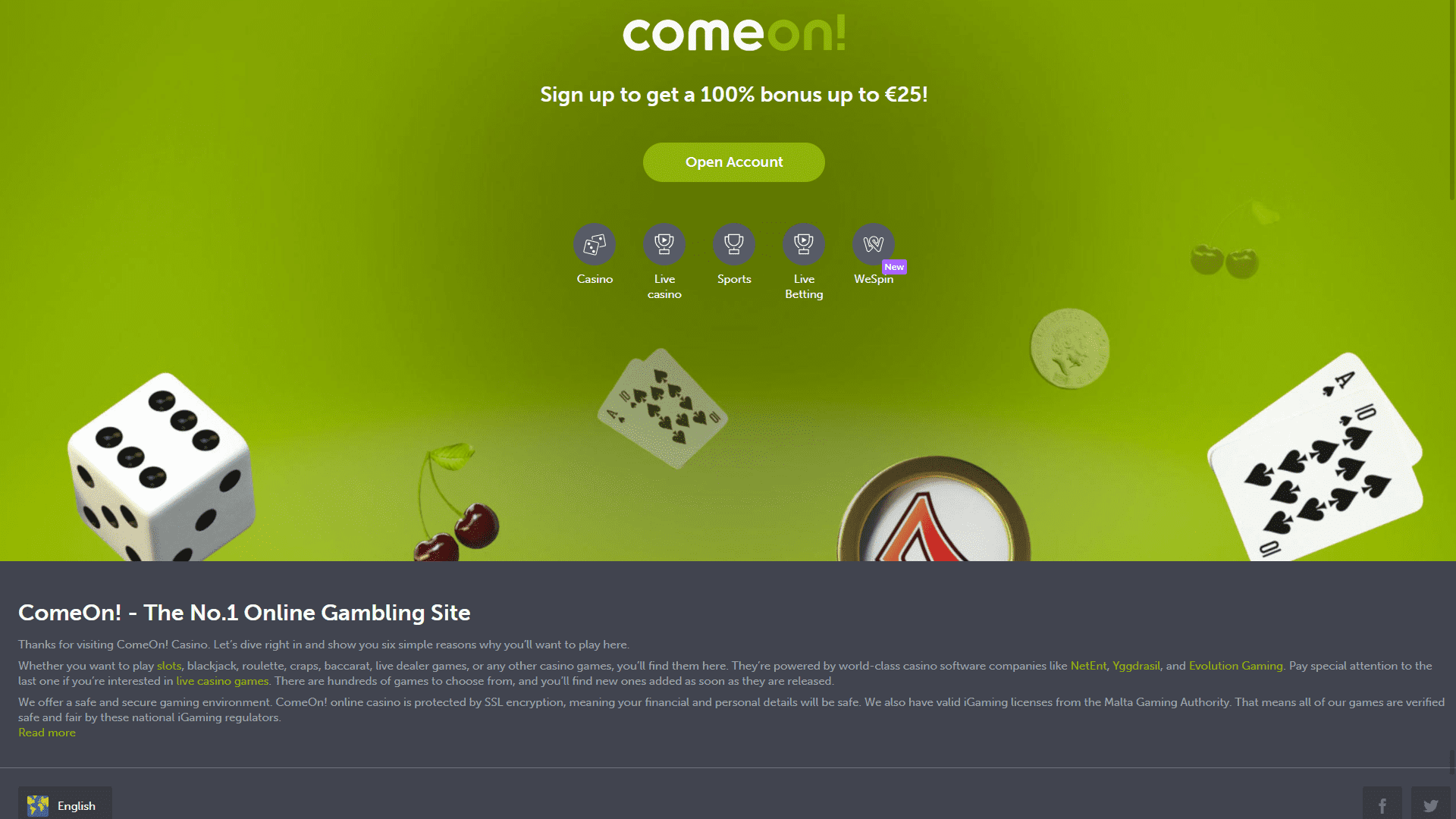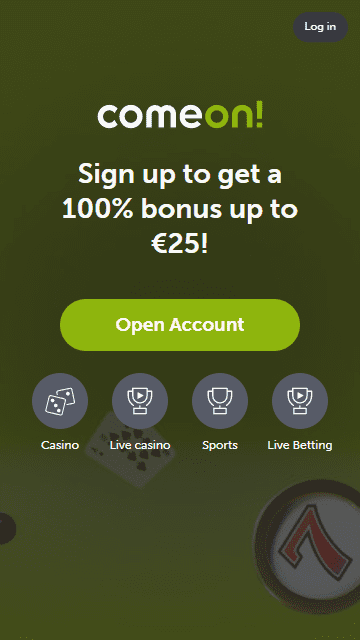 Introduction
There are so many different online casino and sports betting sites out there to choose from these days that making the right choice can be somewhat daunting. Some sites are known more for their sports betting features, some for their expansive and fun filled online casinos. Some offer top-notch site design, whereas others are all about their utilitarian functionality.
Some brands have been around since the early 20th century and, thus, have cultivated respectable and reputable images and reputations for nearly 100 years, whereas others were just launched a few years ago, jumping onto the lucrative online gambling bandwagon with little to no vetting.
Just because a certain sports betting and online casino site is new to the game, however, does not necessarily mean that it should be counted out. There are scores of newer sites that, seemingly overnight, have risen to prominence due to their excellent services, promotions, odds, and user-friendly site design.
Conversely, just because a bookmaker has been a staple of the gaming industry for decades, that does not always mean that its online offerings are going to be top notch. Experience in the industry – although it sometimes does make a huge difference – in other words, is not always going to be the deciding factor when choosing your go-to sports betting and online casino site.
You might be skeptical of a newer betting site. This makes sense. I think it is a very natural and healthy way to approach any gambling outfit, with a critical eye. That being said, I am never so quick to dismiss a site based on its relative lack of operating years. Sometimes it takes a scrappy young site to push the gaming industry towards more innovative and exciting places. Take a look at Draft Kings, for instance, they are a little more than just 10 years old, but they have managed to, in that short period of time, revolutionize the sports betting arena (especially when it comes to how US players are allowed to gamble).
So, personally, I love it when I have the chance to review a newer site. It is always exciting, knowing that there is a chance that I could be reviewing the site that is going to push the boundaries of what is possible in the world of online gaming to the next level. If I were to have the opportunity, as a betting site reviewer, to break that site and bring it into the forefront of the conversation, that would truly be an honor.
The main concern, though, that people tend to have when it comes to these newer betting and online casino sites, the ones that are still wet behind the ear, is not so much one of quality but one of safety. This is, of course, always going to be our primary worry when depositing money into any betting site, let alone one that hasn't yet had the chance to be thoroughly reviewed by numerous credible sources.
It is true that there is a great deal of less than legitimate websites out there that you should be weary of. There are betting and online casino sites that are straight up scams bent on stealing your money. Maybe you've heard the horror stories. There are also online gaming enterprises that have been around for 50 or 60 years that have histories of treating customers poorly or dabbling in stints of ethically questionable behavior.
In short, the newness of a betting site is not necessarily an indicator of how standup a company will be. Furthermore, an established brand is not always going to be a sign that it will provide honest and quality customer relations. There are plenty of well-established sites that have been accused of stealing players' money, reneging on bonuses when they prove to be financially unwise to the company, and providing terrible customer support. I don't know about you, but I'll take an unvetted site that I feel I can trust and meshes with my values over a shady company that has been around for 100 years.
Speaking of new sites that you can trust, today we are going to find out whether the online casino and sports betting site, Come On is going to be worth your time, money, and energy. Come On might not have a 60-year deep history (far from it), but they do offer a variety of quality sports betting and online casino features that are, if nothing else, honest and fun to play.
Allow me to assuage any potential concerns you might have about legitimacy straight away. Come On, regardless of whether it ends up looking like the right online casino for you, is a legitimate and credible site. In fact, you never have to worry about me reviewing scam sites. I don't waste my time reviewing them so that you don't waste your time reading about them. I only review the best sports betting and online casino sites, the real ones. So, if you come across an online casino in my list of reviews, you can know that, at the very least, it is legit.
From there, of the best of the best sites, I go into great depth about everything they have to offer. No site is perfect, so, I weigh the pros and the cons of the best sports betting and online casino sites. Besides, this is the only way to find out for sure whether a site, even if I think it is excellent, is, in fact, the best site for you. We all want slightly different things from our betting sites.
So, without further ado, let's dive in and see if Come On casino is the right site for you to game with.
History
As one of the premiere online gaming division of Cherry AB, Come On went live in 2010, offering just Netent casino games. Cherry AB is renowned for their online gaming offerings. Even though Come On is newer, Cherry AB is an established gaming conglomerate. They offer 17 sites, including Come On, Euro Lotto, Euro Slots, Cherry Casino, Sunny Player, Sun Maker, Mobile Bet, Get Lucky, and Casino Stugan (just to name a few).
Over the last decade since Come On's launch, they have expanded at a very regular pace. In 2011, one year after launch, Come On added on a poker network, known as Cake. In 2011, they expanded to Chile and Latin America. 2013 saw Come On strike a deal with Evolution Games, which enabled them to offer top-tier live casino gaming. In 2016, the site added on its great sportsbook. And in 2017, Come On launched a sister brand in Sweden: Snabbare.com.
Today, thanks to this steady growth, Come On is one of those betting and online casino sites that every player should at least know about.
Design
The site has a great deal of personality. This, I think, offers a solid reflection of the brand overall. The name of the site itself – Come On! – is definitely one that indicates the thrilling and chance driven nature of gaming itself. How many times have you, yourself, uttered such an exclamation while in the casino? The site acts a sort of extension of this refreshingly fun oriented brand that promises a good time.
The games on the casino are lain out in tiles of varying sizes, allowing for easy and convenient browsing. Filter games according to what it is that you are looking for by clicking one of the tabs at the top of the page: Explore, All Games, Jackpots, Hot, New, Favorites, and Recent. Come On has taken a full-page approach, a widescreen experience, that I quite like – especially when you compare it to the often segmented, highly segregated nature of many other online casinos. This is a much more immersive experience.
The sportsbook, too, is designed well. It is clean, neat, organized, and intuitive. You won't have to spend any time whatsoever becoming familiar with this sportsbook as you might on other, more cluttered sports betting sites. Choose your sport to the left, browse bets and stats in the middle, and track your bet slip to the right. It's simple and everything is precisely where you would want it to be.
Content and Features
Speaking of Come On's sportsbook, the site offers over 30 different sports for you to bet on, which means that you will always be able to find some action here. Come On, of course, offers all of the most popular sports that you expect to see on a quality sportsbook – such as football, basketball, baseball, etc. – but what I like about this site is that they also offer some more obscure markets, like bandy, darts, table tennis, and sailing. You can expect to find hundreds of markets for Come On's more popular sports, too, such as football.
Come On's casino, too, is also sizeable. With 550+ casino games (if you count both video and live games) to choose from, there is never a dull moment here. Slot enthusiasts are bound to recognize some of the classic games but Come On also throws a few fresh titles into the mix as well to keep you on your toes. Come On casino lets you play video poker, table games, slots, jackpots, live roulette, live poker, live blackjack, and live baccarat.
Mobile and Desktop Experience
It is surprisingly rare how few betting sites and online casinos offer mobile apps in 2020. This doesn't seem right, does it? Everyone has an app these days, right? Well, for whatever reason, betting sites have been notoriously reluctant to provide fully immersive mobile experiences.
Luckily, though, this is not the case with Come On. In fact, Come On is one of the best choices if you are a fan of mobile gaming. Available on both iOS and Android devices, Come On has 2 native apps for you to enjoy. The apps are separated, as they often are, into sports betting and casino platforms. So, if you only care about Come On's sportsbook, you don't even have to be bogged down by hundreds of casino games getting in the way. And if all you want to do is play casino games, you don't have to worry about navigating around the sportsbook.
The casino app offers around 400 of the site's total games (550+). Although, obviously, you'd rather have access to all of them, this is actually a much higher number than a lot of other mobile casinos offer in their mobile app.
The sports betting app lets you do everything that you can do on the website all from the convenience of your mobile device. Bet on futures or take advantage of Come On's excellent in-play betting features no matter where you happen to be.
Both apps are intuitive and user-friendly. So, if you are looking for an online casino and sportsbook that you can take with you everywhere, Come On is a good way to go.
Suggestions that I have for Come On
By far, the worst aspect of Come On, if you ask me, is its high withdrawal fees. To be fair, there are not fees associated with every banking method, some major payment methods do come with exorbitantly steep fees. Paysafe Cards and Skrill, for instance, will end up costing you 5% of your total deposit!

Related Sites