Claim offer
Minimum deposit:

€10

Minimum bet:

0.10€

Bettings limits:

€5,000
Pros and Cons
Tons of games

Live casino

Solid sportsbook

Very mobile friendly
US players not permitted

Site design could be more intuitive

No 24/7 customer support

Limited banking options
Top Three Reason to Join
Thousands of casino games
Trustworthy and dependable company
Company Information
Phisical address:

Tagliaferro Business Centre, Level 7, High Street, Sliema SLM 1549, Malta

Current License:

000-039264-R-319432-011

Website:

https://www.mrgreen.com/

Date Established:

2007

Phone:

+441765522017

Country Restrictions:

Afghanistan,
Australia,
Belarus,
Bosnia and Herzegovina,
Cuba,
Democratic Republic of the Congo,
Iran,
Iraq,
Liberia,
Libya,
North Korea,
Serbia,
Sudan,
Syria,
United States of America,
Zimbabwe,
Canada,
Poland

more

Accepted for customers from:

Denmark,
United Kingdom,
Netherlands,
Ireland,
United States of America,
Portugal,
Malta,
India,
Slovenia,
Lithuania,
Switzerland,
Argentina,
Romania,
China,
Latvia,
New Zealand,
Bulgaria,
Belgium,
Israel,
Russia,
Kenya,
Slovakia,
Thailand,
Peru,
Czech Republic,
Estonia,
Vietnam,
Egypt,
Colombia,
Philippines,
Albania,
Georgia,
Malaysia,
Singapore,
Venezuela,
Ecuador,
Cyprus,
Pakistan,
South Africa,
North Korea,
South Korea,
Morocco,
Moldova,
Zambia,
Chile,
Armenia,
Kazakhstan,
Iran,
Cambodia,
Dominican Republic,
Iceland,
Costa Rica,
North Macedonia,
Uzbekistan,
Bosnia and Herzegovina,
United Arab Emirates,
Myanmar,
Nigeria,
Bolivia,
Kuwait,
Zimbabwe,
Lebanon,
Azerbaijan,
Cameroon,
Jamaica,
Kyrgyzstan,
Sri Lanka,
Indonesia,
Belarus,
Palestine State,
Mexico,
Brazil,
Australia,
Norway,
Sweden,
Finland,
Germany,
Austria,
France,
Spain,
Italy,
Ukraine,
Turkey,
Greece,
Serbia,
Croatia,
Hong Kong,
Japan,
Hungary

more

Other products
Esports

Bitcoin

Bingo

Combined Betting

Entertainment

Football pool

In-Play Betting

Live Betting

Live Casino

Live Streaming

Online Games

Poker

Politics

Virtual Sports

MrGreen in short
Minimum Deposit

€10

Customer support

Live Betting

Minimum Bet

0.10€

In-Play Betting

Live Streaming

Betting Limits

Mobile App

Combined Betting

Welcome Bonus

Football pool

Bitcoin Bet

Summary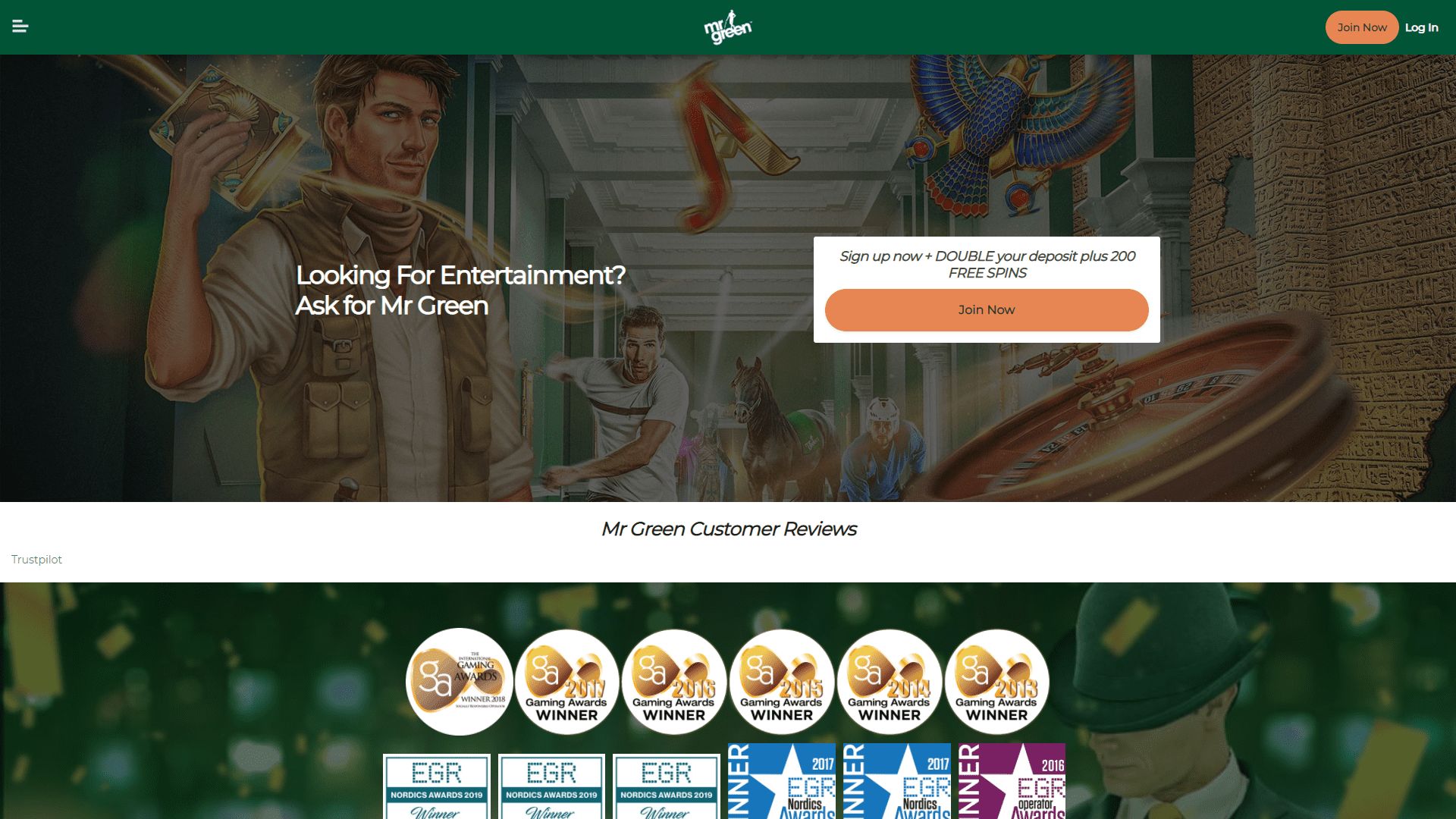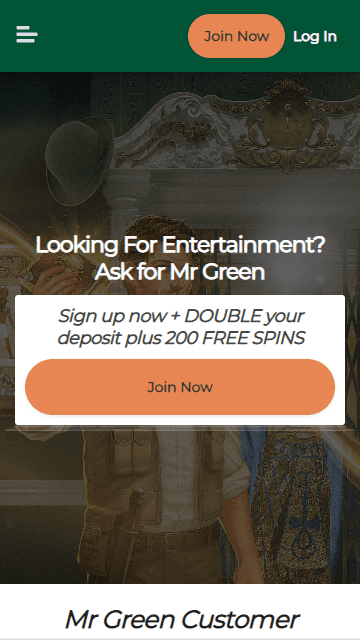 Introduction
It is not every day that I get to review a website that is dedicated solely to providing excellent online casino games. More often than not, the majority of the betting sites that I evaluate try and spread their reach as far as possible, providing sports betting services, bingo, poker, and casino games all in one convenient product. I certainly understand this urge, this tendency for a betting site to want to position themselves as the number one go-to, catch all betting site for as many players as possible. From a business standpoint, this makes plenty of sense.
However, I do think that there is something to be said about an online gambling company that chooses to pick a lane and stick to it. There are many potential benefits to be reaped by finding yourself a betting site that specializes in one style of gaming, especially when it lines up with your preferred way to play. Which is why, although I spend every day trying to find the best betting sites on the web, ultimately, I usually tend to tell would-be bettors to not worry as much about which site is "the best" and to spend more time trying to discern which site is, rather, going to be the best for them.
So many betting sites on the web seem to be hyper focused on providing an awesome sportsbook, which is great – I love a good sportsbook as much as the next guy – but, unfortunately, when a site expels a majority of their time, money, and energy on trying to become the best sportsbook in the world, it is often at the expense of the quality of their other services, such as their online and live casinos. If you are anything like me, chances are that you like to diversify the kind of betting that you partake in.
Which is why I recommend finding a few great sites that you like, one that puts a majority of its effort into perfecting each respective kind of gambling that you enjoy. In other words, I tend to be less concerned with sites that have a little bit of everything; I am more interested in finding one site that does a great job at meeting my sports betting needs and another one that provides nothing else but an amazing online and live casino. I also like to have a third site, too, that I can fall back on in case I grow tired of my other two defaults.
Although Mr. Green is not entirely specialized in its casino games and online casino experience, this does appear to be the company's main focus. The site does have a sportsbook, of course – it seems as if this is a standard practice at this point if you want your online betting site to become a success – but it is certainly not the focal point. Something of an afterthought, barely even advertised on the site's splash page, Mr. Green is much more dedicated to its online and live casino than it is its sportsbook. That being said, I am happy that Mr. Green does have a sportsbook, nonetheless, and we will delve into how it stacks up against that of its competitors in a moment.
I don't think that anyone is picking Mr. Green, though, just for its sports betting capabilities. There are plenty of sites out there that have worked for decades to perfect their sportsbook and do, in fact, make it their number one concern. However, when it comes to Mr. Green's selection of online casino games, slots, card games, table games, jackpots, and live casino, this is where the site begins to make itself stand out.
Yet the question remains … is Mr. Green the right betting site for you? Well, there is only one way to know for sure, and that is to take an in-depth look at everything that the site has to offer, the history of the company, its promos and bonuses, how the company treats its customers, and whether the site is designed in an intuitive and user-friendly manner. So, without further ado, let's see once and for all if Mr. Green has what it takes to make your list of go-to betting sites, shall we?
History
Mr. Green founded its online casino in the last stretch of 2007. The site itself launched in 2008. The company was created by 3 Swedish entrepreneurs: Fredrik Sidfalk, Henrik Bergquist and Mikael Pawlo. Sidfalk and Bergquist brought strong backgrounds in the field of iGaming to the table, having famously founded (along with Anders Holmgren) the popular brand and website Betsson in 2001.
Mr. Green instituted a somewhat visionary solution to the issue of exchanging branded chips in order to play games from different vendors. Upon its launch in 2008, Mr. Green also introduced its novel seamless wallet solution. This blew the roof off traditional online gaming limitations and allowed Mr. Green to provide one of the largest selections of casino games on the web. Today, the site offers over 700 games from various top brands in the industry, such as Net Entertainment, Play'n Go, Microgaming, Merkur, Playtech, Electric Elephant Games, and many, many more.
If you are looking for what just might be the largest online casino in existence, well, it would appear as if you have come to the right place. Mr. Green's shrewd style of management and innovative problem-solving skills have allowed it to grow exponentially beyond what many competitors have to offer. In short, Mr. green dwarfs much of the competition, at least in terms of quantity of games.
This begs the question, though, does Mr. Green also follow through in its execution of delivering this enormous list of games? Let's check out how the site is designed in order to find that out.
Design
A lot of reviews of Mr. Green that I have read state dissatisfaction with the site's design and usability. Taking a look at the layout and gaming experience, I suppose I can see where these criticisms are coming from. It seems to me as if a great deal of the site could have been better streamlined in order to provide a more intuitive and seamless online casino gaming experience.
In terms of the actual design of the site, though, I think that what it lacks in minor functionality issues it has in aesthetics. The site looks good. It's got a very modern, clean, and sleek look to it. It packs a lot of content onto a page without making it appear cluttered or overwhelming. It is responsive and experiential, too, asserting itself in animated banners and responsive menu tabs that highlight along with your cursor.
The main site menu, too, is nice and consolidated. Instead of trying to jam pack everything into a site menu bar at the top of the page, Mr. Green has opted for a collapsible hamburger menu that will act as your roadmap to the entirety, every realm, of the site. When you want to find something, simply expand it. Want to make the experience of the site more immersive and distractions-free? All you have to do is collapse it and it goes away.
My biggest qualm, however, when it comes to site design and experience is the somewhat clunky way of accessing games such as slots. When you click on a game, your browser is directed to a whole new page dedicated to just providing the gameplay and nothing else. I would have liked to have seen a menu available somewhere as you play a given game that makes for quick and convenient access to other games – perhaps a recently played tab, a favorites section, recommended games – something so that I don't have to rely so heavily on the "back" button in order to use the site.
Content and Features
Mr. Green offers, in total, around 1,000 casino games. With around 700 slots from some of the most respected and beloved online casino game developers to video poker, blackjack, roulette, baccarat, craps, keno, and bingo. Play the casino however you prefer – at your own pace against the computer or head to head with a live dealer. The choice is yours. Oh, and the live casino offers some pretty novel games, too, such as Monopoly and VIP blackjack.
Mr. Green also has daily jackpots and scratch cards available in case you prefer games that are more heavily chance driven. Or maybe you are more into sports betting. If so, I believe that you will be quite pleased with what Mr. Green has to offer in the way of a sportsbook.
With 36 markets to choose from, there is never a dull moment on Mr. Green's sportsbook. In fact, even though people don't often talk about Mr. Green in terms of being one of the premiere sports betting sites, this is one of the larger sportsbooks on the web. Again, though, the sportsbook, in my opinion, suffers the same problem of somewhat clunky design, as far as user experience is concerned. Mr. Green, overall, should rethink their site design and consider how they can make the experience more seamless from start to finish.
Mobile and Desktop Experience
I am happy to announce that Mr. Green is one of the most mobile-friendly online gambling outfits on the market. With both a well-optimized mobile browser site and an app, you never have to miss out on any of the action. The app, too, is quite decent. In fact, I think I prefer mobile betting with Mr. Green over their traditional desktop site. Whether you are an iOS or Android user, Mr. Green has got you covered for placing bets and playing casino games on the fly. The app also allows you to make deposits and process payouts with ease whenever you like,
Suggestions that I have for Mr. Green
My fellow Americans, I am sorry to say that Mr. Green does not accept US players. This probably comes as no surprise to you, though, a majority of online gambling sites have excluded the US, largely due to the country's strict Puritanical laws against gambling. Still, though, I would like to see Mr. Green extend its reach to the US, even if it is just to the 2 states where online gambling is permitted: Nevada and New Jersey.
My other big suggestion to Mr. Green, as I have said earlier, is to reconsider some of the site's design. The name of the game for Mr. Green when it comes time to remodel is going to be to put user experience above all else. The site has already perfected making itself look nice, now I would like to see it streamline its features more, so that each part is more accessible on the whole. I should be able to access every necessary part of the site no matter where on the site I happen to be at a given time.
Lastly, I am always astonished when an online casino does not have a 24/7 customer support option available. The nature of online gaming is to play when it is convenient for you. If that happens to be at 3:00 in the morning, so be it. Furthermore, if you are gaming at 3:00 AM and need to contact customer support, you should be able to do so. I hope that Mr. Green steps this up in the months to come.

Related Sites