Pros and Cons
Amazingly intuitive, user-friendly site design

Tons of sports covered

Thousands of markets on popular sports

Great casino games and live play

Awesome promo deals
Not available in every country

Rumors about limiting winners
Top Three Reason to Join
Solid sportsbook of popular and more obscure sports
Incredible site design and games
Company Information
Phisical address:

Suite 2B, 143 Main Street, Gibraltar, GX11 1AA Gibraltar

Current License:

MGA/B2C/106/2000

Website:

https://www.unibet.com

Date Established:

1997

Email:

[email protected]

Phone:

+356 2133 3532

Number of Players:

23014

Payout option:

Country Restrictions:

Afghanistan,
Angola,
Bulgaria,
Bahamas,
Botswana,
China,
Colombia,
Costa Rica,
Czech Republic,
Algeria,
Ecuador,
Egypt,
Spain,
Ethiopia,
France,
Greece,
Haiti,
Iraq,
Iran,
Jordan,
North Korea,
South Korea,
Venezuela,
Yemen,
Zimbabwe,
Congo,
Cambodia,
Panama,
Brazil,
Switzerland,
Australia,
Turkey

more

Currencies Accepted:

Accepted for customers from:

Belgium,
United States of America,
Romania,
Netherlands,
United Kingdom,
India,
Switzerland,
Argentina,
Malta,
Brazil,
Slovenia,
Philippines,
Thailand,
North Macedonia,
Russia,
Portugal,
Denmark,
Bolivia,
Bulgaria,
Peru,
Chile,
Belarus,
Egypt,
Lithuania,
Estonia,
North Korea,
South Korea,
Ireland,
South Africa,
Czech Republic,
Venezuela,
Morocco,
Israel,
Pakistan,
Kenya,
Jordan,
Tunisia,
Malaysia,
China,
Slovakia,
Algeria,
Latvia,
Moldova,
Bosnia and Herzegovina,
Georgia,
Nigeria,
Nepal,
Colombia,
Vietnam,
Mauritius,
Angola,
Dominican Republic,
Armenia,
Iceland,
Ghana,
Ecuador,
Guatemala,
Uruguay,
Indonesia,
Bangladesh,
United Arab Emirates,
Albania,
Gabon,
Honduras,
Singapore,
Jamaica,
Paraguay,
Montenegro,
Nicaragua,
Iran,
El Salvador,
Qatar,
Palestine State,
Trinidad and Tobago,
Sri Lanka,
Bahrain,
Azerbaijan,
Belize,
Canada,
Mexico,
Norway,
Sweden,
Finland,
Germany,
Poland,
Austria,
France,
Spain,
Italy,
Ukraine,
Greece,
Serbia,
Croatia,
Hong Kong,
Japan,
Hungary

more

Other products
Esports

Bitcoin

Bingo

Combined Betting

Entertainment

Football pool

In-Play Betting

Live Betting

Live Casino

Live Streaming

Online Games

Poker

Politics

Virtual Sports

Unibet in short
Minimum Deposit

€10

Customer support

Live Betting

Minimum Bet

€1

In-Play Betting

Live Streaming

Mobile App

Combined Betting

Welcome Bonus

Football pool

Bitcoin Bet

Summary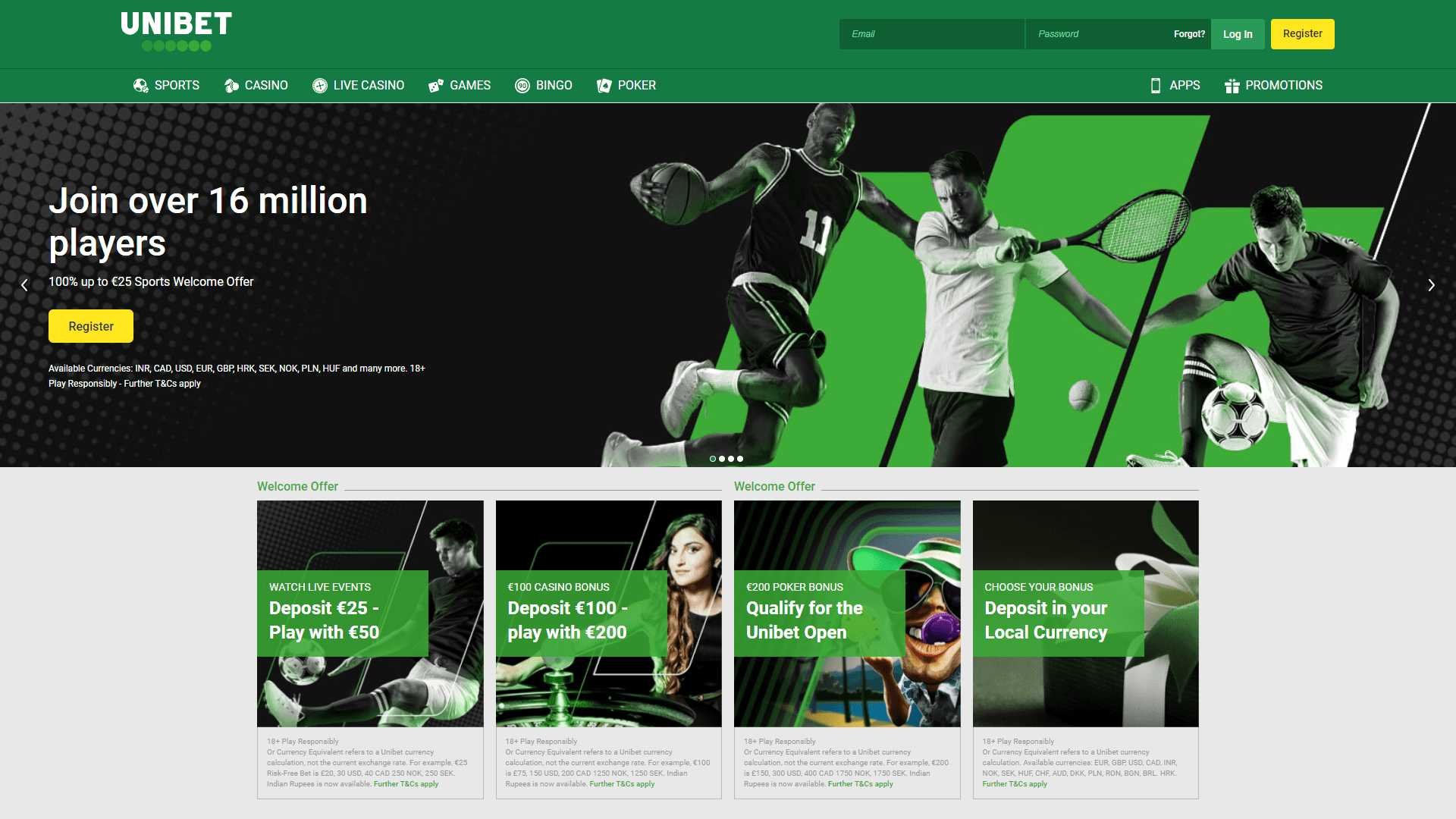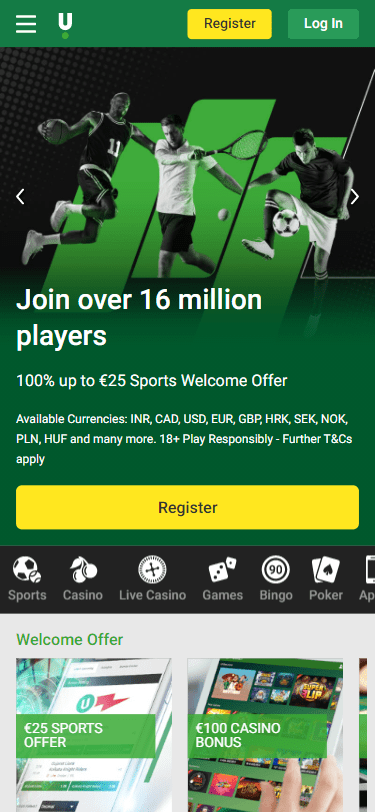 Introduction
When it comes to choosing which online sports betting and gambling sites you are to use, it is especially important to do your homework. More so than almost any other online service (save for maybe banking), vetting an online gambling site is crucial. There are few other types of sites that come with anywhere near the same amount of real life risk as an online betting site. Think about the hundreds upon hundreds of dollars that you could easily pour into such a site. Your bets will be a gamble, but the trustworthiness of the site you bet on should not be.
Sure, other kinds of sites can also come with some big risks. Picking a sketchy torrent tracker, for instance, can load your computer up with viruses and trojans. Choosing the wrong streaming service could end up leaving you dissatisfied with how you have spent your $10 or so a month. And, don't get me wrong, these are certainly unpleasant scenarios to find yourself in. And you should vet all sites that come with any kind of risk. But no other site comes with the same high stakes as an online betting site.
Scams abound in the world of online sports betting and gambling just like they do in every other online industry. There are always going to be reputable sites that you know you can trust and ones that are simply out to take your money and run. So, the last thing that you'll want to do when it comes to online gambling is sign up for the first site that you hear about or stumble upon on Google. Always look into every aspect of such a site, especially before even thinking about plugging in your bank account information.
Doing this, however, vetting every potential sportsbook and online casino, can eat up hours of your time that you won't be able to get back. Plus, dependability aside, unless you personally know someone who has used a given site in the past, it can be difficult to ascertain whether a certain site truly has the kinds of features and services that you want. Some sites, for instance, have much larger sportsbooks than others. Some sites specialize in only a few sports, whereas others have 60+ sports open to bets. Your job, then, will be to identify what you hope to get out of a site and do some research to see if that site lines up with your hopes.
There are other concerns to take into account as well. Some sites have much better interfaces than others. Some sites offer live casino games, arcades, poker, bingo, virtual sports, etc., and others may only offer a sportsbook. Figuring out which betting site is going to be right for you is a matter of trial and error.
Or at least it used to be, before you found this treasure trove of betting site reviews. I have made it my mission in life to review all of the best online betting sites and providing them in convenient, user-friendly lists – my hope is to make it much easier than it has ever been before for online gamblers to narrow down their list of potential sites and find the perfect one for their needs.
Which brings us to the site that we will be evaluating today … Unibet. Right off the bat, I can tell you that Unibet has been around for quite some time. And longevity is usually a good sign that a site is at the very least trustworthy. If Unibet were a scam, in other words, chances are it would have been shut down years ago. But it is still going strong for 20+ years. And it still has a fervent userbase who swear by the service.
But just because a sportsbook and online casino is beloved by many and has been around the block a few times, that doesn't always mean that it is going to be the right sportsbook for you. In order to figure out whether Unibet is, in fact, your new go-to online betting site, we will have to take a closer look at the site, its history, and everything that it has to offer. So, without further ado, I bring you Unibet.
History
Unibet was first founded in 1997 by an entrepreneur named Andres Strom. The company, in its nascent stage, was operated out of Strom's Earl's Court, London home. And it only took Strom one year to secure a gambling license (by the government of Gibraltar) to serve gamblers all around Europe. By 1998, Unibet was taking bets solely over the phone. It wasn't until 1999 that Unibet launched its first sportsbook website.
Over the next few years, Unibet saw a fiery ascent and it began expanding rapidly. By 2004, Unibet had diversified to the point of supporting 12 separate languages, with over 300,000 registered players from 100+ countries around the world. 2004 also was the year that Unibet was added to the Swedish Stock Exchange and traded publicly.
In 2005, Unibet began its acquisitions phase. Most notably, Unibet bought Bet Choice from Australia, as well as the popular site Stan James Online. The company created a larger umbrella brand that could better handle its new multi-brand strategy. In 2016 Unibet Group Pic became The Kindred Group. Since then, Unibet (and all of its sister sites) has surpassed over one million registered users and launched a wide array of affiliated gambling sites, including a notable expansion into the United States with Unibet New Jersey and Unibet Pennsylvania (as of November 2019).
Who knows, then, where this online sports betting behemoth will go in the years to come. They are on track, though, to become one of the most internationally influential online gambling enterprises of all time if they keep this level of growth and ingenuity up.
Design
Unibet has a very clean, neat, and sharp site design. This is refreshing to see, to be honest, since it is hard to come by an online sports betting and casino site that is so intuitive and user-friendly. Far too often sites of this nature (with this many features) easily become cluttered, sloppy, or overly ambitious. Unibet, however, has sidestepped these concerns gracefully by offering a very stripped-down and minimalistic approach to web design – everything is easy to find, responsive, and the site is not bogged down by text and data.
Home page
The home page offers a two-tiered menu that I think is quite effective. At the very top of the page, to illustrate, you'll find the macro level site menu bar. Here, you can quickly and easily toggle between all of the site's main offerings, such as the sportsbook, casino, promos, etc. Then, within each selected section of the website, you'll find another, second-tier menu. This one helps you quickly navigate the offerings within that macro selection.
For example, if you selected the Casino tab of the site from the macro menu up top, you'll find a second menu that lets you further narrow down the site's offerings within just the casino section. Choose between different kinds of games in an intuitive and clean-cut manner by selecting from popular, featured, new, live dealer, slots, table, jackpot, or all games. Personally, I am a huge fan of this neat and organized method of site design.
Inner pages
The further into the site you travel, you should notice a continuation of this trend of elegant and sensible design. The sportsbook, for instance, is one of the easiest to use that I have seen on any site. The casino games also offer a fun and realistic user experience. Every line of code that makes up this website is efficient, intuitive, and elegant. Unibet offers what is definitely, without a doubt, one of the best online betting site builds that I have ever seen (if not the best).
Content and Features
So, the actual features that Unibet has are pretty straightforward. First of all, you've got your sportsbook, which allows players to place bets in 35+ sports. The sportsbook also provides live, up to date statistics from matches and games as they occur, making real time in-play betting possible. Each sport, too, has plenty of markets open. Take football, for instance. At the time I visited the site, there were over 40,000 open markets for this one sport alone.
Some of the less popular sports, however, may only have 2 or 3 open markets. But, hey, at least Unibet is covering sports like surfing darts, and chess at all. Not every sportsbook site can say that they cover anywhere near the same range of unique sports as Unibet.
Then, of course, Unibet has plenty of casino games, some of which offer live dealing. Enjoy slots, blackjack, video poker, roulette, table poker, etc. As far as Unibet's casino goes, it may not be the largest in the world, but it is certainly formidable.
Add to all of this some very competitive promos and bonuses, and you have the makings of an excellent online sports betting and casino site. The sportsbook, for instance, offers a $250 risk-free bet as a welcoming gift for new users. The site also offered a deposit reload promo when I visited, wherein Unibet will ad 25% in bonus funds to your first deposit (up to $50). Promos, of course, change based on your locale and they are constantly in flux. But, generally speaking, Unibet tends to have some great deals.
Mobile and Desktop Experience
Not only does Unibet offer an excellent online betting experience on your desktop computer, but it has apps available as well, for both Android and iOS devices. There are a few different native Unibet apps available, which definitely make for an enjoyable mobile betting experience. However, I am such a huge fan of the desktop site, I find that I don't even turn to the apps all that often. However, in a pinch, they are just as dependable and easy to use.
Suggestions that I have for Unibet
In doing a little bit of research on Unibet, I keep hearing anecdotal evidence that they put limits on winners. I'm not positive if this is true or not, but there seems to be at least some consensus that I have been able to find from reading other reviews and posts on forums. Again, I cannot speak to this myself, but it just seems like something that I should pass along. If this is the case, I would obviously suggest that Unibet not put limits on winning. If you're hot, you're hot, you know? It's not Unibet's (or any betting site's) job to mediate a streak.
Conclusion
All in all, if you are looking for a reputable, dependable, and trustworthy betting site, Unibet is one of the best in the biz. With an enormous sportsbook that offers both internationally popular sports like soccer and American football, as well as rarely covered events, such as surfing, chess, and WWE, Unibet will not disappoint. I am proud to give this site my stamp of approval, and I hope that you have fun (and get lucky) on this impressive and long-running sportsbook and online casino.

Related Sites