£50 Welcome Bonus for new players
Welcome bonus
Claim offer
Minimum deposit:

£10

Minimum bet:

£0.10
Pros and Cons
Great site design

Huge sportsbook with tons of markets

Progressive jackpots

Reputable, trustworthy company
Not available in many countries (US included)

Slow withdrawal times
Top Three Reason to Join
Nearly 100 years of reputable bookmaking
An awesome app for every feature
Company Information
Phisical address:

Suite 6, Atlantic Suites, Gibraltar

Current License:

ref 54743

Website:

http://www.coral.co.uk

Date Established:

2004

Email:

[email protected]

Phone:

0-800-44-00-11

Payout option:

Country Restrictions:

Currencies Accepted:

Accepted for customers from:

United Kingdom,
Ireland,
Jersey,
Argentina,
United States of America,
India,
Israel,
Netherlands,
Bulgaria,
Latvia,
China,
Belarus,
Portugal,
Philippines,
New Zealand,
Denmark,
South Africa,
Russia,
Czech Republic,
Switzerland,
Romania,
Malta,
Ecuador,
Kenya,
Georgia,
Colombia,
Nigeria,
Chile,
Vietnam,
Thailand,
Slovenia,
Pakistan,
Mauritius,
Tanzania,
Belgium,
Cyprus,
North Korea,
South Korea,
Morocco,
Egypt,
Iran,
Armenia,
Singapore,
United Arab Emirates,
Taiwan,
Peru,
Oman,
Jamaica,
Mongolia,
Uruguay,
Venezuela,
Ghana,
Kazakhstan,
Mozambique,
Lithuania,
Ethiopia,
Tunisia,
Sri Lanka,
Indonesia,
Syria,
Trinidad and Tobago,
Rwanda,
Zimbabwe,
Jordan,
Azerbaijan,
Malaysia,
Guernsey,
Canada,
Mexico,
Brazil,
Australia,
Norway,
Sweden,
Finland,
Germany,
Poland,
Austria,
France,
Spain,
Italy,
Ukraine,
Greece,
Serbia,
Croatia,
Hong Kong,
Japan,
Hungary

more

Other products
Esports

Bitcoin

Bingo

Combined Betting

Entertainment

Football pool

In-Play Betting

Live Betting

Live Casino

Live Streaming

Online Games

Poker

Politics

Virtual Sports

Coral in short
Minimum Deposit

£10

Customer support

Live Betting

Minimum Bet

£0.10

In-Play Betting

Live Streaming

Mobile App

Combined Betting

Welcome Bonus

£50 Welcome Bonus for new players

Football pool

Bitcoin Bet

Summary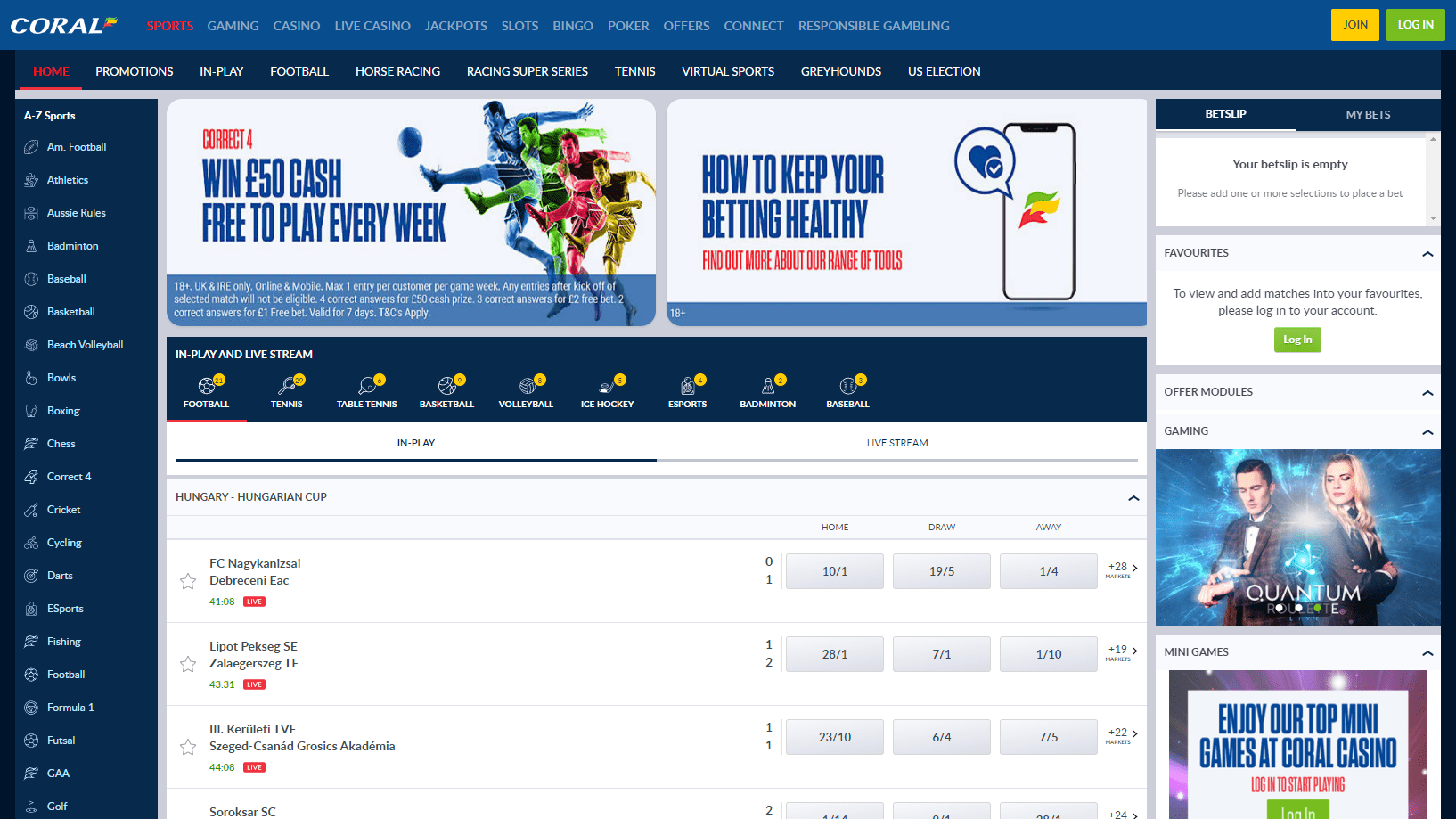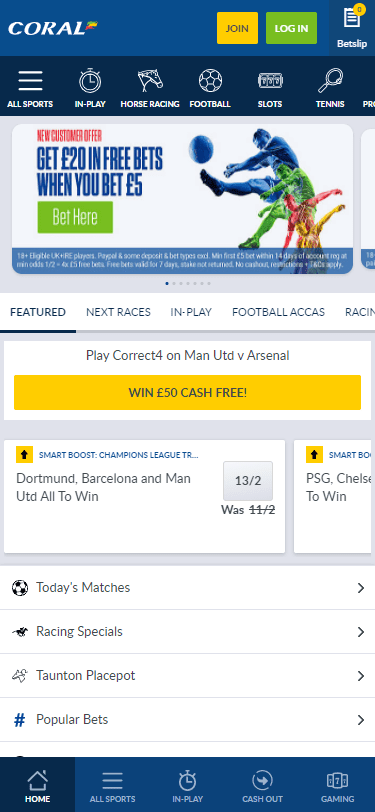 Introduction
When it comes to bookmakers, few in existence have been able to cultivate a reputation anywhere near that of Coral's. In fact, for many, especially to those living in the United Kingdom, the word "Coral" is as synonymous with sports betting as the word "Kleenex" is with tissue paper in the United States. Nearly every corner you turn down in the UK will lead you to a Coral bookmaking shop. They have nearly dominated the UK sports betting market over the last century.
That's right … Coral has been in business as a sports bookmaker for 94 years. It is nothing short of a legacy in the world of sports betting. As of 2015, Coral owned and operated 1,845 betting shops in nearly every neighborhood across the UK. Few companies manage to grow to these heights in any industry, let alone that of bookmaking. This is a truly impressive feat.
Some of the online sports bettors with whom I have spoken, though, are reluctant to sign up and test their luck on such old-world sportsbooks. The logic behind this is not entirely unfounded. It can often be tricky for a brick and mortar chain such as Coral to be forward-thinking enough to adapt to the relatively mercurial world of the digital age.
This is a fair concern, I think. I mean, there is certainly no guarantee that a traditional 20th century business – especially one that was founded in the 1920s – would have the technical prowess to keep up in the highly competitive world of online gambling. Plus, not every online sports betting and casino site is created equal. As any seasoned player knows, this is far from the truth. So, I think that approaching online platforms from companies like Coral with a little bit of skepticism, at least at first, is warranted.
That being said, I am happy to report from the outset of this review that Coral is not merely a relic of the past. They have adapted to the digital age with grace, providing longtime customers a convenient and user-friendly way to place their bets. Plus, the modern and sleek platform is digitally optimal enough to attract plenty of young newcomers, too.
As a longtime follower and appreciator of Coral, I was thrilled to see that they made that leap into the 21st century successfully. It would have been a shame if such a giant and a staple of the world of sports betting were to go belly up because they couldn't keep with the times. Coral is still around, either on the corner or in your browser, and one could argue that they are stronger than ever.
That being said, there is only one way to figure out whether Coral is the right sports betting and online casino site for you … and that is to dive in and take a closer look at everything that the site has to offer. So, without further ado, I bring you a true institution of the bookmaking industry: Coral.
History
It all began when Joseph Coral opened a relatively modest bookmaking business in 1926. Coral was primarily concerned with running betting pitches at horse racecourses. However, he and his friend, Tom Bradbury-Pratt, began conducting speedway meetings at Harringay. They also opened a credit office in London's West End in 1943.
Fast forward a couple decades … in 1961, Joseph Coral was one of the first people to take advantage of newly inked legislation that allowed sports betting. Thus, he opened his first licensed betting office the same year. Not many others had the same level of moxie that Coral possessed – the new law was not supposed to encourage betting, so opening betting shops was still widely frowned upon at the time – which gave Coral a huge leg up. This, however, is also why betting shops are devoid of comforts and somewhat drab in appearance. In case, like me, you were always wondering.
By the time 1971 rolled around, Coral had arranged its first merger. Coral and Mark Lane joined forces to become an unstoppable bookmaking team that year. This (along with various other growth opportunities taken) led the company to rename itself, The Coral Leisure Group. The company by this time had diversified its offering remarkably, now providing hotel services, casinos, restaurants, bingo clubs, squash clubs, and real estate.
Joseph Coral continued his co-ownership of the Coral Leisure Group for one more decade after that. In 1981, though, Coral was acquired – by Bass PLC. Although the Coral brand was retained, it had been swallowed by the rapidly growing company, Bass Leisure.
Bass Leisure, not too long after their acquisition of Coral, sold it to the Ladbroke Group in 1998. The sale was rumored to cost Ladbroke a whopping £363 million. Ladbroke was not allowed to keep Coral, it turned out, as the United Kingdom government ordered them to sell it once the Monopolies and Mergers Commission found the acquisition to be anti-competitive. The entire Coral business, then (save for roughly 60 shops in Ireland and New Jersey), were sold in a management buyout. Morgan Grenfell Private Equity financed it for £390 million in February of 1999.
In November of the same year, the new Coral acquired an online betting company based in Gibraltar, Eurobet. This cost the company £7.1 million but resulted in yet another name change. Coral then became Coral Eurobet in May of the year 2000. Coral Eurobet was promptly sold in another management buyout, this time sponsored by Charterhouse Development Capital.
Then the high rollers swooped in. In October of 2005, a casino and bingo firm known as Gala acquired Coral Eurobet for a staggering £2.18 billion (yes, that's right, "Billion," with a "B"). This resulted in another name change. Coral Eurobet became Gala Coral Group, resulting in the creation of the United Kingdom's 3rd largest bookmaker and biggest bingo business (by far). Coral and Eurobet continue to function as subdivisions of Gala Coral Group.
With a storied past, Coral is certainly one of the most historic (if not the most historic) sports betting sites on the web today. The site's longstanding history of reputable operations, too, add to its long list of credentials. On paper, Coral seems to be a very strong contender for one of the best sports betting and online casino sites of all time. But websites don't exist on paper … so, let's see how the site looks, feels, and functions before we go crowing Coral King.
Design
I must say, I am a huge fan of the Coral web design. It is minimalist, it is sparse. In short, it is classy. Which is precisely what you expect from a brand with nearly 100 years behind them. They bring a bit of that old-world charm into their site design in a way that feels coherent. What I mean by that is that their website feels like a logical extension of their brick and mortar bookmaking shops.
You'll find a familiar color scheme, for example, with blue background that makes for pops of reds and yellows here and there – matching the companies tri-flag logo and iconic blue shopfronts.
I also enjoy the way that the sportsbook itself is designed. It is understated yet informative. It is sparse yet jampacked with content. You'll find, to start, the full roster of sports from which you can choose spanning the left-hand side of the screen, making it intuitive to jump from sport to sport as you see fit. The center of the page offers up live, up-to-date stats and in-game highlights, ensuring that you are able to make the most well-informed bets possible (especially when it comes to placing in-play bets).
Then, the right-hand side of the page features (prominently and conveniently) your bet slip. This is always appreciated when it comes to a sports betting site, to embed your bet slip right where you are likely to want it (without having to search for it). You'd be surprised how many sites out there do not make this very logical and user-friendly move when it comes to site design.
Below the bet slip, though, Coral offers something that I have not seen on many other sports betting sites. They have a section dedicated to your personalized favorites. Browse your favorite sports, bet types, etc. all from one handy and easily accessible location. It is cool little details like that that set sites like Coral apart from the competition in a big way.
Content and Features
Continuing on what makes Coral's sportsbook so awesome … it isn't merely the fact that they offer a huge selection of sports and tons of markets. Coral also has so many value-add opportunities and extra features to enjoy, such as live streaming of events, custom bonuses, enhanced odds specials, and no-minimum bets. Oh, and did I mention that the site offers a £1 million top football payout? Talk about earnings potential…
Coral doesn't stop at offering an extensive, highly competitive, and diversified sportsbook, though. They also offer plenty of casino games, a live casino, jackpots, slots, bingo, poker, and some truly impressive promos and welcome deals. For instance, to thank new sportsbook users, Coral offers a bet £5, get £20 in free bets deal. And the casino gives new players £50 for depositing £10. If you are thinking of joining Coral, you should know that it will definitely come with some pretty awesome perks and ways to better your odds.
You'll also be able to play head to head against live dealers and other players. The site's live poker feature rivals just about every other major online casino I have seen. The gameplay is intuitive and speedy. Add virtual sports to the mix, and you'll never run out of action on Coral.com.
Mobile and Desktop Experience
Whether you fancy yourself an Android or iOS user, you never have to miss a second of the action thanks to Coral's dedicated mobile app. As is always the case with this company, the app is a top-notch product. Access the casino (with 50+ slot games), the live casino, and the sportsbook all from one convenient, user-friendly, intuitive, and sleek app. The design of this thing, too, is just as great as the design of the desktop site. Never miss a beat.
Coral also takes it one step further by offering a radio app that lets you tune into sports commentary. Pair this app with your Coral sportsbook in order to make the most strategic bets, either in-play or predictions.
In fact, every corner of Coral has its own app, which is fantastic. Sometimes it can be an app's downfall to try and do too much. Coral has anticipated this, offering a separate poker app, casino app, live casino, sportsbook, bingo, etc. There is a separate app here for every type of player and mood. Download the whole set for one of the most immersive and flawless mobile gambling experiences out there.
Suggestions that I have for Coral
The Achilles Heel of many of the betting sites that exist are their limitations. Coral, for instance, is restricted in far too many countries, in my opinion. And, yes, the United States is definitely one of them. So, unfortunately, US players will have to check out the rest of the sites on my list in order to find their new go-to online sportsbook and casino. I would love to see Coral expand their horizons a bit.
The other thing that I don't love is the fact that withdrawals can take up to 5 days to process. I would expect speedier from a company of this magnitude.

Related Sites