Up To €1000 And 10 Free Spins
Welcome bonus
Claim offer
Minimum deposit:

€/$ 10

Minimum bet:

€/$ 1

Bettings limits:

up to €/$100,000
Pros and Cons
Mobile friendly site

Intuitive and unique site design

Tons of banking options

Reputable company

Live streams in sportsbook
No app

No sportsbook promos

Somewhat weak loyalty program
Top Three Reason to Join
Awesome online casino with hundreds of games
Company Information
Phisical address:

Level 7, The Plaza Business Centre, Bisazza Street, Sliema, SLM 1640, Malta

Current License:

MGA/CRP/237/2013

Website:

https://www.royalpanda.com

Date Established:

2013

Email:

[email protected]

Phone:

+356 2778 2775

Payout option:

Country Restrictions:

Australia,
Belgium,
Denmark,
France,
Israel,
Italy,
Netherlands,
Singapore,
United States of America,
United Kingdom,
Finland,
Spain,
Turkey

more

Currencies Accepted:

GBP,
BRL,
CZK,
EUR,
MXN,
PLN,
SEK,
USD

Accepted for customers from:

India,
Netherlands,
United Kingdom,
New Zealand,
Malta,
United States of America,
South Africa,
Ireland,
Argentina,
China,
Israel,
Latvia,
Romania,
Thailand,
Peru,
Chile,
Czech Republic,
Iceland,
Slovenia,
Russia,
Portugal,
Malaysia,
Lithuania,
Singapore,
Slovakia,
Estonia,
Switzerland,
Luxembourg,
Morocco,
Dominican Republic,
Pakistan,
Bosnia and Herzegovina,
Belgium,
Trinidad and Tobago,
Indonesia,
Nepal,
Belarus,
Armenia,
Venezuela,
Kenya,
Colombia,
Philippines,
Egypt,
Georgia,
Saudi Arabia,
Uzbekistan,
North Korea,
South Korea,
Zimbabwe,
Bangladesh,
Moldova,
Canada,
Mexico,
Brazil,
Australia,
Norway,
Sweden,
Germany,
Poland,
Austria,
France,
Italy,
Ukraine,
Greece,
Serbia,
Croatia,
Japan,
Hungary

more

Other products
Esports

Bitcoin

Bingo

Combined Betting

Entertainment

Football pool

In-Play Betting

Live Betting

Live Casino

Live Streaming

Online Games

Poker

Politics

Virtual Sports

Royalpanda in short
Minimum Deposit

€/$ 10

Customer support

Live Betting

Minimum Bet

€/$ 1

In-Play Betting

Live Streaming

Betting Limits

Mobile App

Combined Betting

Welcome Bonus

Up To €1000 And 10 Free Spins

Football pool

Summary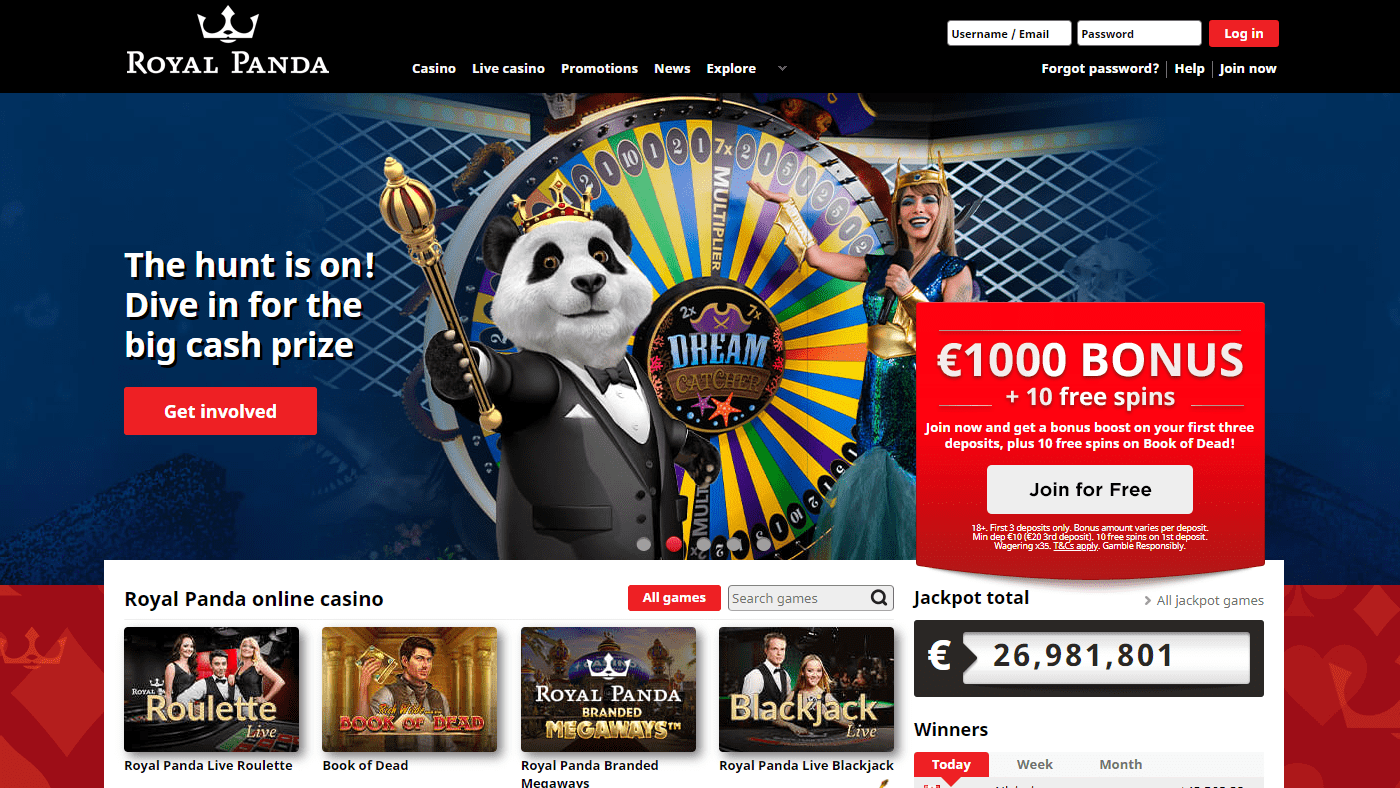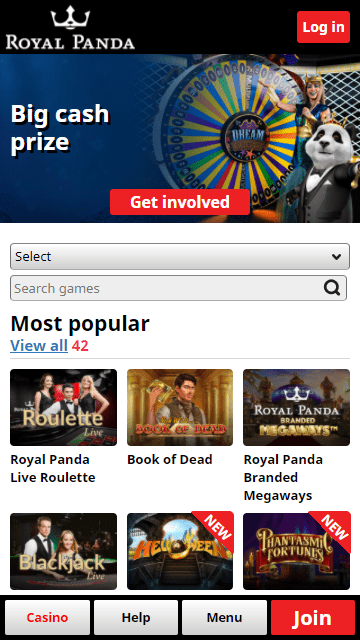 Introduction
Sometimes it can seem like a daunting task to find a halfway decent online casino that isn't at all sketchy or tinged with the darker sides of gambling. There are a lot of sites out there that have a somewhat dark, overly capitalist, greedy air about them. I don't know about you, but I don't want to feel like I am putting my life on the line when I game … I do it to have fun!
I mean, sure, there is certainly a serious side to it all – you are putting up real money on these games, after all … but that is not the only reason that I visit online casinos. The stakes shouldn't feel so high that you can't allow yourself to fully enjoy the games, right? You should be able to find an online casino that is lighthearted, fun to visit, and let's you win some real money if you play your cards right.
I was surprised at how hard it has been to find such a site. It is hard enough to find an online casino that doesn't double as a sports betting site as it is. Then, to try and find one that embraces the fun of casino gaming? I nearly gave up!
Luckily, though, I stumbled upon Royal Panda. I was delighted to be greeted by a large animated image of smiling panda bear reading the paper on the home page instead of some black hole of website that promised to be the best of the best when it comes to this or that. Royal Panda is a refreshingly whimsical online casino – a site that, I think, cuts closer to the core of what casino gaming should be all about than any other site that I have seen before it.
As I did a little more digging into Royal Panda, I was even happier to discover that they are a trustworthy site with a stellar reputation. Generally well-reviewed across the board, Royal Panda is known for providing players with excellent customer support, plenty of enjoyable games, and some great promos, bonuses, and deals. What more can you ask of your go-to online casino, really?
Some of the praise that Royal Panda has received over the years include an 8 out of 10 rating from Casinolistings.com, an 8.8 out of 10 from Askgamblers.com, and a shining endorsement from Wizard of Odds (which is not an easy endorsement to nab, by the way, they can be quite picky). Additionally, Casinomeister.com said of Royal Panda: "…an accredited casino … Rave reviews from our members – a professionally run online casino."
So, if you had any doubts about whether Royal Panda was legitimate, allow these write-ups, ratings, and endorsements to assuage them. I know how hard it can be, trying to discern whether an online casino is legit or not – there are a lot of scams out there – and perhaps Royal Panda's animated aesthetic made you raise an eyebrow (people don't often associate cute panda animation with serious business … I get it). However, I can assure you that Royal Panda is not only a legitimate online casino, they are, arguably, one of the best on the web.
In the interest of being critical and thorough, however, I did take a look at the customer complaints that do exist on Askgamblers.com. There were a few … the majority of them, though, have been resolved. And those that weren't had been rejected (which usually indicates that it wasn't the company who was in the wrong but the customer … believe it or not, the customer is not always right!).
However, just because Royal Panda is critically acclaimed and beloved by its customers, that doesn't necessarily mean that this online casino is the right one for you. There is only one way to find out for sure if Royal Panda is going to become your new go-to online casino … and that is to delve in and take a closer look at everything that the site has to offer, where it comes from, how user-friendly the site design is, and all of the user features and bonuses you can expect from it. Winning may not be everything you look for in an online casino, but it does come close!
History
Royal Panda has been around since 2014. The site is owned, rather appropriately, by Royal Panda Limited Casinos. The company is licensed by both the Malta Gaming Authority and the official Gambling Commission of Great Britain.
If you are wondering why Royal Panda has gravitated towards the panda as its mascot, allow the casino to explain this for themselves. "We're big fans of pandas, and we're not alone," the site says, "It's a well-known fact that the humble panda is adored across the world. In many cultures it is associated with being laidback, friendly, approachable and entertaining."
That is easily the perfect way to describe the Royal Panda online casino: "laidback, friendly, approachable, and entertaining." What may have seemed goofy or childish at first begins to make a whole lot of sense as you unpack this site. Most online casinos don't bother to have mascots at all. The fact that Royal Panda does is the perfect representation of how this company differs greatly from nearly every other site in the industry.
Design
Those adjectives keep coming to mind when I evaluate the way that this site is designed: "laidback, friendly, approachable, and entertaining." These are truly perfect descriptors of the way that the site looks and functions.
It is laidback, firstly, in that it is not overwhelming. Even though the site is colorful, vibrant, and cartoonish, it is not cluttered or jampacked with content in any one area. In fact, I have seen extremely earnest and stoic sportsbooks that are more cluttered and chaotic than this explosively colorful and loud online casino. It just goes to show that your site can both have tons of personality and also be well-designed. It's all a matter of execution.
I definitely am picking up on the friendly and approachable vibe, too, with Royal Panda. If the smiling panda mascot weren't enough, the theme of the site itself comes off this way too. Again, the site's colorful nature – a bright red and white palette – are in stark contrast to the dingy black and gray themes that you are likely to find in many other online casinos. Everything about this site is inviting – and the intuitive user-friendly nature of the site makes me want to spend hours here, playing game after game after game.
At the top of the home page, you'll find a huge banner that switches different promos and ads for games you can play in a quick moving carousal. Above that is a classy looking site menu bar, making for easy and convenient browsing of everything the site has to offer: Play Now, Live Casino, Promotions, News, and Explore.
Scroll down the page a bit and find immediate access to the entire directory of Royal Panda games. Browse all games, or search by name, most popular, new games, classic slots, roulette, blackjack, etc. I love the browsing feature of Royal Panda, which makes it as easy as it should be to filter games by your interest with a comprehensive system of tagging.
Lastly, I think the entertaining nature of Royal Panda speaks for itself. The site looks fun, sure, but where the real fun begins is when you start exploring all of the awesome games and features this site has to offer.
Content and Features
Royal Panda truly does have everything that you could ask for from a betting site and online casino. Not only does it have something for everyone, but it has a ton of games and ways to play for players of every walk of life.
Royal Panda has hundreds of casino games to choose from, including classic slots, new slots, microgames, roulette, blackjack, poker, and table games. It also has a live casino that allows you to play card games against real life dealers and other players.
Plus, there is an extremely competitive sportsbook here as well – surprise! Just when you thought Royal Panda couldn't get any better. The sportsbook is extremely well organized, first of all, and is perfect for in-play live sports bettors. Royal Panda's sportsbook has constantly updated live highlights and stats and even offers live streamed events.
It may not be the first thing that you notice about Royal Panda when you visit the site, but the sportsbook is truly excellent. Plus, it allows you to place bets on 47 individual sports, making it one of the largest sportsbooks that I have ever seen. The breadth of sports available is stunning, too, ranging from popular sports like football and basketball to more obscure markets, such as trotting, curling, and politics. My only complaint is that Royal Panda doesn't do a better job advertising its excellent sportsbook!
Royal Panda also offers some great welcome bonuses. The main one that they are running at the moment, for instance, is a classic double your initial deposit, giving you twice as many opportunities to hit it big. Royal Panda will match whatever your first deposit is up to $100. Hey, you'll never hear me complain about a free $100 in betting money. I'll turn that into $1,000 by the end of the day!
Royal Panda also offers a continuing weekend bonus. With this, you can have the chance to claim a 50% deposit bonus every single weekend (up to $150). This is available to claim every Friday.
Another fun promotion offered by the site is the Lucky 21. This pertains specifically to live blackjack players. On the 21st of every month, Royal Panda awards $210 to 3 live blackjack players. In order to be considered for this raffle, all you have to do is play live blackjack on the 21st of every month. If you happen to be one of the lucky 3, the funds are added to your account by 12:00 PM the next day.
Then, as if all of these promos weren't enough, Royal Panda also offers a VIP program known as the Loyal Panda program. If you are to become a Loyal Panda member, you receive 1 credit for every $10 to $50 that you spend on the site. The amount that you have to spend in order to earn a point, however, depends on the game you play. For instance, scratch cards get you 1 point if you wager $10, whereas video poker only gets you a point when you wager $50.
Once you have accumulated enough Loyal Panda points, they can be cashed in for cash, electronics, free spins, merchandise, or airfare to Las Vegas. Seeing as it takes 15,000 Loyal Panda points just to make it to the silver level and diamond requires 120,000 … I'm not sure that this is an extremely exciting loyalty program. Unless, of course, you have a lot of money to spend here.
Mobile and Desktop Experience
Unfortunately, it does not appear as if Royal Panda has a mobile app at the moment. This is always a bummer, to see that an otherwise popular and cutting-edge online casino has not yet adapted to the world of mobile gaming. Nevertheless, the mobile version of the Royal Panda website appears to be just as intuitive and user-friendly as the desktop version. Enjoy responsive gameplay with little to no lag time on the mobile version, as well as a layout and gaming interface that is perfectly optimized for the touchscreen device.
Suggestions that I have for Royal Panda
There is not much in the way of welcome bonuses for their sportsbook. This is probably because it is relatively new, having not launched until 2017. Still, though, I would like to see Royal Panda offer much better promotions overall, especially for the sportsbook. Similarly, Royal Panda needs to do a better job advertising that they have a sportsbook to begin with!

Related Sites